Harris Hardwoods is an industry leader in manufacturing cabinet components. The company's revenues approach seven figures. It's a well-oiled machine that utilizes strategic planning and maintains an entrepreneurial spirit.
The company, which employs about 40 people, began humbly by providing lumber to small cabinet makers. Today it manufactures hardwood cabinet components, mouldings, millwork, and edge-glued panels for the kitchen and bath industries.
But there was a time when the business was so new — so still-in-the-garage new — that when lumber shipments arrived at their home by semi, Tim and Mary Jo Harris sometimes needed a little help getting that lumber off the truck.
"We didn't have a forklift," Mary Jo says. "We had to borrow one from the creamery two blocks away. It was a different world at that time."
Tim would go to the Co-op Creamery in Foreston, drive the forklift a few blocks through town to their home where he'd unload the lumber and stack it neatly inside their three-car garage. In the garage, Tim used a 12-inch planer to cut wood to any thickness. Their startup was still new, but Tim's years of experience in the lumber and sawmill industries gave him dozens of contacts at small, mostly one-man cabinet-making shops in the region.
These were the early days of Harris Hardwoods, a company built by two people who came from woodworking. They were born, as they say, "with sawdust in their veins."
Since then, the couple has grown Harris Hardwoods from one man and one planer in a three-car garage to being a successful player in the cabinet component business. They've weathered chaos, labor shortages and a pandemic all by sticking to a mantra that's as true to their business as it is to their lives: Grit and SAWdust — a small-town work ethic that never forgets its purpose.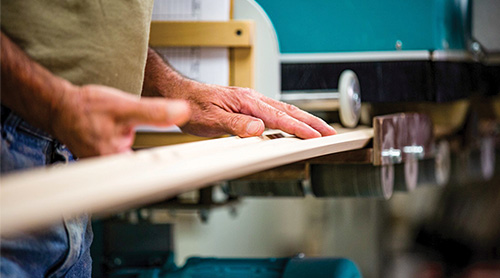 Along the way they've also taken the kind of steps that any manufacturer would be wise to take in terms of leadership, including taking a hard look at their management structure and making the kind of moves shrewd business owners make. They've embraced planning, but not just the kind that gets done once and then gets forgotten. They've put in place a system that forces everyone to return to the drawing board, study the progress of the previous 90 days, and determine if anything in the previous three months has caused them to deviate from their goals.
Harris Hardwoods' story illustrates the value of staying true to who you are but remembering that change is necessary to survival.
Good wood
A glimpse at the company's website reveals the heart of Harris Hardwoods.
"We both grew up in woodworking families where the smell of sawdust lingered at the dinner table," it reads. "Hard work was expected and a 'good name' was valued."
Tim's experience in the woodworking and lumber industries supplied the foundation for what would eventually become Harris Hardwoods. And that experience started early. As a 15 year old, Tim worked at Weichert Brothers Millwork sweeping floors, stacking lumber, and running dry kilns.
Soon he moved on to Woodcraft Industries, where he spent 17 years as a purchasing agent, learning about lumber, sawmills and supply needs of cabinet makers. After that he spent five years as a cabinet maker for Crystal Cabinets.
All that knowledge prepared him for the moment in 1994 when Tim launched his own business.
"He took that leap of faith and started on his own," Mary Jo says. "Part of it was related to seeing his dad working in that business, seeing my dad work in that business, and seeing my brothers working in that business."
Things started small — like borrowing a forklift from the town creamery small. But as time went on, Tim's deep knowledge of the industries, and the company's size at the time, enabled the company to pivot to meet customers' needs.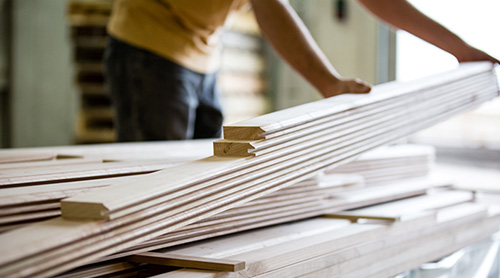 "When I buy my lumber, I know what my customers need. I know the specific colors they're looking for," he says. "And you have to go out and source that lumber from the different regions. It's very specialized."
They began by providing lumber to local cabinet shops, beginning with their own families. Mary Jo's father, in fact, was Harris Hardwoods' first customer. When customers needed it, they added services such as ripping, planing, and moulding in an effort to save the customers time and money.
"What makes us stand out is Tim's ability to buy really great lumber, nice and clean white hard maples," Mary Jo says.
There's a scene from the great sitcom The Office where a pair of Dunder Mifflin salesmen make a sale by convincing a customer that, although they may be smaller than their competitors, their size allows them to provide top-shelf customer service. While Harris Hardwoods isn't remotely like Dunder Mifflin, they subscribe to the same approach of putting customers first.
"We like to have that personal contact," Mary Jo says. "I think that was a good part of our success early on; we had closeness to the customer."
Playing with the BIG BOYS
Harris Hardwoods was humming along nicely servicing the needs of one-man cabinet-making shops. They grew, thanks to Tim's industry knowledge and network of potential clients. Mary Jo took on a leadership role, they hired more workers, and they built a true production facility on their Foreston property.
Eventually, though, the area's number of smaller cabinet makers started to dry up, falling prey to bigger competitors. But by then, Harris Hardwoods had figured out their next move.
"That world just kind of died," Mary Jo says. "It just disappeared. It was like you either grew and developed or you died. And that's what happened to a lot of those small cabinet shops. They just disappeared."
As the Harrises watched the demise of the small cabinet maker, they connected with a third-party distributor who could introduce them to customers who deal in larger volumes. This way, they could compete with the likes of Woodcraft Industries, St. Croix Valley Hardwoods, and Indiana Dimension, among others.
"It opened the doors to a lot of opportunities," Mary Jo says. "They were able to get us in the door, as we say, playing with the big dogs."
Before connecting with that third-party distributor, the Harrises tested the "big dog" market without much luck. The distributor gave them credibility. They no longer had to convince larger cabinet companies that they could handle large-volume orders.
Working with that distributor allowed them to grow. And as Harris Hardwoods grew, they used their profits to expand, to upgrade equipment, and to train employees.
They recruited Steve Haarstad, a business growth consultant with Enterprise Minnesota, to help prepare a strategic gameplan for growth. According to Haarstad, Harris Hardwoods had already done a great deal to help themselves before he arrived on the scene.
The company had adopted the tenets of the Traction company's Entrepreneurial Operating System (EOS), a holistic approach to leadership and management that stresses vision, execution of a vision-centered strategic plan, and top-level attention to the needs of the entire team.
Still, the Harrises felt their management structure needed further assessment and attention.
"I think they felt like, even though they were utilizing this system, they weren't getting 'traction,'" Haarstad says. "They were having trouble making the system trickle down into the organization."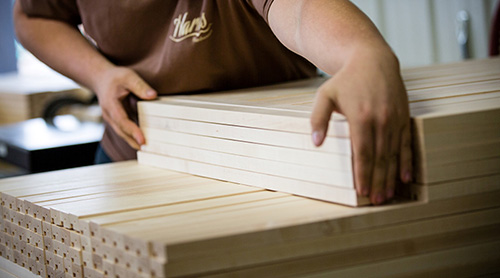 Haarstad helped the Harrises get their leadership team aligned with their vision for the company by identifying and communicating the company's core values.
"We helped them as owners get clarity on what the business was and where they were trying to take it," Haarstad says. "After they were grounded in that, we could bring in the rest of the team and make adjustments based on their input."
Those initial discussions persuaded both the Harrises and Haarstad that change was necessary to implement Tim and Mary Jo's vision for the company, such as bringing new people into the management fold who shared that vision.
According to Haarstad, recognizing obstacles to growth is the key to beginning the process of moving beyond the kind of plateaus that vex so many businesses.
"If business is growing, over time it will reach these plateaus — with the tools you have, the equipment, the systems, the process, the people, the experience, you can grow to a certain level. And then you start to just kind of tap out. You reach the extent to which those things can get you to where you are," Haarstad says. "In order to then start growing again and move toward the next plateau, something has to change."
It might be expanding the facility, upgrading equipment or improving processes. Or it might be finding new leadership to take you to the next level.
"That might have been an issue for them," Haarstad says.
Haarstad also helped them with focus, and helped them develop the phrase "long, wide, repeatable," to crystallize the kind of business and clients they wanted to pursue. Long and wide refers to dimensions of wood Harris Hardwoods excels at producing; "repeatable" refers to customers wanting regular, consistent work from Harris Hardwoods. Having regular clients removes guesswork. Haarstad advised the Harrises to focus less on "one-off" customers in favor of enduring long-term relationships.
Haarstad also helped Harris Hardwoods get on the 90-day rhythm schedule, in which the leadership — along with Haarstad — gathers every three months to assess progress and adjust goals if necessary. The Harrises say they love the periodic opportunities to focus on the business' plans and goals.
"We have Enterprise Minnesota come in and facilitate those meetings because we can get lost in our own mire and muck," Mary Jo says. "It's hard to see sometimes when you're in it, and they help direct us through those processes."
Like any business …
Like all manufacturers, Tim and Mary Jo are hindered by the constant search for workers. They've got a mix of employees who have worked there almost as long as the company has existed and new hires. Sometimes getting those new hires to stay longer than a day is a challenge.
"It's just turn and burn sometimes. And It's hard to find them. We're experiencing it just like everybody else. Recruiting, ghosting — that's a big deal. 'Yeah, I'm coming, I'll be there for that interview, I really want this job, I'm so interested.' And then they don't show. Or you call them and say, 'We feel you're a great candidate and we really want you on board,' and you never hear from them again," Mary Jo says.
Or, worse, often they'll be further into the hiring process where the company has paid for drug testing and a background check, only to have the new employee walk away from the job after his or her first break.
As one solution, Harris Hardwoods promotes itself as a "second chance" employer, providing opportunities to people who may not survive a background check at other manufacturers.
When asked why, Mary Jo pauses. Struggling to hold back tears, she says, "Everybody deserves a second chance. We all make mistakes. Right? Everybody deserves that second chance. Now, mess that up and I don't think you'd last long here. But you get that second chance."
The Harrises also say offering second chances is just smart business in a brutal labor market environment.
"We need labor. Without our people, we are nothing," she says.
People are everything to the Harrises. They started a company in a garage with one person, and built it into a flourishing business. But they don't plan to cut wood forever. While there are no buyers yet for Harris Hardwoods, and they don't plan to retire this month, they are looking down the road to a time when they can sell the business.
Until then, they and the rest of their team will continue to work by a mantra they've officially adopted just in the last few years. Unofficially, it's been a part of the Harris Hardwoods ethos since before the company began: Success begins with grit and SAWdust. "Grit," of course, refers to the kind of tenacity required to make a startup last nearly 30 years. The "SAW" part of SAWdust stands for Service, Accountability and Wholeheartedness.
"Grit comes from having watched our dads struggle and try new things over and over again until finally becoming successful in their later years," Mary Jo says.
"And grit, for us, is the same thing. There were lots of times when we could have, and probably should have, quit. But we kept going."
The "dust" part of their mantra emerged from Dale Carnegie's book, How to Win Friends and Influence People, which Tim read for a class. Mary Jo read it alongside him so the two could talk about what he was learning and doing at work.
The book teaches, "you can't saw sawdust." It's a parable of sorts that reminds us to not dwell on mistakes, the past, or things that cannot be changed. Learn from the past — the dust — to build a better future.
…
Featured story in the Fall 2022 issue of Enterprise Minnesota magazine.