State of Manufacturing®
The comprehensive annual survey of Minnesota's manufacturing economy.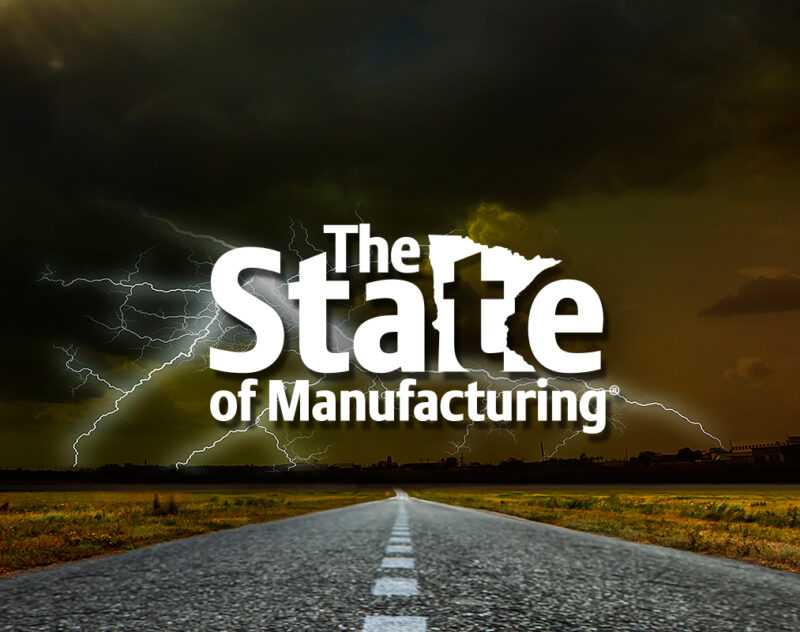 2020 Survey Presentation
Watch the complete recorded presentation of the 2020 State of Manufacturing survey results.
(0:00-2:45) Introduction by Tom Whelan
(2:45-9:50) Welcome by Bob Kill
(9:50-36:50) Survey results by Rob Autry
(36:50-1:20:00) Manufacturing panel moderated by Tom Whelan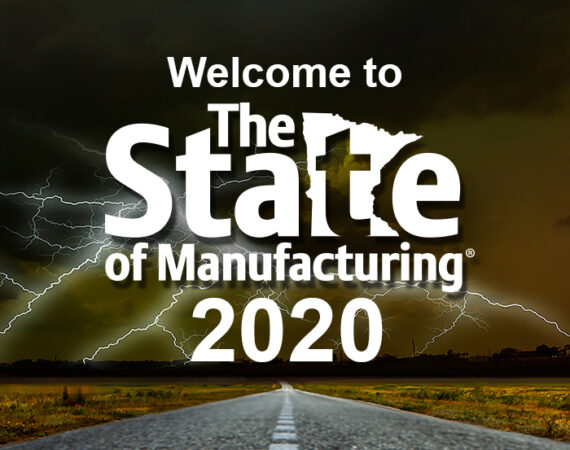 2020 Survey Results
The takeaway: COVID uncertainties cloud manufacturers' outlook.
The COVID-19 pandemic has cast a long shadow over Minnesota's manufacturers, triggering the deepest plunge in manufacturers' expectations for their companies since the Great Recession of 2009, according to the 2020 edition of Enterprise Minnesota's State of Manufacturing® survey. A record low number of companies expect increased revenues in 2020; the number of executives who fear recession has increased seven-fold, and confidence in the business climate has sunk to half of what it was in 2018.
"The effects of the 2020 COVID economy have hit all areas of manufacturing differently. Some manufacturers are struggling to keep up with skyrocketing demand, while others are struggling to keep solvent. Once reliable supply chains have for some become unstable and unresponsive," said Bob Kill, president & CEO of Enterprise Minnesota. "But one major takeaway from this year's survey is that manufacturers continue to be resilient problem-solvers with a get-it-done attitude. They continue to adapt to changing demands and have worked very hard to not cut employee compensation."
Please subscribe to stay in touch with updates and industry news – click here.
The 2020 State of Manufacturing® presentation from November 5 was recorded and will be available soon.
Pollster's Analysis
Overall, seventy percent of manufacturers say the COVID-19 pandemic has had a "major" (35%) or "modest" (35%) impact on their businesses. The impact appears to be felt less in the western half of the state. Despite this, manufacturers continue to have confidence in their companies' long-term resilience, as they have shown in all the years of the poll. There was a significant increase in the number of manufacturers who fear recession, however (36%, up from just 5% the year earlier).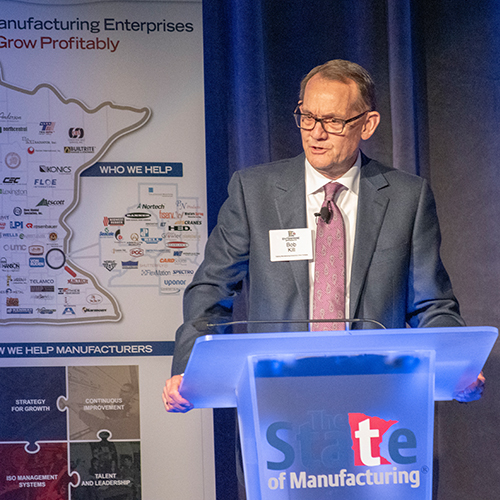 Survey Deck
Highlight slides of the 2020 State of Manufacturing® survey deck are below. To view the complete slide deck, please click here.
Focus Group responses
11 focus group interviews were conducted in coordination with the 2020 survey. These focus groups give us detailed insights into what manufacturing executives are seeing in their businesses. To read more about focus group responses, click here.
For complete focus group transcripts, visit our Research Page.
Let's just start with the elephant in the room, which is the impact of COVID on your business. How has it impacted your ability to work profitably in 2020?
"It's a matter of our customers canceling POs early on and extending orders. We're working three to four days a week, depending on customers, but we've laid no one off and orders now seem to be holding steady."
So, if you look out from the beginning of 2020 to what you've experienced today, has COVID impacted your bottom line or is it more about adapting your processes to circumstances?
"This has had a couple of different impacts on our business. Our leadership group took another look at our forecasting for the year. Then we got to be closer to the first part of April, and we realized that the economists we listened to weren't right. We started to see that our business was growing at a pace that we couldn't catch up with, and still can't. We were planning for about a 7% growth in 2020, and right now we're sitting at about a 33% growth, and our lead times continue to creep out on us."
What was your message to nervous employees who reached back out to you?
"They couldn't see us panic. A lot of our organization went to working remotely, which made it very challenging and difficult to do business as usual. I think we transitioned very well. I don't have all the answers for this stuff, and I still don't to this day. I just do what we have to do and then try to keep our employees engaged so the trust factor relationship remains the same."
Are there opportunities to reposition your company that you didn't foresee at the beginning of 2020?
"Well, we actually saw a little bit of a slowdown starting last fall. We thought this would be a perfect opportunity to get ISO 9001 certified. It was a very interesting process because all of our training from about March through the time we finished our certification here in August was all online, including our audit with the registrar. He was very cooperative and helped us get through that, even though we'd never met face to face."
Bob Kill, president & CEO of Enterprise Minnesota is available for comment and interview regarding the 2020 State of Manufacturing® survey data. If you would like to schedule an interview, please contact Robert Lodge (rlodge@enterpriseminnesota.org).
The State of Manufacturing survey is made possible through the support of our generous partners. If you are interested in being a part of the State of Manufacturing survey, please contact us.
The State of Manufacturing survey is conducted by Meeting Street Insights and is underwritten by Enterprise Minnesota.
Complete 2020 survey cross tabulations, focus group transcripts and analysis can be found on our Research Page.
Sign up to learn about upcoming events in your area.