State of Manufacturing®
The State of Manufacturing® is an annual survey of Minnesota's manufacturing industry, highlighting the trends, conditions, and outlook of executives from around the state.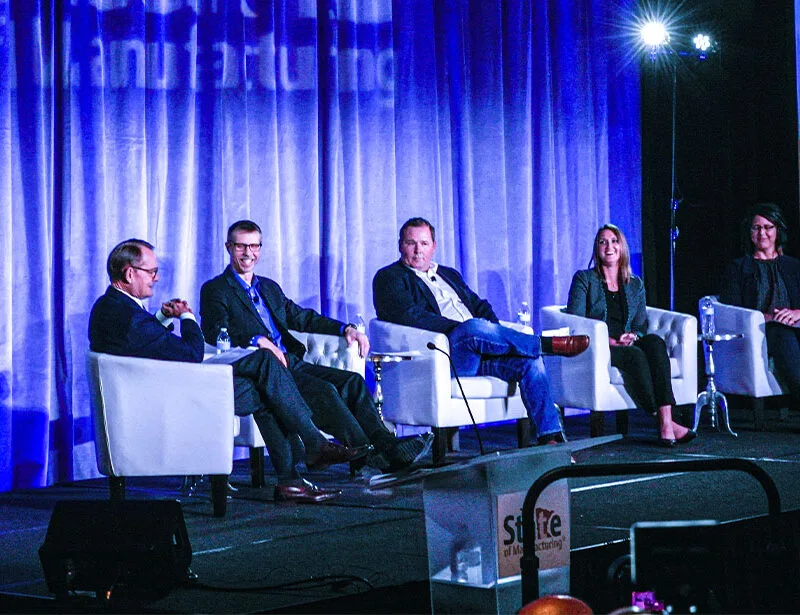 2022 survey results
The same Minnesota manufacturers who have navigated the challenges of a COVID-era economy, unprecedented disruptions in their supply chains, and dwindling numbers of available workers are now preparing for yet another marketplace headwind: The likelihood that increased inflation will require continued interest rate hikes culminating in a recession.
The number of manufacturers who fear an upcoming recession has more than doubled over last year, from 18% to 43%, according to the latest edition of Enterprise Minnesota's State of Manufacturing® (SOM) survey.
In addition to fear of recession, inflation and attracting qualified workers remain at the top of manufacturers' list of concerns. Despite pessimism about the broader economy, 88% of respondents say they are somewhat or very confident their company can withstand a recession. Confidence has been a hallmark of poll respondents since its inception.
"Despite strong headwinds, this year's State of Manufacturing survey shows manufacturing executives expressing optimism about the financial future of their companies," said Bob Kill, Enterprise Minnesota's President & CEO. "I'm convinced that each of the profound business challenges executives have faced in recent years has added to their ability to face future crises."
2022 survey release events
Each year, Enterprise Minnesota reveals the findings of our results in Minneapolis, then holds regional events around the state, including Fergus Falls, Owatonna, Grand Rapids, Duluth, Pine City, Worthington, Hutchinson, and Bemidji.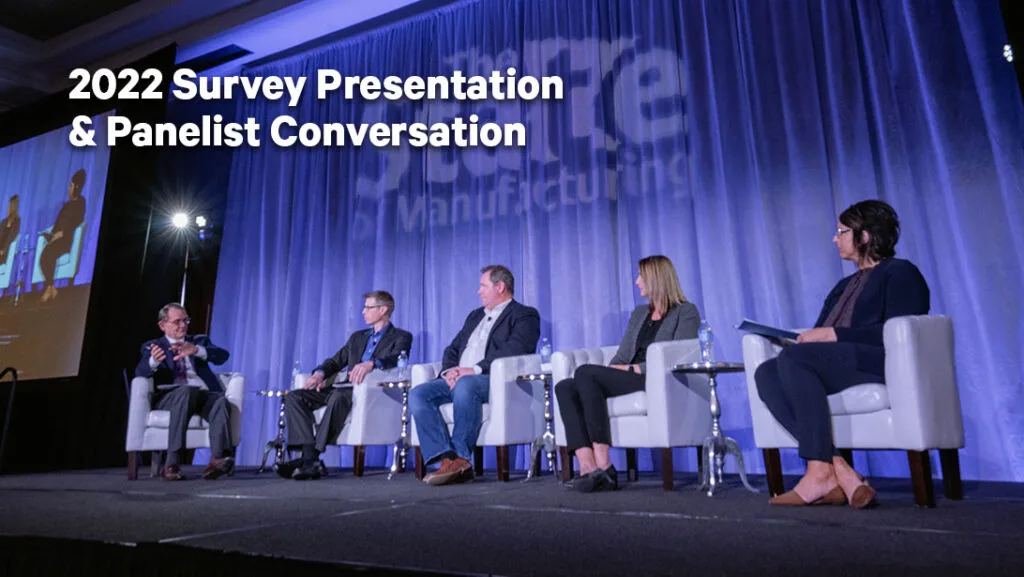 Pollster's Analysis
Read the complete breakdown of the 2022 State of Manufacturing® survey data and what it means for the industry.
How do you see the next 12 to 18 months compared to the last year or so?
The last couple years for us were very strong. We had a hard time keeping up with demand. Now this year and going forward, we've had to work a lot harder to maintain our sales and volume going out the door to our customers. We are doing more promotions, as people are looking for sales and discounts with inflation dollars being tight.
How do you plan for two or three years out in this kind of a world?
We might be adding some square footage, but on a smaller scale than we would've a year ago when some bigger plans were made. Some of those plans have definitely been put on hold. It's also important to stay close to your customers right now because things are changing so quickly. It might not always be a low demand like it is right now so staying on the same page is important for when that demand picks up.
Ten years ago, people thought some kinds of automation were sometimes a threat. Are your employees embracing it differently today?
When we brought the cobot in, it was amazing how many people wanted to come over and see it, watch it. There was no threat whatsoever.
How have you changed your hiring or onboarding process to try and have a higher retention rate?
One of the things we've spent a lot of time on is retention. And what we found is to constantly touch base with new employees, even existing employees. That communication, that feedback, it can be really successful with seeing improvements, retention, etc.
We talked a lot about people, we talked about supply chain, we talked about how business is. What's your heartburn issue as you think about the next year?
Retaining [people] is on our mind, but also just wondering if we can sustain this growth with inflation and all these rising prices. Some people say yes, some people say no. The failure rate in large industries is high. So, it's making sure that we're doing the right things to stay in the business.
How has forecasting changed?
Look at how things have progressed the last two years, we can have anywhere from 10% to 50% growth at any period of time. How do you predict what it's going to be like in 2023? Is the economy going to stay the same? That one commodity you buy or that one part you buy could disrupt the whole chain. How much risk do we take to pre-buy that material? How much should we put on our shelves, both raw materials and finished goods? It's a guessing game — month to month, week to week.
Requests for interview
Bob Kill, president & CEO of Enterprise Minnesota is available for comment and interview regarding the State of Manufacturing® survey. If you would like to schedule an interview, please contact Robert Lodge ([email protected]).
The State of Manufacturing survey is made possible through the support of our generous partners. If you are interested in being a part of the State of Manufacturing survey, please contact us.
The State of Manufacturing survey is conducted by Meeting Street Insights and is underwritten by Enterprise Minnesota.
Sign up to stay in touch with the State of Manufacturing