State of Manufacturing® 2021
Thank you to all of our participants at this year's event. Find complete survey results and analysis below.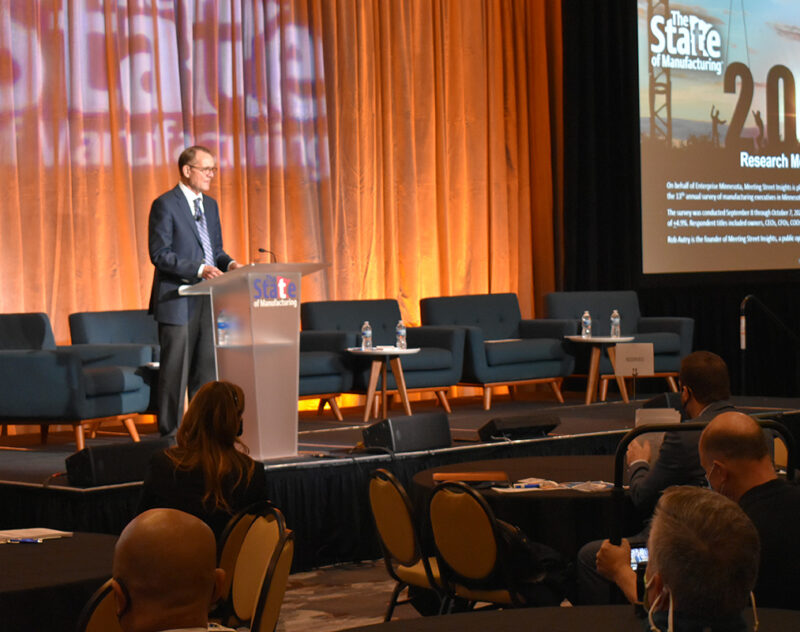 Despite unprecedented uncertainties that continue to roil the COVID-era business economy, the 2021 edition of the State of Manufacturing® survey has revealed that Minnesota's manufacturers are far more optimistic about their companies' prospects than they were after they experienced the first wave of the pandemic.
"It's a remarkable turnaround in expectations," says Bob Kill, president and CEO of Enterprise Minnesota. "The worker shortage, supply chain uncertainties, and unstable pricing could provide challenges. But most manufacturers seem confident they can overcome factors that might constrain their path to profitable growth."
The State of Manufacturing® is the annual survey of Minnesota manufacturing executives that reveals the latest trends in key business areas including growth, workforce, supply chain, economic confidence, and more. Each year, over 400 manufacturing executives are surveyed, representing a broad mix of manufacturers by region, employee count and annual revenue.
Watch the complete recorded presentation from November 10 below: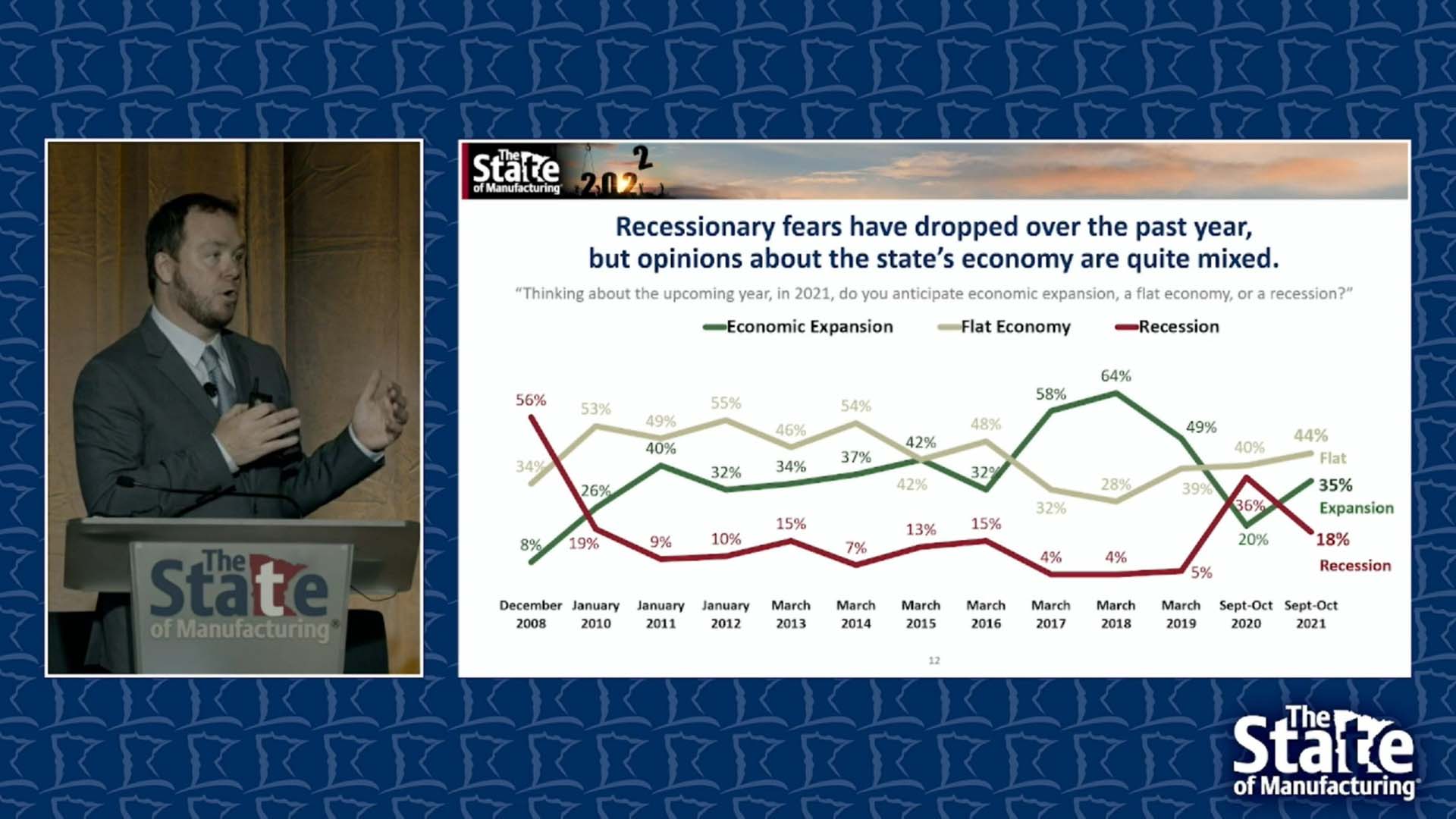 Pollster's Analysis
Read the complete breakdown of the 2021 State of Manufacturing® survey data and what it means for the industry.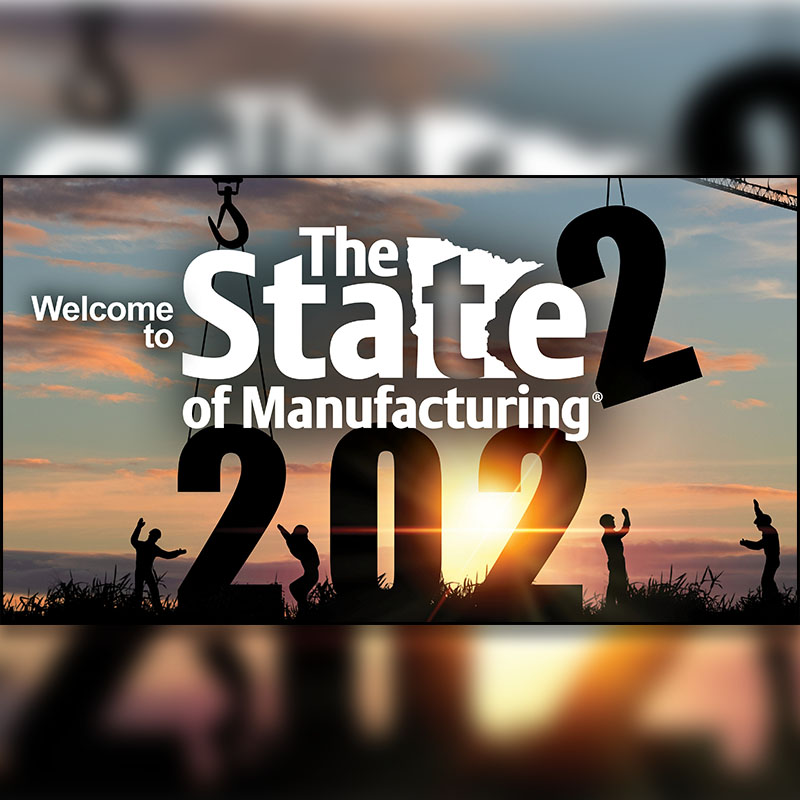 What our manufacturers said
In the next 12 months, what is the biggest challenge you face? 
"Supply chain security. It's been difficult just making sure things are available. A lot of our stuff has to be made in America. The sourcing of some of those components and parts has become a little bit more of a challenge. There are other delays that come in that are directly tied to COVID and what COVID has done to certain parts of our supply chain. Our ability to get needed parts has been delayed a bit, but our purchases are not very time sensitive. We're lucky because our customers and our client base are both very understanding. It hasn't impeded our business yet."
In the next 12 months, what is the biggest challenge you face? 
"One major thing holding us back is finding the skilled employees we're looking for. I think everybody's fighting wage increases and the challenge that brings, especially if you do any long-term contract work. That is our biggest challenge. Thankfully in our industry we haven't been hampered too much other than international shipping. We've had a few containers that took four months to get in, but it wasn't a material shortage. It was just the labor shortage at the port."
Is the worker shortage here to stay? 
"I think so. I think we need to start thinking that way. We're doing a lot to train from within. We're getting qualified people with no skills, and we're training them. If we train 10 people, that's a lot of money. We're not that big of a business. We have to nip away at it year by year. Our growth rate, as bringing on employees goes, does not match the growth rate potential. That will be a big problem in the long run."
How much will automation play into your ability to make up productivity efficiencies?
"We're actually right in the middle of spending about $25,000 for a very minuscule automation project. But the reason we have to do that is the shortage of people."
The cost of healthcare has always been a top concern – is that still an issue? 
"It's still an issue. We've continued to see double digit increases every year. You can't stay ahead of that without pricing yourself out of the market. It's impacting our margins and our strategies. That's another reason to push for more automation. The robots don't need much insurance."
Bob Kill, president & CEO of Enterprise Minnesota is available for comment and interview regarding the State of Manufacturing® survey. If you would like to schedule an interview, please contact Robert Lodge ([email protected]).
The State of Manufacturing survey is made possible through the support of our generous partners. If you are interested in being a part of the State of Manufacturing survey, please contact us.
The State of Manufacturing survey is conducted by Meeting Street Insights and is underwritten by Enterprise Minnesota.
Sign up to stay in touch with the State of Manufacturing