Whether the pandemic-era economy will tumble into a full-on recession might be less interesting than how small- and medium-sized manufacturers are prepared to respond to it. Unlike when the Great Recession ambushed the American economy in 2009 and caught virtually all manufacturers flat-footed, everyone has had plenty of time to contemplate the state of this economy.
Will it further roil the insecurities of the manufacturing marketplace, or will it, as some manufacturers are saying, provide badly needed breathing room from overheated demand? Might it ease the choke points in the supply chain? Could it relieve the competition for an already-scarce supply of workers (and perhaps persuade them that they can't merely quit at lunchtime with the certitude they'll find another job across the street)?
And will it puncture the inflationary uncertainties in pricing?
"Great questions," says Gregg Elliott, president and CEO of Seacole, a diversified chemical manufacturing and distribution company that operates out of a 90,000-square-foot facility in Plymouth. Elliott has grown his company from $2 million in 2002 to an operation now bearing down on $30 million in sales.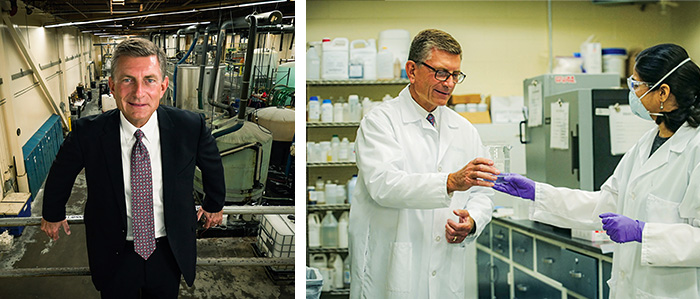 Like many manufacturers who developed the been-there-done-that aplomb of having endured and eventually prospered in the Great Recession, Elliott doesn't appear to have too much anxiety about what might happen. But that doesn't mean it didn't inflame some immediate heartburn at the time.
"It almost put us out of business," Elliott says. The Great Recession of 2009 hit Seacole at a time when it was both riding high and financially vulnerable. In just a half-dozen years, Elliott had transformed a small acquisition into a diverse $10 million company that had just bought and occupied new headquarters in Plymouth.
"It was a perfect storm," he recalls. Buying the new building stretched the limits of Seacole's budget but had been a strategic move that would facilitate the company's expected growth and harmonize diverging cultures between its separate operations in Delano and St. Paul by putting them under one roof. At about the same time, Elliott got the news that Seacole had lost one of its biggest customers, hurting revenues. "And then the economy went into the tank. All those things together were tough on us."
Like other CEOs, Elliott sorted through the effects of the crash. Many observers were surprised by the calculated calm among manufacturers who chose not to panic but to pick through the chaos for opportunities to retool and expand.
"That's exactly how we looked at it," he says. "We struggled, but I think there were only a couple of months where we actually lost money."
Elliott double-checked the efficiency of his operation, weeded out less productive employees, watched his cash flow, and used credit sparingly. "We had to nurture our relationships without banking partners," he says. And then he looked for opportunities to find new customers. Elliott says he discovered a number of his competitors were struggling more than Seacole, some even abandoning the market altogether.
He also looked to upgrade Seacole's internal processes so it could pursue business with more prominent companies. His eyes were on Dow Chemical, which was looking to shutter an underperforming plant and subcontract its manufacturing. "The only way we could compete for that business was to become ISO certified," he says. Seacole contracted with Enterprise Minnesota to help achieve its ISO certification, which Elliott says formalized practices and documented procedures and processes. "So, if we lost an employee who had that tribal knowledge, we didn't lose his or her expertise," Elliott says.
Seacole secured the Dow business, which he adds, sparked a domino effect. "It made it easier for big companies to do business with us. They like to see that quality component that comes with certification." The ISO designation also enabled Seacole to join the National Association of Chemical Distributors, a key organization of industrial chemical distribution in North America. "It gets you into the club," Elliott says. The Dow contract also created a certain pride within the plant, he continues, because the rigor of ISO certification "became a call to action for everybody to get involved."
All told, Elliott says the experience of enduring the Great Recession made Seacole a stronger company.
"It caused us to realize that if we diversify our markets, we're more insulated from economic ups and downs," he says. He learned some "hard lessons" about banking and realized that a strong team can weather just about anything.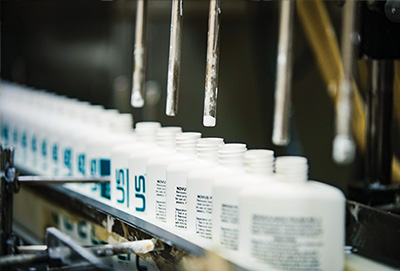 * * * * *
Growing up in the shadow of Rochester's Mayo Clinic, Elliott set his earliest aspirations on a career in medicine. After graduating from John Marshall High School, he studied chemistry and biology at St. Olaf College, choosing the Northfield college in part because at the time it was placing the highest percentage of its students into medical schools.
He attended graduate school at the University of Minnesota while twice getting on the waiting list for admission to the U's medical school, but twice falling short of the cut. A fellow grad student alerted him that J.T. Baker, a prestigious 150-year-old chemical manufacturer in New Jersey, was setting campus interviews for sales reps.
Of 30 applicants, Elliott got the job. "I'd never heard of them. And I ended up falling in love with it." He says the experience introduced him to the vast marketplace for chemistry. He worked with a wide variety of customers, from food plants to medical companies and defense contractors. "Every day was completely different," he says.
Elliott was named J.T. Baker's national salesman-of-the-year after four years of repping the company in five midwestern states. Executives flew him to Phillipsburg in the hope of persuading him to join the management team of its New Jersey headquarters, but its location in a neighborhood of decaying smokestack industries and a culture very much unlike the Midwest left Elliott feeling that he "didn't want to live in New Jersey," he recalls.
Instead, he joined Hawkins Chemical in northeast Minneapolis, where over 16 years he climbed the company hierarchy and helped it expand beyond the narrow margins — and intense competition — of large volume commodity chemicals into more lucrative smaller-quantity specialties like food chemistry, electronics and pharmaceuticals.
His career legacy from Hawkins, he says, is the mentorship he received from Curly Hawkins, its founder. Hawkins taught him that "a little knowledge, the ability to build strong relationships and a strong faith in God, and a lot of luck, you can be very successful at business."
As Hawkins' management shifted, Elliott sought a new opportunity. Instead of looking for another employer, he decided to engage a genetic disposition to launch his own company. He had long admired watching his dad, Chuck, experience an "American success story," as a manufacturing entrepreneur in Rochester. Chuck Elliott was an early employee at Crenlo, a metal fabrication company specializing in cabs for big tractor companies like John Deere and Caterpillar. He devoted almost 50 years to growing the large company, eventually owning it, and at the time being the third largest employer in Rochester.
The requirements of starting a new chemical plant from scratch in the intensely regulated world of chemical manufacturing would overwhelm his capabilities, Gregg says. There was first the need to navigate the vast and exacting government requirements, and then to develop a line of products, recruit a base of customers and find employees to service them. The most efficient path was to buy a company that provided a platform to build on.
Gregg found Circuit Research Corporation in Delano, a printed circuit board chemistry company whose competitors in China swallowed up 80% of its business. Complicating the company's circumstances was that its patriarch had passed away, leaving the company's future uncertain.
"It was a reasonable purchase," Elliott recalls. He named the new company Seacole, a combination of the first names of his two children, Sean and Nicole. Elliott assumed the lease of a facility with five offices, a laboratory and a manufacturing warehouse. He retained a nucleus of employees, including John Bell, who remains today as Seacole's CFO.
Along with a minority partner, Elliott grew the company "pretty handily" from Delano. They diversified its products into food chemicals, pharmaceuticals and electronics, while still nurturing the company's exiting circuit board customers.
"We grabbed at everything we could," Elliott says. Within five years, Seacole's sales already approached $10 million. In 2007, Elliott acquired C&H Chemical, a $4 million manufacturer based in St. Paul.
The C&H acquisition added to Seacole's product diversity, blending products to custom specifications for hundreds of small customers and a large-company clientele that included Burlington Northern, Northwest Airlines and 3M.
In September 2021, Seacole acquired Phyton, a company that began with formulas developed by two chemists at the University of Minnesota visiting from India. They had developed and patented a product to cure Dutch Elm disease, a problem that was ravaging neighborhoods in St. Paul. Although St. Paul determined it was cheaper to remove the trees than to cure them, the University sold the patent to a local group that discovered other applications for the fungicide, curing disease on crops like apples, pecans, oranges and coffee. Elliott was introduced to the company when technical problems with one of its products needed attention, and manufacturing contracts were issued to Seacole. The grateful owners offered Elliott a seat on the board and eventually sold him the company.
"Now we're in the ag business," Elliott says, who attributes the company's "significant" recent growth partly due to its regenerative green products that work systemically and enable farmers to use less chemistry when fertilizer prices are rising dramatically.
Elliott envisions future growth for Seacole. The company's existing plant is expandable by 20,000 feet, he says, but a growth limiter might be his ability to fill his plant with an adequate number of staff. Like all manufacturers, Seacole struggles to find employees. "We would hire five to eight production employees today if we could find them," Elliott says.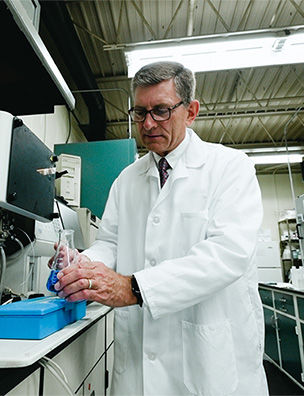 "It helps if somebody comes to us with some experience, but we can train anybody with no chemical experience whatsoever," Elliott says.
The company works hard to make it an attractive place to work. Seacole has upped the starting wage for production employees by 20% in the last six months. It now offers a four-day second shift with Fridays off and a flexible PTO program. At the outset of the pandemic, Seacole gave every employee an extra week of PTO to help them cope with the demands of COVID.
Another challenge has been that COVID encouraged senior people to retire. He's already lost two, Elliott says, "with a couple more waiting in line."
* * * * *
What about the prospects of a possible recession? Elliott will navigate the challenges of the current economy by nurturing good relationships with employees, suppliers and even competitors.
"I'm not panicked," he says. "On a scale of one to 10, with 10 meaning the sky's going to fall, I'm probably at a five right now."
"I think the economy's going to slow down, and that's going to help correct an overheated market," he adds. The supply shortages, skyrocketing freight costs, and the worker shortage are a few of the issues always on his radar.
At the same time, Elliott says, "we got through the last recession looking for opportunities, and I think the same thing will happen this time. We just have to be nimble and react quickly to whatever happens."
That includes "treating our employees as best we can," he says. "That will help us get through anything." He cites the lesson of watching his father operate Crenlo. "He would walk through his plant with a thousand employees and know the names of almost everybody there."
The same goes for customers: "We treat our customers very well so that they will give us more of their business when a recession hits rather than spreading it around. They'll concentrate on the people who treat them the best."
He continues to look for product diversity. "We're into a lot of different markets," he says. "Not all markets drop at the same rate in a recession. We're in agriculture, electronics, transportation, and all markets that move independently of one another. If we go into a drastic recession, we don't think agriculture will follow as quickly. Electronics will be strong, no matter what, and defense contractors are also going to do well."
Bottom line: "There is always a need for what we do," Elliott says. "Every manufacturing company uses some type of chemistry, and we know we're going to be essential somewhere to somebody. We're not panicked that customers will stop using our products because they value our ability to supply their manufacturing facilities."
…
Featured story in the Fall 2022 issue of Enterprise Minnesota magazine.