Popp Brothers Lumber had been a family-run business for 53 years when Wes Bonine bought the Hutchinson-based company in fall 2018.
The majority of Bonine's background was in the corporate world, so he learned pretty quickly how important his then new team of six employees would be during the transition of learning the pallet and crate manufacturing business. It was a change that would require an education in both running an operations-based business and keeping it rooted firmly in customer-centric and small-business values.
"In a corporate environment, I knew I was only as good as my employees, and your success was going to be predicated on how well you did as a team," Bonine says. "But running your own 'small' business — especially one with just six employees — is when you really start to appreciate how dependent you are on them."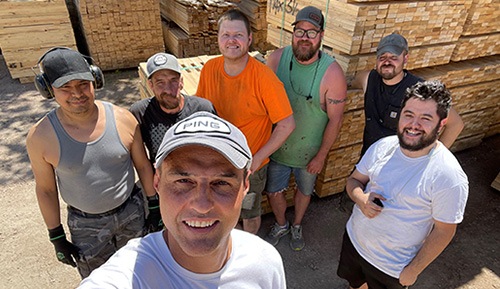 Pandemic stalls progress
Bonine was feeling good after the first year. Generations of the Popp family had run the company well for decades, finding a niche in the lumber industry making pallets and crates for customers within a 100-mile radius of the facility.
Bonine took over a business with employees having eight to 12 years of experience at the company, and he was able to add an additional full-time position.
"I liked that the company had a smaller, experienced team dedicated to their craft, and I was looking forward to the challenge of creating efficiencies. It was a good fit for me and my leadership style," Bonine says. "When you have employees committed to product and service quality, then you have a fighter's chance of growing the business."
Bonine then began thinking about growth and expansion of Popp Brothers. But just as he was getting settled in, COVID-19 complicated his plans.
"I definitely wasn't prepared for the pandemic," he says. In April 2020, the company enjoyed an upsurge in revenue as companies ramped up their pallet inventories in anticipation of a nationwide shutdown. "And then everything tapered off."
Cash flow became a big concern. To purchase the business, Bonine took out an SBA loan and leveraged the equity in his family's home as collateral. Maintaining targeted revenues was critical to being able to pay back the loan as scheduled.
"Now it was time to put on my sales hat and find customers," he says. "I went on the road and found two new customers during that time frame, and then thankfully everything started to pick back up again in the summer."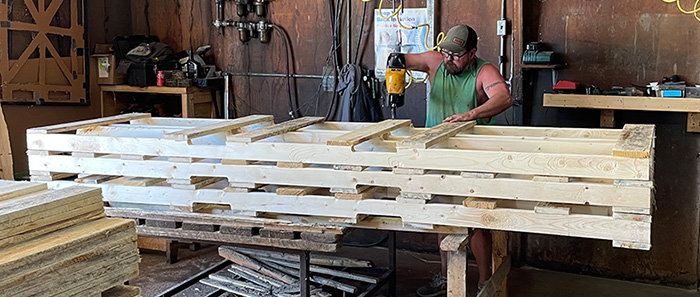 A temporary increase in demand was cut short by supply chain issues. When inventory problems caused the company's nail supplier to halt deliveries to Popp Brothers, Bonine's team leveraged connections with other pallet manufacturers to borrow nails until their shipment arrived.
"We're good on nails now, but wood is still a moving target in terms of availability and cost," Bonine says. "But (operations manager) Ryan Dobratz has been phenomenal in his efforts to find the wood necessary to keep our current customer base happy."
Planning for growth
As the dust settled on the pandemic challenges, Bonine returned to thoughts of expansion.
For advice, late last year he recruited Steve Haarstad, an Enterprise Minnesota business growth consultant, to help develop a plan to strategically create efficiencies and expand. Under Haarstad's guidance, Bonine started defining the company's purpose and core values and setting short- and long-term goals.
"With these foundational items in place," Bonine says, "we can then develop evaluation criteria to help us make informed decisions that are aligned with our strategic direction, whether it's new machines, adding resources or even moving to a new location."
Bonine knows supply chain issues, including the cost and availability of wood, will have to be factored in when planning for expansion. Such details will come into focus as the strategic plan is fine-tuned and a path for growth is chosen, Haarstad says.
"We're right in the middle of some of that strategic decision-making to determine which growth strategy makes the most sense," Haarstad says. "We first thought broadly about a number of options and have been working on narrowing the list through the use of different decision factors and comparative tools."
Haarstad says there are a variety of paths toward growth, one of which includes an investment in additional equipment to increase capacity.
Bonine says their recent work has included creating one-year goals.
"In my experience at the corporate level, the exercise of creating goals can sometimes seem like a necessary evil, and the connection is less than organic," Bonine says.
…
Featured story in the Fall 2022 issue of Enterprise Minnesota magazine.