Minnesota's manufacturers are well aware of how taxes, regulations, the worker shortage, and the costs of health care can impair their ability to create jobs and help sustain their local communities.
Economist Mark Haveman, executive director of the Minnesota Center for Fiscal Excellence, thinks they will soon add two more issues to that list: the state's massive unfunded pension liability and the urgent need for civil service reform.
Haveman delivered the speech, "Heaven or Hell: Will the Real Minnesota Business Climate Please Stand Up" at Enterprise Minnesota's Executive Manufacturing Forum on Feb. 11 at the Minneapolis Marriott West. He explained why some concerns about the business climate might be overstated. But others aren't even discussed.
The looming pension crisis is inadequately reported, Haveman stated. The state's current unfunded pension obligation today is $15.2 billion, which is $3 billion more than all of the other state's liabilities combined. And that's after the market's remarkable climb over the past decade. "Which tells you, once you get into a hole, it is difficult to invest your way out. We have to take on more substantive reform than what is talked about right now."
Haveman called the state's system of human capital design "anachronistic."
"We are reliant on designs and systems that made sense in industrial unionism of the 1930s and '40s," he said, which "creates all sorts of challenges and difficulties to retain and attract the talent that we need in the state. We try to put Band-Aids on it without addressing the root causes of these sorts of things."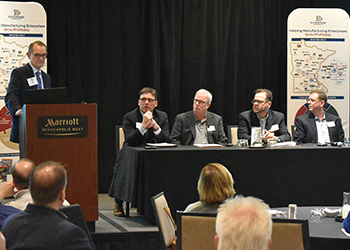 He said letting this system continue has extraordinary implications for the accountability of government. "I can't prove it, but I guarantee you that these issues have woven their way into the MNLARS debacle, the DHS debacle, all those sorts of things. Civil service reform is a critical issue for the state going forward, and we hear nothing about it. We need to tackle this. It requires leadership; it requires someone willing to take on and invest his or her political capital in changing these sorts of things. But its time is now."
Haveman's presentation was part of a morning-long program. In another presentation titled, "Five Solutions for Growing Profitably," Business Growth Consultants Abbey Hellickson, Steve Haarstad and Greg Langfield described how Enterprise Minnesota is taking a holistic approach to integrating a company's strategic planning process.
The event proved so popular it had to be scheduled for a larger venue. Lynn Shelton, vice president at Enterprise Minnesota, attributes this to two factors. First, she says, successful manufacturers realize like never before that past performance is no guarantee of future success. "Politics, demographics, and technological advances are forcing the manufacturing marketplace to evolve in new and different ways—at a rapid rate. Manufacturers can no longer merely react. They have to plan their moves with strategic planning that thoughtfully integrates every aspect of their operations from product development to sales to the efficiencies of their plant floors."
Second, she adds, programs such as this Executive Manufacturing Forum represent an excellent introduction to the roadmap they might need to get there. "And this really was an excellent program to hear about future business trends, potential pathways to grow your company, and possible solutions to navigate workforce challenges."
…
Featured story in the Spring 2020 issue of Enterprise Minnesota magazine.