Darryl Michaelson builds cat furniture, and in his 29 years in business, he's gotten pretty good at it. Michaelson, president of St. Paul-based Purrniture Cat Furniture, Inc., is living proof that a little bit of gumption can be the difference between success and failure.
Thirty years ago, Michaelson went out to purchase some furniture for his cats. What he found was disappointing. He wanted an ergonomic jungle gym for cats to "expel energy onto," something sturdily made. But what he got was cheap and ill-conceived.
So he decided to make his own.
With scavenged wood, he built a crude prototype climbing tower. The cats seemed happy, but Michaelson wanted to take the design a step further. That's when he ran across a 20-foot-tall pile of electrical wire spools to serve as platforms and perches. He crammed as many as would fit into the back of his Honda Civic and drove off.
"All I saw was gold," he recalls.
Michaelson—who managed a Domino's Pizza at the time—created flyers and stuck them up in every veterinary clinic that would allow them. Then he found premium ad space.
In July of '91, the State Fair authorities told him there was space for him on the fairgrounds—if he had a proper business. In a handful of weeks, Michaelson officially established Purrniture (the name suggested by his sister). His State Fair booth won over customers, but his in-home manufacturing space limited potential sales.
"To go look at cat furniture at a guy's house, it's not going to happen," he says.
With a little patience and hard work, Purrniture worked up to its location on University Avenue in the Midway district of St. Paul.
Recession and Rebirth
Things were looking well, and Michaelson envisioned major growth. In 2009, however, a national recession caught him unprepared. After that year's State Fair, sales tanked almost completely.
"Who's buying cat furniture when your car's getting repossessed?" he says.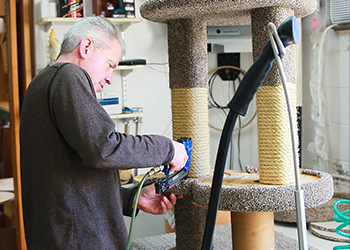 Not many people, it seems.
He fell $28,000 behind on rent and arranged with his sole employee to work on a "pay-as-I-can" basis. Michaelson grabbed a full-time job driving courier truck—putting 75,000 miles a year on his leased 22-foot truck and sometimes working 36-hour shifts to get by.
He admits he should have been evicted, but his landlord stuck with him.
It took four years to rebuild, but Purrniture has grown ever since. Michaelson says the whole experience taught him to prepare for rainy days, the value of budgeting, and that he could work twice as hard as he thought he could.
Piles of raw materials turned into finished product, with the showroom stacked floor-to-ceiling. His sales soared, and customers were thrilled with the increased selection.
Michaelson is satisfied with his growth from basement builder to business survivor, but he's looking to take things a step further this year. He doesn't plan on slowing down anytime soon.
…
Featured story in the Spring 2020 issue of Enterprise Minnesota magazine.