The pandemic hasn't put much of a dent in the lawn mower blade business. Grass still grew. People spent more time outdoors. And stimulus checks made it easier to consider a new mower.
Whirltronics Inc. has maintained an average annual growth rate of 22% for the past three years, but the manufacturer and its 120-some employees have sometimes strained to keep pace with demand, especially lately, says Jennifer Lindquist, the Buffalo-based company's vice president of engineering and new product development.
As it works to boost production, Whirltronics has expanded, with a 2020 addition taking its plant from 60,000 square feet to 80,000 square feet.
A number of manufacturers are considering expansions these days. Enterprise Minnesota business growth consultant Greg Hunsaker says that as of early spring, he was working with five different manufacturing clients on facility layout plans. He says it was the biggest flurry of such activity he has seen since joining Enterprise Minnesota four years ago.

Ally Johnston, another Enterprise Minnesota business growth consultant, says that nearly half of the members of a manufacturers' peer council she leads in Hibbing are talking about expansions.
"For whatever reason, people are expanding their facilities," Hunsaker says. "And they seem to have the money to do it."
Lindquist says while she and her team remain committed to growing their business, they strive not to enlarge their footprint until necessary.
"We wanted to make the best use of the space we had, and that's where Enterprise Minnesota came in and helped us develop a plan," she says, describing Whirltronics' work with consultant Johnston.
Johnston says she encourages clients to take a hard look at their existing operations before considering expansion. She maps out entire facilities, color-coding revenue-generating areas green and storage or wasted space red to help company leaders think about how they might boost productivity. She then asks clients to consider how they could turn more of the map green.
It can be a valuable exercise, even if a company is about to gain additional space, she says.
"Don't just expand and bring all your crap with you. Let's get rid of it, and then really expand with production in mind and effective storage, not clutter," Johnston says.
Lindquist's key takeaway from working with Johnston? "Make sure your space is making money instead of taking money," she says. "That really stuck with our team and helped us think through how we used each square foot in the shop."
Recent supply chain issues have also pushed manufacturers to consider expanding.
Jack Daggett, president of Pride Solutions LLC, says the company plans to double the size of its 20,000-square-foot Hutchinson production plant this summer at an anticipated cost of $1.8 million.
Pride Solutions' sales from 2020 through 2021 have grown about 40% across its four business units, serving different industries with plastic fabrication and assembly.
On top of the need to increase production, Daggett says supply chain issues have cramped the company's operations.
"We're having to buy sooner, buy more, bring it in earlier, all of the above. So, we're really looking forward to having additional space, because we don't have it right now," he says.
The just-in-time approach to ordering materials widely embraced as a best practice by manufacturers in the past has "gone out the window," Daggett says.
Subsequently, many manufacturers have been forced to keep more materials on hand, tying up capital in addition to space.
Hunsaker explained why one of his clients was sitting on about $750,000 worth of copper in March. "They said: 'If we didn't buy that, we can't guarantee that the next time we order it, we won't be shutting down our line.'"
"Prior to the supply chain disruptions," Hunsaker says, "most manufacturers wouldn't choose to tolerate 'modest' excess inventory of raw materials. Today, they're willing to accept stunning levels of inventory. It must be driving them nuts."
For many, however, the alternative is to push lead times out to something that will be unacceptable to customers, Hunsaker says.
"So, they're making space for additional storage. And if they do that, they figure they can grow their business and client base because they're able to meet their needs now. If the supply chain issue ever gets back to what they would consider normal, pre-COVID, they will be able to react to their clients the way they are now and still get them that same level of service, or better than their competitors," he says.
Joe Shallbetter — president and CEO of States Manufacturing Corp., a company that sells electrical power distribution equipment and solar panels — says he knows only too well the challenges of recent supply chain disruptions.
While those problems didn't hit States Manufacturing too hard early in the pandemic, Shallbetter says that since the latter half of 2021 the business has struggled to obtain reliable supplies of certain plastics, electronic chips and other materials.
"It's really impacted our ability to finish a job once it's started, because lead times are just changing and evolving it seems like every week, to be quite honest," he says.
"The problem now is that people won't even tell you when you're going to get your stuff. Initially they might have told you that you should have had it three months ago. Now they tell you: 'We don't know when you're going to get it, even though you should have had it three months ago,'" Shallbetter says.
Manufacturers likely have had an unwitting hand in their own current predicament, according to Greg Langfield, a business growth consultant for Enterprise Minnesota.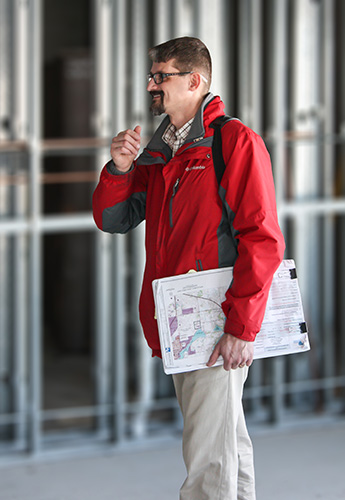 "Basically, they opened the floodgates of inventory and said: 'Whatever we can get, as much as we can get, we're going to get it.' And they're still in that mode because demand is so high for their products. They're willing to continue to eat that cost right now because they've had a real struggle to maintain inventory and get raw materials," Langfield says.
States Manufacturing, with a workforce of more than 60, currently operates out of two Golden Valley facilities separated by about four miles. It's planning to relocate to a new 93,000-square-foot plant in Champlin, come fall. The move will enable the company to consolidate its operations and will boost its available space by nearly one-third.
Shallbetter predicts the new configuration will improve both productivity and innovation.
"There's a lack of collaboration when you have your team split up in two facilities, and that's really hard to measure," he says. "So, getting everybody back under one roof is going to be a major milestone for us to improve the front-end and back-end processes."
Greg Bohl — an architect with Widseth, a design and consulting firm — has worked with a number of manufacturers looking to up their game with new facility plans. He says striving for a self-contained operation with continuous flow throughout it has clear merit.
"It's like your building is pretty much a machine. You have materials coming in one area, being processed, being sort of created or whatnot and being sent out on the backside. But if those paths cross, it can result in inefficiencies and slow everything down. That's what all businesses are trying to do — maximize efficiency so they can produce more quality product."
One of Bohl's steadiest clients in recent years has been Douglas Machine Inc., which built a 50,000-square-foot addition on to one of its Alexandria plants in 2020. And the company now is looking to move into more than 145,000 square feet of additional leased space in a nearby soon-to-be-expanded building by spring 2023.
The new space should allow Douglas Machine to consolidate operations now lodged in four separate leased buildings within about a mile of its main production facility, while simultaneously providing the company with an additional 15,000 square feet of space for an overall count of 450,000 square feet.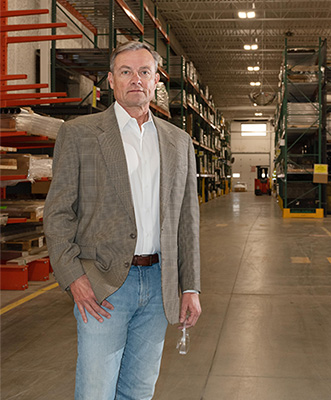 Chris Haugen, Douglas Machine's vice president of supply chain and services, acknowledges the current configuration of operations is far from ideal and predicts the new setup should yield improved efficiency.
Describing the drawbacks of the present situation, he says: "We've got trucks running all over, and people going back and forth between buildings."
The primary customers for the specialized packaging machines Douglas Machine manufactures are large producers of food and beverage products. "That segment has been booming through the pandemic," Haugen says. "People are buying more groceries. So, many of our customers need more automation, especially given the difficulty that everyone has had in finding people."
Haugen says Douglas Machine's efforts to recruit more employees is frustrated by a tight labor market, with a local unemployment rate hovering around 2%.
Staffing has proven a challenge for many manufacturers.
States Manufacturing, Pride Solutions and Whirltronics all were looking for more staff to meet demand, as well.
At a time when employees are in short supply, Langfield says it's even more important for manufacturers to optimize the physical resources they do control.
"Labor shortages and space utilization can go hand in hand," he says. "That's what I see when I visit some plants now. They don't have good flow in them, so materials are piling up, which takes up more space, which takes up more touches."
"Then, more employees are searching for materials or supplies," Langfield adds. "So, some of those inefficiencies they had before COVID because of the supply chain issues, finding space for material and the high demand, have been magnified."
Lindquist agrees that paying close attention to improved efficiency can pay dividends in multiple ways, based on her own experience at Whirltronics.
"Every time we put in a new line, we'd make it more innovative and improve on the automation that we'd installed previously," she says.
"Continuous improvement for us is part of our culture. We don't stop improving our processes. We do it every single day," Lindquist says.
The improvements, including more point-of-use storage, have made the jobs of people working on Whirltronics' shop floor easier, which Lindquist says "was the plan all along, because you don't want them to be running all around the facility to get what they need."
Despite the current crush manufacturers face and the need to focus on day-to-day operations, Johnston recommends clients still make time to step back and take a look ahead at their anticipated long-term facility needs at least every three to five years.
"Some of our clients might not be ready to move. But they're ready to start planning and to have a road map," Johnston says, noting that thoughtful facility layout is a key component to successful growth.
"You might not have the manpower or the resources or the pieces of equipment today, but we should be planning and thinking about the future now," she says.
"I think a lot of our clients could benefit from thinking about their layout because they're just focused on production, getting things in and out, and having a home for all this extra stuff. But they don't think about having a plan," Johnston says.
Douglas Machine worked with Widseth to develop a comprehensive facilities plan in 2016, laying out five future phases of growth.
Haugen says: "That's served us well, because a lot of the things we had in our vision have come true. And had we not done that, it would have been a more arduous path to get to where we're at."
Haugen credits thoughtful planning and layout for helping Douglas Machine wring the most value it could out of its current facilities, postponing the need for expansion until it was truly necessary.
"We got a lot more out of the space we have than we ever thought we would. So, that probably kicked the can out for us a little bit," he says.
Despite current strong demand for many products, Langfield says uncertainties continue to plague the manufacturing world.
"A lot of manufacturers are asking, 'Is the demand real?' With problem supply chains, they're out there trying to buy as much as they can. They're responding to that shortage, even though sometimes maybe it's a perceived shortage. And their customers, because they're part of the supply chain, too, they're doing the same thing. So, there's this fear about how much of this is really real right now," he says.
The pandemic has driven up construction costs and pushed out lead times for building materials, as well, Johnston notes.
"So, what a lot of manufacturers are really looking at is: What can we do now within our current facility?" Langfield says.
"That's where Enterprise Minnesota can help. We can look at flow. We can look at how many touches they have. We can look at where they locate items, based on ABC analysis. Within every facility, there are spaces that make money, that's where they're actually producing something that the customer values, or there are spaces that are taking money, because they have their dollars tied up in inventory or a work in progress. And we can do some analysis of that," he says.
(The online version of this story was edited slightly from the print version)
…
Featured story in the Summer 2022 issue of Enterprise Minnesota magazine.