When the folks at Sauna360 bring in dealers to tour their Cokato facility, they have a secret weapon — one that touches on history, nostalgia, small-town values and, frankly, oddity.
The manufacturing building is a few miles north of town, and if you blink, you'll miss it (as this writer did). From the road it looks like just a tiny shack on a rugged patch of land near the intersection of two rural highways, or what the locals call Temperance Corner.
Built in 1868, this shack — the company's secret weapon — is the oldest sauna in North America.
"It's part of our heritage for sure," says Mark Raisanen, the company's director of sales and marketing. "We'll bring 40 to 50 dealers in here for training. And we always say, 'Today you're going to see North America's oldest and newest saunas.' When they're on the loading dock, we say, 'That's the newest one going out the door.' And then we go north of town, stop the bus and say, 'And now here's the oldest.'"
It's no accident that North America's oldest sauna is in Cokato. The concept of the sauna was invented in Finland, and Cokato is one of the Midwest's hotbeds of Finnish DNA.
With a population around 2,700, Cokato is one of the top — if not the top — manufacturers of saunas in the world.
Saunas are becoming increasingly popular. A handful of studies out of Finland show frequent sauna use can go a long way in improving health. They're also a great way to pamper yourself and just plain fun.
Sauna360 manufactures an array of saunas ranging in price from around $6,000 to $30,000 or more. The company offers free-standing units in a multitude of sizes as well as custom-designed units to fit almost any space.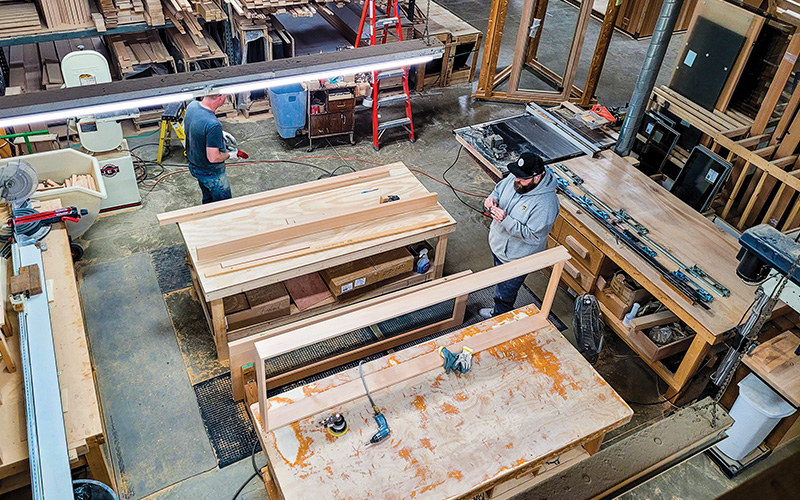 While such a product may seem like a luxury item, Sauna360 actually has seen sales increase over the past few years and has a waiting list for units.
The company also has supply chain issues — the kind that aren't going away anytime soon. With most of the units built in China, Sauna360 is at the mercy of a shipping container shortage that is inflating lead times and driving up prices.
But with a company literally built on the back of its Finnish heritage and a workplace culture built on competitive wages and employee buy-in, Sauna360 looks to be well positioned to weather shipping issues.
We need a Finn
In 1984, the Finns came calling. It was important to the company that someone with Finnish heritage sell a product that has been made in Finland for literally thousands of years. After a bit of looking, Keith Raisanen of Cokato (Mark's older brother, who retired a few years ago) was brought on board.
The Tylö company, as it was called in 1984, dates to 1919, but the concept of a heated room — or cave or hole in the ground — goes way, way back to northern Europe. No one knows exactly where the first sauna was built, but several countries claim to be the concept's originators, including Estonia, Latvia, and Russia. But it's hard to argue with Finland, though, which has almost as many saunas as it has people — 2.5 to 3 million saunas and about 5 million people. In the U.S., by comparison, there are an estimated 1 million saunas, with a population of 329 million.
To this day, the word "sauna" is the only Finnish word in English-language dictionaries. The Finns pronounce it "SOW-nah," the first syllable rhyming with "wow."
When the Tylö company tapped Keith Raisanen, the Cokato location sold both sauna heaters and full sauna kits, though the majority of its sales came from the heaters. Over the years, the company transitioned into selling mostly sauna units, but they also still sell heaters.
Sauna360, which is headquartered in Finland with a division in Sweden and a North America division in Cokato, has become one of the largest — if not the largest — sellers of saunas in the world. The free-standing, pre-sized units manufactured in China comprise the bulk of the company's sales. These kits, which are shipped directly to consumers for in-home assembly, come in a variety of wood and accessory options. (For example, they have a full line of salts that change the aroma inside the unit.)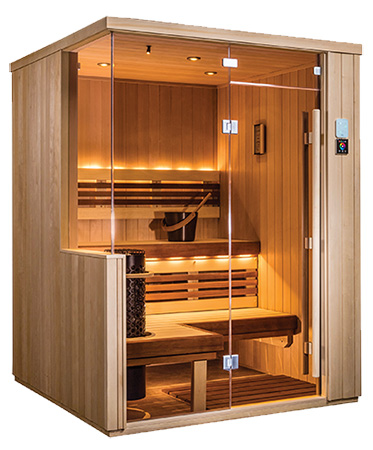 The Cokato plant manufactures all the custom-built units, and this is where the manufacturing of saunas gets interesting. A sauna can be built to fit just about anywhere in your home. Are you and your spouse empty nesters and now you want to turn that extra room into a sauna? Just send the company the measurements. Got a nifty space in the cupboard under the stairs? Just send the measurements.
Once Sauna360 has them, and is certain the space is suitable for its product, the company gets to work cutting a custom-built unit that fits within an eighth of an inch of any stud.
Saunas need the right kind of breathable wood that can expand a bit when heated up, such as British red cedar, Canadian hemlock and Nordic white spruce, which is sourced in Finland. For the benches, Sauna360 uses a wood called abaci (African whitewood), which doesn't get hot to the touch. And it's never treated, at least on the inside.
"You need and want the wood in the sauna to breathe," says Raisanen, who once did a DNA test that came back 98% Finnish. "So, you don't treat it. If it's in an outdoor setting like a patio, then you have to paint it or stain it right away. But on the inside, you leave it natural. That's one of the reasons why we select the woods we do."
Sauna360 also installs large-scale saunas in commercial settings, such as fitness centers, and luxury in-home settings. In its literature, the company highlights the bathroom-turned-spa they transformed for Osmo Vänskä, conductor of the Minnesota Orchestra and one of Minnesota's most famous Finns. Sauna360 offers both dry heat and infrared heat saunas as well as steam rooms, and each one is customizable — from wood trim and interior lighting to bench arrangement and door styles. You can also pair your unit with the company's wide array of body scrubs, seat covers, bath robes, and more.
Sounds luxurious. And it is. But recent studies of this ancient form of therapy confirm it is a great addition to anyone's wellness routine.
Good heat
A 25-year study of more than 2,300 participants at the University of Eastern Finland showed regular sauna use improved cardiovascular health among study participants.
According to the popular health website Healthline, "When you enter a sauna, your skin temperature rises, your pulse rate soars, and your blood vessels become more dilated. This happens as your heart begins to pump more blood. Of course, you also begin to sweat."
As heart rates go up and blood vessels dilate, blood flow to the skin increases, improving blood circulation. Then the sympathetic nervous system ramps up as it works to maintain your body's temperature balance. Endocrine glands get involved. And the body's reaction to the heat desensitizes the user to pain and makes him more alert. A feeling of joy may set in. The heat relaxes muscles, including those in the face and neck, and ushers in a feeling of euphoria — one of the biggest benefits of sauna use.
Sauna use may also help in recovery after exercise. When blood vessels dilate, blood circulation speeds up the body's natural healing process. At the same time, the deep sweating taking place pushes out harmful toxins such as lead, copper, zinc, nickel and mercury. One study conducted in 2016 found regular sauna use may reduce the risk of Alzheimer's and other forms of dementia. Additionally, sauna use can help relieve stress, improve sleep, beef up the immune system, burn calories and cleanse skin.
The China problem
Sauna360 has a problem, and it has nothing to do with heat or health. The company is paying four times what it used to pay to ship saunas from its manufacturing facility in China to Cokato. It can all be traced back to a tangled web of factors, most notably the unavailability of shipping containers.
The saunas manufactured in China make up most of Sauna360's revenue, and up until a year and a half ago, the company was accustomed to paying between $4,500 and $5,000 per 40-foot container. Then it went to $7,000. Then $10,000. Today, it's not uncommon to pay $25,000 per container.
"What used to cost $5,000 to bring a container in is now $25,000 to $30,000. It's crazy," says Mark Raisanen. "We've seen a surge in (custom-built) sauna sales because of that. People are asking, 'Why buy a portable one from China when I can get one that's made in Minnesota for almost the same price?'"
The company has seen periodic increases before, including during the Chinese New Year. Everything shuts down in China for the celebration, so shipping prices get bumped up. But these recent price hikes have been staggering.
The pandemic heightened the demand for shipping containers. With Amazon and other online retailers getting uber busy with people stuck at home ordering everything from gadgets to home improvement supplies, the shipping industry also got extremely busy.
There's even an issue within the issue: With so many products being shipped from China — the world's largest manufacturer of retail goods — there hasn't been enough vessels to ship the empties back to China.
How can they solve the issue? More empties in China would help. More vessels available to haul the empties back from the U.S. would also help. Fewer people relying on goods shipped from China would help too, but that's highly unlikely. Until one of those things happens, there's going to be a glut of shipping containers — a glut that is currently extending lead times to 25 weeks for Sauna360's China-made products.

Feeling the pinch in its profits, the company has had no choice but to respond, beginning with a surcharge to each order. Sauna360 has also raised prices across the board between 20 and 40%.
Sauna360 CEO Pekka Lettijeff, who oversees operations in Finland, Sweden and Cokato from his office in Wyborg, Finland, says the shipping container problem is unique to North America, adding that the leadership team here has done an admirable job navigating it, the pandemic, and other supply chain issues.
"The Cokato team knows the sauna business. The team has tens of years of individual experience," Lettijeff says. "During the pandemic, our goal was to keep our people healthy and to not stop manufacturing and shipping to our customers. I think this went very well. A great job by the Cokato team."
As far as workforce issues go, Sauna360 is in the same boat as nearly every other manufacturer in the state. Workers are hard to come by, so they've tried to raise wages to not only entice people to apply but to also retain current workers.
Just a few years ago, starting salaries were in the $14 per hour range. Today, that number has increased substantially to a figure between $20 and $25 an hour. Sauna360 employs nearly 100 workers in an environment with stiff competition for the labor pool.
Competitive pay and good benefits help Sauna360 get people in the door, but one of the things that keeps them there, Mark Raisanen says, is company culture.
Company culture
Diane Coles, Sauna360's controller, says working at this company is just plain fun.
"There are days where it's overwhelming because of how busy it is. The wellness industry has been taking off like crazy for the last couple of years. So, it can be overwhelming. It can be stressful. But at the same time, I can't even tell you the last time I called in sick," Coles says. "If I didn't love working here, I wouldn't come here every day."
She says it's about the people, and about working for a company that feels like it's on an upward momentum swing. There are more people on staff, more saunas going out the door, more money coming in.
"We went out and handed out candy hearts for Valentine's Day for no other reason than to put a face with a name and to just have people smile for a day," Coles says. "Did it work? Yes, it did. They had to smile before we gave them the hearts. So, it's just fun stuff like that. Getting people involved, feeling like they're a part of the team."
Coles is a great example of a company perk: Sauna360 employees get a discount on a sauna.
"I love it, actually. I have that one," she says, pointing to a mural-sized image on the wall of the Sauna360 conference room. "Mine's a little fancier. It has a two-toned interior, but it has all those windows. It's the Serenity. I have it inside my basement. If it was outside, I probably wouldn't use it year-round. … I like being able to sit and just kind of 'be' for a few minutes. It's nice. It's calming."
Future growth?
While many companies have growth and expansion goals, Sauna360 has a realistic outlook. Its footprint in Cokato could expand, but some real factors are putting the brakes on that.
"We can't grow as fast as we want. Multiple factors are contributing to this," Lettijeff says. "We have had times of scarce resources and business pressure, and we have had issues with logistics, as we are quite a distance from greater Minneapolis. There is a lack of skilled workers, and we've had problems attracting new competencies. Our plan is to become the county's most attractive employer by offering development opportunities for current employees and new staff bringing in other experiences and competencies."
…
Featured story in the Summer 2022 issue of Enterprise Minnesota magazine.