Five decades ago, two agriculture-related businesses took root in the rich farmland of northwestern Minnesota, founded by farmers who invented products that solved common problems. Today, both H&S Manufacturing and Terog Manufacturing are thriving multi-generational corporations in Stephen, Minn. (population 645). H&S manufactures a variety of agricultural implements, with beet carts, sprayers, and cultivators as top sellers. Terog manufactures rollers, sprockets, and hitches that are used in a variety of machinery, including H&S beet carts.
These two small-town, family-owned operations have followed similar paths from the early inventions of their founders to the companies' expansions and the second and third generations that now lead the two companies.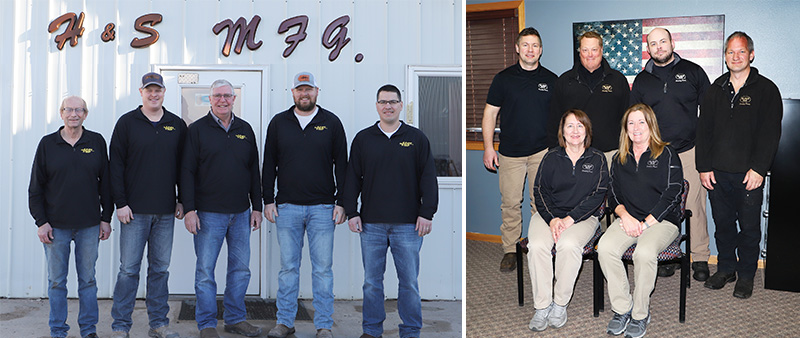 Both Terog and H&S are anchored by a pair of brothers: the Rogus brothers and the Halfmann brothers, both of whom worked in their families' businesses while growing up in Stephen. The brothers attended the same school, and all four played football for Stephen-Argyle's legacy football program — a program that won seven state championships between 1999 and 2009, including five consecutive state championships (2003-2007). Stephen-Argyle still holds the state record for consecutive wins at 76.
After high school, both Rogus brothers studied engineering — Jim at the University of Minnesota Crookston and Joe at Alexandria Technical and Community College. Brent and Brian Halfmann both earned degrees in business from the University of North Dakota. The sets of brothers returned to Stephen to apply their experience and knowledge in their current leadership roles at Terog and H&S. Their days of playing football have been replaced with friendly rivalries on the Stephen Riverside Golf Course or at the Stephen Curling Club, but they've built on their fathers' and grandfathers' beginnings.
Whether through a genetic predisposition to create things, the work ethic instilled by growing up on a farm, or the discipline and winning attitude practiced on the Stephen-Argyle football field, these new generations of executives at H&S and Terog are leading their companies as they continue to expand, thrive and find opportunities to work together.
THE ROOTS – Early days of H&S and Terog
In the late 1960s, Paul Halfmann was growing potatoes and beets on a farm just north of Stephen. He and his top farm hand, John Szklarski, built an electric skid-steer loader to move potatoes into the storage shed without the noxious fumes of a gas-engine loader. They manufactured and sold the loaders to neighboring farmers and incorporated in 1971 as H&S (H for Halfmann, S for Szklarski). Halfmann's farm is still the site of the operation today.
The loaders had a limited sales run, but Halfmann continued to farm and started building other agricultural equipment. In the 1970s and 1980s, H&S's row-crop cultivators and band sprayers were the company's primary products. Next came pull-type broadcast sprayers. In the 1990s, beet carts debuted and became top sellers. Since 2015, H&S's ridging and de-ridging tillers have been popular. And today, the company's sprayer with a 132-foot boom is another top seller.
As Paul Halfmann was starting H&S, Tom Rogus was studying machine tooling at Dunwoody Institute of Technology in Minneapolis after serving in Vietnam.
While interning in Minneapolis, Tom saw a part that looked similar to one he saw as a kid on a potato harvester. Tom recalled "pounding and cussing on a roller [after getting] off the tractor [to] yell at the part." He realized the imperfect design hadn't changed much since then and wondered if a roller with bearings might have a market.

Rogus worked out of his garage in Minneapolis, designing parts and making prototypes. Eventually he tested the marketability of his rollers at a potato show in Grand Forks. Would customers pay three to four times more than the competition for a product that could harvest more potatoes more efficiently? They would.
The rollers caught on, Jim Rogus says. "So [Tom] moved into sprockets and just kept growing." Terog (named for Tom Edward Rogus's initials and the first three letters of his surname) was incorporated in 1971. Rollers, now in many sizes and configurations, still account for about a fourth of Terog's business.
In 1974, Tom Rogus moved back to Stephen, bought an old blacksmith shop in town, and set it up with used equipment, expanding and upgrading as he could.
Jim Rogus remembers the early years, when his mother, Venita, in addition to raising five children, also made deliveries. "When we were young, my mom would take all of us to Minneapolis in the back of a one-ton van to pick up steel. She'd put it in between us" and haul it all the way back to Stephen (365+ miles).
Second and third generation teams bring experience and expertise
After studying engineering, Jim and his brother Joe, Terog's second generation, returned to Stephen where Jim manages the business and Joe is head of engineering.
Less than 10 miles north of the Terog plant, Paul Halfmann's son Craig worked on the farm and in the shop when he was young. As H&S grew, Craig ran Halfmann Farms, Inc., part of the American Crystal Sugar Company's farmer-owned co-op. But at age 30, he was thrust into the role of owner/manager of both the farm and H&S when his father died of a heart attack in 1984. Over the years, Craig has expanded H&S's business tenfold. His wife Marlys handles the books.
Today, their sons, Brent and Brian, represent the third generation of Halfmanns and work with Craig to run both Halfmann Farms and H&S. Darin Adolphson, Craig's son-in-law, joined H&S in 2017 as general manager when he and his family moved back to the area. With degrees in civil and structural engineering and several years of experience working with steel construction in Minneapolis and Grand Forks, Darin's background brings another element to H&S. (Darin also played on the 1999 championship football team with Joe Rogus.)
Continued growth
Terog's campus in Stephen today covers about a city block with plans to expand. The oldest part of the blacksmith shop is still used; other property designated for future expansion was previously owned by Halfmann Ford, run by Craig Halfmann's brother.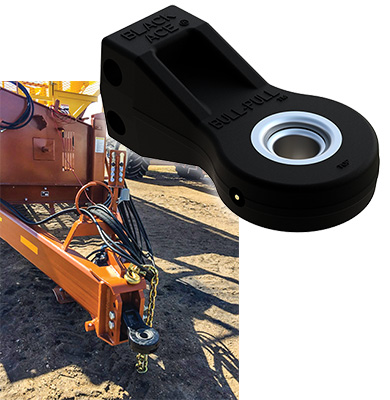 At first, Terog marketed mostly to local OEMs and area dealers in the Red River Valley but then expanded west to Idaho, Washington, and Oregon as the company's reputation grew. Jim says the nose cone roller, which differentiated and improved on what had been used for years, kicked off the business. From there, "we just mushroomed out to California, then more on the east coast and the southern states." Terog also ships parts to Canada, Europe, and Australia.
Today, Terog manufactures its products under the brand name Black Ace. About 80% of Terog parts are used in agriculture, including idler wheel rollers, sprockets, friction drive rollers, shakers, torque limiter clutches, bearing protectors, and articulating hitches. Black Ace parts have earned a reputation for performing better and lasting longer than those of their competitors. Terog's customers include John Deer, Amity Technologies in Fargo, and Spudnik in Idaho.
In addition to agriculture, Black Ace parts are used in automation, construction, mining, timber, and more. The company produces some 60,000 sprockets per year. "There aren't many sprocket manufacturers in the U.S.," Jim says.
Working together
Craig Halfmann says that although the two companies incorporated the same year, his company didn't use Terog parts regularly until H&S started producing sugar beet carts in the early 1990s. "Then we ramped up from there."
Over the years, Craig says, H&S has tapped into Terog's expertise and machining ability. "We've looked to them to help us be more efficient, finding niches where they can help. For keyed drive shafts, for example, Terog has CNC machines that can do things more efficiently. It also helps H&S out with labor shortages."
"H&S is approximately 1% of Terog's total business," Jim Rogus says, "but they're our largest customer in a 50-mile radius. As long as I can remember, we've supplied parts to H&S, and any time we've needed something fabricated they've always been there to help us out. They've been great to work with."
There are also times when the two companies work together to design products. Jim says, "Darin and Joe — old classmates from high school — work together. Darin will present Joe a drawing of what H&S needs, and together they'll modify things to make it feasible to machine or manufacture."
H&S: Made to order
H&S equipment is varied and customized. The lot outside the company's production buildings isn't stocked with inventory. Rather, orders for customized beet carts, sprayers and other equipment are filled as needed and then shipped across the U.S. and Canada.
Because cleaner beets mean more profit, demand for H&S's beet-related products has increased. And the company has responded by expanding its product lines.
The rich black soil of the Red River Valley is ideal for growing beets but can be problematic during a rainy harvest. H&S offers a choice of wheels or tracks on the harvesting carts that work even in muddy fields. The company's water kit options allow for quicker, better cleaning of the carts between loads.
H&S also manufactures customizable roll-off, rear-load, and front-load dumpsters. Recently, the company has ramped up waste industry items and has even partnered with a Seattle business to branch into composting containers that are custom designed for larger operations (like school cafeterias with lots of food waste).
Operating in a small community
Both Terog and H&S face the same issues as manufacturers in any rural area: getting materials on time from vendors and workforce shortages. Recent world issues and COVID-19 have created challenges for both companies.
"It's a struggle to get things from vendors in a timely manner," Adolphson says. "Uncharacteristic at this time of year, we've begun some purchasing for next year's production. Rubber, hydraulic, and electronic items are on the list of long-lead items."
Fortunately, H&S hasn't had problems getting Black Ace parts. "Terog is our best vendor," he says. "We buy quite a bit from them — Terog shafts, sprockets, rollers."
Hiring new workers can also be a challenge. Craig Halfmann says, "We both face similar challenges being in a small community. We try to help each other out wherever we can, whether it is sourcing raw materials, finding ways to recruit new employees, or finding different and more efficient ways to manufacture. One of the big advantages of being in a small community is knowing and trusting each other well enough to lean on one another. Facing similar challenges together helps foster ideas that you may not have thought of alone."

Both companies value the many employees who have worked for them for 20 to 40+ years. Of Terog's 35 employees, about 15 have worked there for over 25 years; five or six, over 35 years; and one sales force member for 40 years. Most live within 30 miles of Stephen. Three different four-day/10-hour shifts are available to reduce the commute. Jim Rogus believes his workers stay at Terog because they feel valued and enjoy the small company atmosphere. "We have a great core and have been steadily growing," he says, "but it's always difficult trying to find those extra one or two workers."
Likewise, several of H&S's 15 employees have been there for decades. LeRoy Hougard, office manager, has over 30 years of service, managing duties in sales, purchasing, parts and service.
Everyone at H&S, including the managers, performs more than one specific job. Nine of H&S's employees are shop workers. But it isn't assembly line production. Rather, certain bays in the shop can be switched out for different productions or for custom jobs. The full-time assembly person, painter/material handler, and seven other fabricators adjust to perform various tasks as needed, from sheering sheet metal to punching holes, cutting structural shapes, operating the press break, building assemblies, and welding.
Adolphson says almost every product H&S makes involves customization. "We're a build-to-order type of manufacturer." The H&S team can manufacture a broadcast sprayer or beet cart in about three weeks. Adolphson credits "a core group" of H&S employees for much of the company's success.
"They're not scared to work, oftentimes working overtime in the summer and fall. Everyone here enjoys being a part of new product development and having a voice in the process of our small operation."
Career focused education
A trend back to vocational education and counseling is helpful for rural manufacturers. Today's high school students are being introduced to more careers that can be learned on the job and skills that lead to certifications and good-paying jobs through technical colleges. Both companies have a high school student working in their plants right now. H&S employs a high school junior who attends North Valley Vocational Center in Grafton and works as a welder. Another student works at Terog through a high school youth training program. The H&S assembly team also includes a female welder, as women are becoming more aware of good-paying opportunities in manufacturing too.
"Being able to provide career opportunities for people in our community is the most rewarding," says Craig Halfmann. "If there are no opportunities, there are no people. It's great to see families move back to the Stephen area to raise their kids. Some realize the freedoms of a rural lifestyle cannot be duplicated in the city."
…
Featured story in the Summer 2022 issue of Enterprise Minnesota magazine.