At HED Cycling Products, this is evident when turning the facility's TV to a professional bike race and seeing employees' joy at watching the fruits of their labors in motion — quite literally.
Founded in 1984, the self-named bicycle wheel maker sprang from a match between former triathlete Anne Hed and her late husband Steve Hed, a bike shop owner. Together the pair grew from humble garage beginnings to a global name in performance bike wheels, equipping the likes of Lance Armstrong. After Steve's passing in 2014, Anne took over as CEO, guiding the company through a move to its current Roseville facility.
Now, she's leading through a new phase. As COVID-19 pushed many people toward outdoor hobbies, the cycling business boomed. HED still strains to meet demand, reporting 50% growth over the past year.
In this, Anne saw opportunity: newly unemployed or underemployed workers, many of whom were comfortable with hands-on jobs, eager to learn more skills. By prioritizing culture fit over lengthy resumes, Anne plans to invest in an adaptable, sustainable workforce. Each new employee orientation includes a walkthrough of the business plan to further strengthen the team's understanding of HED's business operations and core values. Quarterly business status meetings include everyone, too, to promote transparency.
"We're proud of these hires," Anne says, noting HED can teach skills they did not learn at college or trade schools.
Reaching the finish line
Anne has long understood the business value of outside perspectives. In January 2019, she brought on consultant Paul Harry, who now serves as COO, to guide a relatively new leadership team, and last July HED turned to Enterprise Minnesota, with whom it has worked in the past.
The partnership's current focus, says Enterprise Minnesota business growth consultant Greg Langfield, is improving organizational efficiency.
The key to HED's success, according to Langfield, is an entrepreneurial mindset. But this creativity needed project management processes to ensure consistency. With the help of time tracking exercises, the team developed a system to prioritize every single project within the company.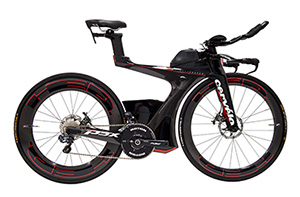 The end goal: to prioritize the projects most worth HED's time and money — and to ensure they reach the finish line.
"Part of being an entrepreneurial organization means that they have multiple things they're juggling, and there's so much energy and creativity flowing through the organization," Langfield says.
New machines, new opportunities
HED also implemented changes to its manufacturing floor as a result of the Enterprise Minnesota partnership. By improving the product assembly flow and training employees to spot product issues sooner, the company has reduced scrap. And it's just in time, given increased demand from U.S.-based bike manufacturers facing supply chain backlogs on imported wheels.
To meet demand, HED is embracing a do-it-yourself mentality. In April, the company installed a new tooling machine to increase production capacity — which brings another opportunity for employees to gain new skills. And by cross-training employees, HED can better cover staffing gaps when they arise. New automation processes and upgraded equipment will further enable teams to prioritize key projects.
The mantra: Continuous improvement
HED's recent changes have yielded positive results, Anne says. Revenue has almost doubled, but the work is never finished. Rather than rest on their laurels, the team knows it's vital to look forward.
Next steps include leadership development to capitalize on a young, eager workforce. With a new-to-HED leadership team with plenty of talent but lacking experience, growing pains are inevitable.
"It's a focus on continuous improvement. We live that mantra here," Harry says. "We've got a lot of young leaders, and so to lean on Enterprise Minnesota to help us add value to our investment, that fits right in with our culture."
The company's mission isn't just about going fast on bike wheels, Hed says. Long term, she hopes to bring awareness to Minnesota companies by joining forces with others in the bike industry to keep more of the industry's biking manufacturing in-state.
"We know we can make all the bikes here and use people who are here in Minnesota and then sell our product all over the world," Hed says.
She also emphasizes helping athletes of all kinds and sponsors a diverse range of bicyclers and supporting nonprofits that provide free bikes for kids.
HED's willingness to innovate and undergo the hard work of change is what makes the company successful, Langfield says.
"It's just a cool company," he continues. "They're not that big, but they have a worldwide presence. They're a gamechanger in the bicycle industry. They can be innovative and still get things done."
Going fast is, however, still a key goal — as is natural for a former triathlete.
"When you're making this wheel, it goes across the world to this athlete, and they depend on your expertise to win races," Hed says. "It feels like we're getting a little bit back to normalcy."
…
Featured story in the Summer 2022 issue of Enterprise Minnesota magazine.