Tinkering — that's how John Ihrke got started in his career. While still a youngster, he was a go-to person for help on farms near his small hometown in southern Minnesota and among his family and friends. Ultimately, he became an engineer. But it was that time he spent learning how things work — by taking them apart — and engaging with the mechanics of organizations and leadership — by becoming a Boy Scout and then an Eagle Scout — that were so valuable to his path as he matured.
Now Ihrke brings years of expertise in lean manufacturing to his current position as an Enterprise Minnesota business growth consultant. In addition to his extensive experience in a variety of manufacturing companies, his colleagues say Ihrke brings trustworthiness and honesty to the work environment.
Through listening, planning, and re-envisioning enterprises — one by one — Ihrke strives to make things better for the state's manufacturers.
For instance, he says he's constantly on the prowl for ways to help manufacturers make automation a workforce multiplier. Harnessing the power of automation offers manufacturers of different types and sizes a variety of solutions, adapted on a company-by-company basis.
With automation, Ihrke says, "The three Ds is what we want to focus on: [tasks that are] dull, dirty, and dangerous. Those are three things that people do not want to do. And we don't want people doing those tasks either because then it's hard to retain them."
Automation may also free up employees to work in safer, cleaner environments, and help them feel satisfied that they have contributed to the good of the company while earning their paychecks.
John Connelly, vice president of consulting for Enterprise Minnesota, says Ihrke combines keen listening skills and strong analytic strengths to help him create customized solutions for manufacturers. "We are always working in the gap between where you are and where you want to be," he says.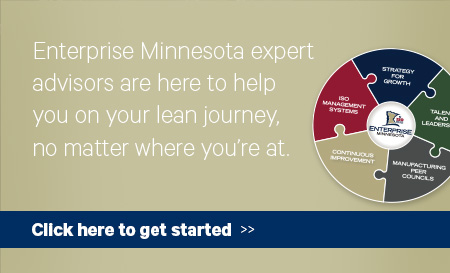 Similarly, establishing the relationship of deep understanding and mutual trust between consultants and manufacturers also requires a commitment of time and effort from both sides.
The relationship must begin on a firm foundation in a manufacturing company, however. "The only place automation belongs is in an [established] robust process," Connelly says.
VESSA is more than a town in Greece
Ihrke thinks about helping clients forge forward through VESSA, an acronym for key steps in continuous improvement that lead to automation.
Value stream
Eliminate waste
Simplify
Standardize — i.e., do it the right way, over and over until you get it right
Automate
Never a one-size-fits-all solution, automation results from analysis of an individual company, its context, and circumstances, Ihrke says. Moreover, if you automate chaos, you'll only create more chaos. By instituting lean practices, reducing waste, and simplifying the work on the line first, the manufacturer should become robust enough to consider possible automation actions.
Recognizing that your current workers know your company's processes firsthand provides a powerful reason for involving them in the process. Whether examining a company for possible areas of improvement; launching a new assembly line that takes advantage of standardized, streamlined processes; or perhaps a transformation that takes advantage of artificial intelligence (AI), managers should see that some form of automation holds great promise for boosting the bottom line.
Close to home, manufacturing supports more secondary jobs than any other sector that Ihrke knows about — and improving the quality aspect of these operations is key not just for a company but also for its community.
Ihrke finds fulfillment in helping manufacturers, who are integral to the economies of small town and rural areas. "It is so important to me to revitalize rural America," he says.
…
Featured story in the Summer 2022 issue of Enterprise Minnesota magazine.