Growing from a regional startup in the mid-1960s into an expanding company with markets that stretch across the Midwest and reach into the far west, North Central Door of Bemidji has manufactured residential and commercial garage doors with an emphasis on safety, quality and customer satisfaction for over 50 years.
In 1966, North Central Door — its name an indicator of the company's location — opened a small plant on the south shore of Lake Bemidji, the bull's-eye in a loosely drawn circle from St. Cloud to East Grand Forks to International Falls to Duluth.
Steve Palmer, North Central Door president and CEO, describes the company as "a smaller, more regional door manufacturer, compared to larger companies in Fargo, Illinois, Indiana, Ohio, and Kansas City with national distributorships."
Designed and built in northern Minnesota (where other companies bring their products for cold-weather testing), the company's doors are put to the test year-round — from those double-digit, sub-zero January days of Canadian clippers to mid-summer Minnesota heat and humidity.
From box company to door manufacturer
North Central Door was started by three Bemidji businessmen: Harry Pihl, an auto parts dealer, Russ Eggers, who ran the local NuPly company, and lawyer Clarence Smith.
North Central Door's first home was a warehouse that previously had been a box factory that built ammunition shipping crates during World War II. Over the years, the company's footprint grew along with sales.
Steve Holley, after a stint in the service, took a job at North Central Door when the company was just a year old. As one of fewer than a dozen employees, his first job was unloading wood from boxcars — hemlock and Sitka spruce that would become rails and stiles for wooden garage doors with quarter-inch NuPly (Plywood) panels.
"The company was mostly automated," Holley says. Back then, they could produce about 100 wooden garage doors per day. The doors were sold initially across Minnesota and then later expanded into the Dakotas and Iowa.
Transitioning from wood to steel
By the early 1980s, North Central Door shifted its focus from wood to steel, producing durable, lightweight and long-lasting garage doors with more options in color, design and insulation than the wood doors. Initially, prefabricated "pans" or exteriors of steel were ordered, and North Central Door processed them into insulated or non-insulated doors. As demand grew, the company expanded production to form its own "pans" from coiled steel.
In the 1980s, the original owners sold to Dean Schnell, a sole owner. By then, Holley had worked his way up to foreman and eventually general manager. In 2001, he and a partner, Bob Houston, bought the business. Today the company has five co-owners, including Holley.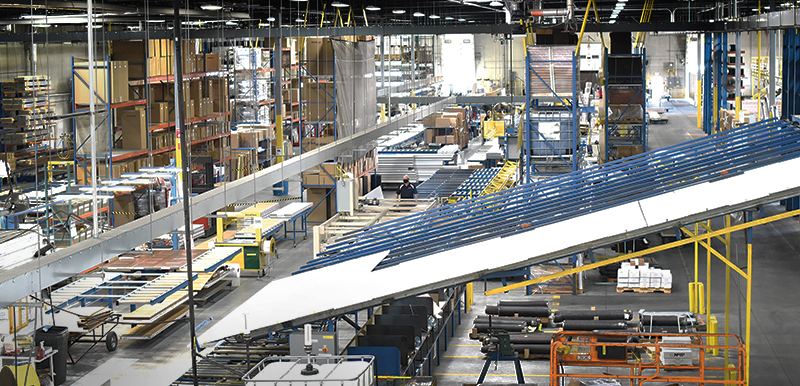 Expanding, relocating
In the early 2000s, North Central Door started preparations to expand and relocate. The original box factory building — still in use — had been remodeled, and additional buildings had been added to the campus. The company's relocation plans coincided with Bemidji's south shore redevelopment project that involved lake cleanup from previous and existing industry on the shore: sawmills in the early 1900s, the box company, NuPly and others.
In 2008, North Central Door opened its current facility in Bemidji's Industrial Park. Holley says he was sad to say goodbye to the old site on Lake Bemidji, but they'd known for years they would eventually need to relocate. Plus, the new facility would alleviate inefficiencies of the old production site.
Today an event center, part of the Paul Bunyan Trail (where the M&I Railway line used to run), a new city beach, a restored beach house and several townhomes stretch the length of the south shore — North Central Door's old neighborhood for more than four decades.
The new North Central Door facility's 109,000-square-foot plant with 96,000 square feet of manufacturing space put everything under one roof. Machinery from the original plant was relocated to the new facility, and new and updated segments have replaced outdated ones as needed.
A standard design with 200 options
A typical assembly includes several steps.
Storage shelves at the start of the assembly line hold huge spools of flat steel that has already traveled from Chicago (where it is produced) to Indiana (where it is painted) and back to Chicago (where it is shipped out).
On the line, pre-painted galvanized steel is uncoiled from a spool and rolled through the embosser for a wood grain or other texture. From there, the skins or pans are run through the stamping press, which strengthens the steel and gives it the appearance of raised or recessed panels. For insulated doors, Polystyrene insulation is heat-stamped to fit the panels and urethane glue is applied to the insulation before it is "stuffed" between the exterior and interior door skins.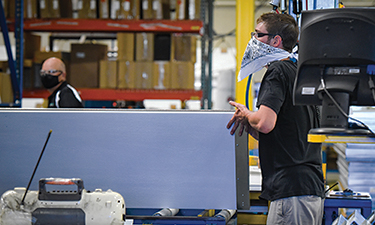 A maintenance bay in the facility holds a newly fabricated machine to cut and splice Polystyrene foam for insulation. Designed and built on site, it will soon replace a less efficient piece on the assembly line.
North Central Door also applies a thermal break to the tops and bottoms of each door to prevent frost buildup. This detail is not used by all door manufacturers but suits weather-conscious customers well.
On the line, the thermal breaks are affixed to the door by a customized piece of equipment, designed and built by Eagle Vision Machining in Hubbard. End caps are fitted to each panel where hardware will be affixed. A pinch press bonds the skins and insulation into a "sandwich," and a gasket that runs the length of the bottom of the door is put into place to prevent gaps between the garage door and the floor.
In the hardware department, workers with packing lists package the appropriate tracks, springs, rollers, cables and other hardware for each door, and everything is shipped together.
Today, NCD offers a variety of colors, patterns and finishes for both residential and commercial garage doors in sizes ranging from 3 feet to 40 feet wide and up to 20 feet tall. With names like "Aspen Ridge," "Forest Bay" and "Timberland," the doors evoke the image of forest-filled northern Minnesota. Four distinctive collections of residential garage doors offer variations in color and decorative hardware to customize the look.
North Central Door's website features a "Door Designer" tool that allows customers to "try on" a door to provide a view of how different styles would look on their building. Customers can download a photo of their building or home and see it with different doors in a virtual view.
Features include composite overlay finishes, carriage house panels and more. North Central Door's low-maintenance, high-quality, affordable doors not only serve their purpose but also add to the building's appearance, giving it curb appeal and a positive return on the investment.
The company's "sandwich" doors provide thermal protection with a variety of panel thicknesses for commercial doors. While the basic door design is standard, various styles, door patterns and hardware combine for about 200 door options.
North Central Door also customizes to meet specific needs, such as low headroom modifications.
Strategic planning is key
"We've experienced healthy growth since the recession," says Palmer, who joined the company in 2006 as general manager and became a fifth co-owner in 2014.
He says most of the company's competition comes from larger plants spanning Fargo to Ohio, so North Central Door focuses on meeting the needs of the Greater Midwest. With a fleet of delivery trucks, the company ships its doors thousands of miles each week. Palmer says if demand continues to grow, the company is prepared to add a second shift.
Human Resource Manager Justin Holley says strategic planning done in the past five years includes plans for another shift as needed. Holley, who came aboard 19 years ago, has seen employment at North Central Door grow by 30-40%. A second shift would add several new workers.
Palmer says the top three qualities of an ideal employee are work ethic, work ethic and work ethic.
"We need people who are dependable, good listeners, have a positive attitude and follow directions," Palmer says. "Mechanical aptitudes are helpful, but training is customized to the job description. Sometimes we find out an entry-level person has welding or other skills, and that can open up other possibilities."
Strategic planning with Enterprise Minnesota about five years ago helped the company clarify goals and plan for expansion.
"We'd hit a tipping point," Palmer says, "and needed to figure out how to handle the company's growth and to better manage our people and implement strategies to develop leaders."
Bill Martinson, an Enterprise Minnesota business development consultant, says he and Mary Connor (former Enterprise Minnesota consultant, now retired) worked with North Central Door on strategic planning.
"The sessions Mary led were a good fit for the management style that existed at North Central Door," Martinson says. "The strength of the process is our holistic approach and the participative aspect of the sessions. All key employees have an opportunity to be involved in shaping the plan."
Justin Holley says Connor and Martinson's sessions involved every employee and sought input and feedback. When workers were involved in helping to set core values for North Central Door, management was pleased that safety was their top priority.
"We had always had a robust safety culture before, but input from the employees reinforced what we had been doing," Holley says. "It also created greater buy-in from the workers."
In addition to safety, three other areas were identified as core values: continuous improvement, accountability and teamwork — all of which involve aspects of leadership.
Martinson says he was impressed at the follow-through North Central Door demonstrated after the strategic planning sessions.
"We hang around afterwards and follow up," he says. "Once a strategic plan is formed, the executive level establishes assignments and tactics that will lead to higher levels of accountability."
After working with its strategic plan for a few years, North Central Door followed up with additional training through Enterprise Minnesota.
"Leadership training was one of the initiatives we decided to work on," Palmer says. "Leadership development included our core team and then younger employees working their way up into first-time lead positions."
Earlier this year, Michele Neale, an Enterprise Minnesota business growth consultant, worked with North Central Door on leadership skills and strategies. Palmer says Neale helped them identify potential leaders.
"We're looking at the next generation of leaders that will support the company mission, We have promoted quite a few from within. Part of it is seeking out opportunities where employees can grow."
-Steve Palmer, North Central Door CEO
Neale says during the four sessions she did with North Central Door, the company focused on its values and mission, worked on time management and productivity, and discussed ways to recognize individuals' skills and leadership potential.
"A skills matrix was important to (North Central Door) to identify competencies for different positions," Neale says. "Also, the company developed accountability tools to match the expectations of management and employees, to relay those expectations clearly, and to hold teams accountable — small changes."
Today, Palmer says, "Entry-level workers receive on-the-job training and work with mentors, facilitated by leads who ensure that new workers meet set milestones of development in their training."
One of North Central Door's strategic initiatives is to train and develop team members and leaders within the company — using the TEAM approach: Teach, Evaluate, Assist and Mentor.
Employee growth, development, training and recognition
Continuing to implement the strategic plan North Central Door has in place, nurturing a team-centered workplace and coaching potential leaders are essential keys to the company's future growth.
"Part of it is seeking out opportunities where (employees) can grow," Palmer says. "A lot of it is work ethic and the ability to communicate with others. Those are the important things."
Through leadership training with Neale, he says, they worked on ways to identify and foster people in that leadership pipeline. It helped them recognize ways to develop those workers' skills so that they can become the next generation of leaders.
Recognition events are held quarterly at North Central Door to honor employees who have reached significant anniversaries with the company. In July, North Central Door recognized one 30-year employee, one 20-year employee, five 15-year employees, a few five-year employees and 20 employees who had reached the one-year mark.
Justin Holley says Neale helped North Central Door identify workers with leadership qualities and develop processes for bringing them up through the ranks.
His own father, Steve Holley, now retired but still a co-owner, is a prime example of a successful climber of the career ladder — having started in an entry-level position, working his way up to foreman and general manager, and eventually buying into the company.
Current production, vision and mission
Today North Central Door's workforce numbers 90 — many of the employees "home grown" — and includes entry-level line workers, sales reps, truck drivers, office and shipping staff, jobs in customer service, accounting, engineering, HR and more. The company produces 200-250 high-quality residential and commercial garage doors per day, Palmer says. Its sales territory continues to grow across the Midwest.
With plans in place to meet future growth and cultivate new leaders, North Central Door is focused on its vision: "To be recognized for our excellence in the eyes of our customers, competitors, employees, and community" while working to meet its mission "to sustain profitable growth … and … to continue to grow in distribution across the Upper Midwest and western states."
…
Featured story in the Fall 2020 issue of Enterprise Minnesota magazine.