Loll Designs of Duluth faces what CEO and co-founder Greg Benson says might be called a "good problem," but he acknowledges it's still a "real problem."
The manufacturer of trendy weather-proof furniture has seen demand for its line surge even as the company was forced to temporarily shut down production.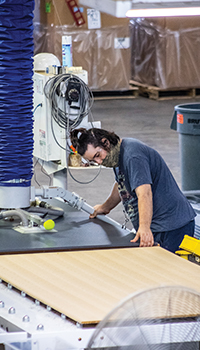 Loll has exclusive agreements to supply furniture made from recycled materials to national retail partners, including Room & Board and Design Within Reach. But a couple of years ago, it also began to offer other additional nonexclusive products for sale online directly to consumers — a model that provides larger profit margins.
That online channel proved fortuitous when the pandemic hit.
"All of a sudden, you have everyone at home, kind of doing two things: wanting to get outside and also shopping online. So, I think that's exactly what happened," Benson says, describing how demand for Loll's product has blown up in recent months.
"We're so busy it's ridiculous," Benson continues, pointing out Loll has hired more than 15 people since the COVID-19 shutdown. The company now has a workforce of about 70 and continues to recruit new employees.
Loll was in the midst of moving into a refurbished 55,000-square-foot warehouse/production building in February when the COVID-19 pandemic struck, interrupting its business.
"We weren't even really done and settled in, and that's when we had to close down for COVID," Benson says.
"So, we had a couple of setbacks this year. Moving the operation set back our production. And then COVID hit and shut us down for about 30 days with no production at all."
But the move more than doubled the company's warehouse/shop/manufacturing space, and Benson says it has also made it easier to space out employees at a safe distance from one another. Loll is allowing no plant visits these days and requires employees reporting for work to log in with a temperature test and wear masks on the production floor.
Loll's five CNC milling machines operate around the clock with three shifts of workers. And Benson says the company is adding a second production shift, with operations expanding to 16 hours per day.
"We're killing it right now. But our backlog is huge, and our lead times are long."
– Greg Benson, Loll Designs CEO and founder.
Customer wait times for Loll furniture are now running at about 15 weeks from date of order. But Benson hopes to shrink that as the company ramps up production.
He also expresses optimism the business will be able to make up ground, matching last year's sales of about $13 million.
"We had no revenue at all for April because we were shut down. And then our shipping in February was impacted because we moved," he says. "So to get back to ground zero for the year would be quite an accomplishment, and we'd be really happy with that."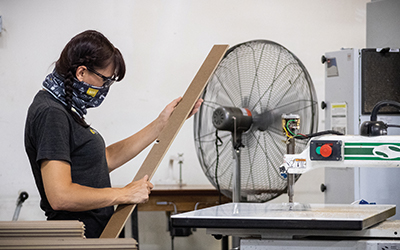 Enterprise Minnesota conducted a "lean assessment" of Loll's operations in the fall of last year to offer advice on how it might improve production efficiency.
Enterprise Minnesota Business Developer Jim Schottmuller says the assessment provides a manufacturer with a scoring system that can be used to evaluate operations.
"A lean assessment takes a holistic approach to look at an organization and identify opportunities — and maybe scoring them, based on the current state and a potential future state — if they implement certain types of lean activities," says Schottmuller, explaining it can be used as a tool to measure progress.
Loll appears to have tremendous growth potential, according to Schottmuller. "We are bound by confidentiality, so I can't talk about anything specific. But my feeling is that Loll Designs can sell anything the company can make right now. And its constraint is just being able to meet demand. So it sure looks to me like Loll has no place to go but up."
Nevertheless, Benson takes a measured view of the situation.
"When people say it's a good problem to have, it kind of is, because you'd rather have too much demand than not enough. But once the demand over time becomes something you can depend on and it's a pattern, well, then you know you can build up to it."
Benson stresses the importance of not overreacting, however.
"We're doing all these different things to meet that demand. But there's only so much you can do, and then we also don't want to overbuild because we do have seasonality. So, what do we do with all that infrastructure and overhead when we are slower?"
In future months, Benson says Loll hopes to work with Enterprise Minnesota to implement lean manufacturing and continuous improvement processes. The company already has adopted some of these concepts internally and through its work with the Natural Resources Research Institute, but Benson says he is eager to push harder.
"I felt it was important that we go to another level with it."
"So, we're doing this ourselves, but this is going to be better," Benson adds. "This is going to get people more engaged at a higher level, more of a textbook level. And to bring someone in with experience to get us there is going to be really beneficial."
…
Featured story in the Fall 2020 issue of Enterprise Minnesota magazine.