The change didn't seem like much.
It was, after all, just a "huddle board," a place where employees in Clow Stamping's shipping department could gather each morning to talk about the previous day's highs and lows and see a visual reminder of focus points and safety goals. After a 10-minute chat, they'd report to their work stations and do the jobs they were getting paid to do.
"There was no one big, grandiose thing that happened," Clow Stamping CEO Lori Davies says. "But when we go back and look at that huddle board and the savings, we think it's because we focused on what's important. It was close to $200,000, which quite honestly surprised me."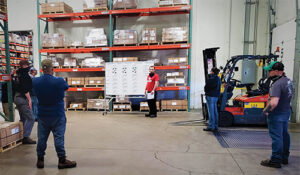 Close to 200 grand in savings. Because of a morning conversation.
Clow Stamping is a large manufacturing company in Crow Wing County. And this savings came as a direct result of first having Enterprise Minnesota do what is known as an "assessment."
Enterprise Minnesota offers assessments in many areas, including the most common one that Clow Stamping did: a lean assessment. Its purpose is identifying areas where waste can be eliminated and efficiency enhanced. Think of it as a diagnosis of sorts. Or perhaps an on-ramp to a highway of internal improvements in areas such as quality management systems, leadership team competency, revenue growth and other areas.
No matter the area, an assessment is a powerful tool because it can reveal growth, highlight weaknesses or, in the case of a quality management systems assessment, potentially open doors to new business.
And there are two reasons why now may never be a better time to do an assessment.
First, COVID-19 has created downtimes across the manufacturing world. From the "never let a good crisis go to waste" department, many manufacturers are using that time to add ISO certification or, as in Clow's case, run its shipping department through a lean assessment.
Second, there is financial incentive right now to do assessments. Through the federal government's Coronavirus Aid, Relief and Economic Security Act (CARES Act), the Department of Commerce's National Institute of Standards and Technology has issued $50 million to Manufacturing Extension Partnerships around the country. Enterprise Minnesota is one of those partnerships and can help manufacturers figure out the steps required to grow, react to the current economic or business conditions, or map an efficient and profitable path to the future.
"I find they're like a puzzle," Enterprise Minnesota Business Growth Consultant Greg Langfield says. "You have to go into a company and learn enough about them quickly. Then you've got to think both on a strategic and tactical level."
Anatomy of an assessment
If you've never been through an assessment like this before, don't worry, you're not alone. Most companies haven't. But most companies should. Assessments can open eyes, reveal opportunities, and unlock potential.
To illustrate how they work, Langfield breaks down the basics.
Like all great success stories, a good assessment starts with good planning.
"We start out by having a planning meeting with our contact person," Langfield says. "What we're trying to do is make sure he or she understands what a day on site might be like."
In that meeting, logistics are established, such as who the consultant will need to talk to, how long on-site meetings will last, what the company's organizational chart looks like, etc. In the age of COVID-19, personal protection equipment is also considered, as well as social distancing requirements and any other health concerns.
Next, Langfield says they arrange a visit. The assessment site visit is broken up into four categories.
The consultant will first interview various employees to understand a typical day and then will observe workers throughout the plant to get a visceral sense of what's happening on the ground. The company's workflow will also be analyzed and compared against established criteria.
After the site visit, the consultant crunches numbers, analyzes data and puts together a plan.
"The next step is to put together a report that says, 'This is where you currently are, this is where you say you want to go, and here are our recommended next steps,'" Langfield says.
The assessments are so powerful, in fact, that roughly half of all clients that go through the process take further steps to improve, according to Langfield.
"We like to lay out a journey as opposed to a one and done. For a lean assessment, I always say we're looking for truth."
Continuous improvement is a sophisticated, worthwhile effort. Langfield suggests companies take the long view on the subject. With continuous improvement, the journey never ends. No matter how well you do, you can always do better, always continuously improve.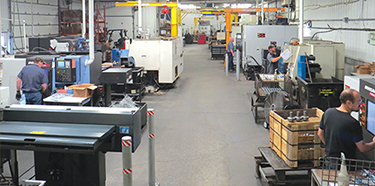 For companies considering an assessment, Langfield suggests an introspective approach. Because an assessment can be done on virtually any aspect of a manufacturer's operation, choosing the right area to improve can be an important decision. COVID-19 has made such internal evaluations even more important, Langfield says. He recommends a rather Zen-like approach.
"I think of business in three buckets: Grow the top line. Grow the bottom line. Grow employees. They all need to be in balance. Where is our greatest need right now? What are we willing to do? Should we do a revenue growth assessment? How are we going to manage our costs?"
COVID-19, Langfield continues, thrust many companies into areas of volatility and uncertainty. An assessment can help manufacturers temper some of that COVID-related anxiety.
"To me the word 'clarity' is really powerful," he says. "There's so much uncertainty right now, and giving companies a guide can be helpful."
Stamp of approval
Davies says they chose to do the lean assessment (also known as a continuous improvement assessment) as part of an overall goal to develop a more formalized continuous improvement program. The part of the overall lean assessment Enterprise Minnesota did for the shipping department — where they revamped the huddle board and instituted the morning huddle board meetings — was successful.
Davies says the idea for the assessment was floated by Dawn Loberg, a business development consultant for Enterprise Minnesota. Loberg invited Davies to an Enterprise Minnesota focus group where Davies was able to meet with Langfield. After hearing Davies talk about her company and its vision and goals, Langfield suggested the lean assessment, which then led him to suggest the huddle board project. Huddle boards are a commonly implemented tool that, when used effectively and consistently, can yield powerful results. Like any tool, though, it requires a skilled craftsman to wield it. Tools are meaningless unless people know how to use them.
"The huddle board is the biggest thing we did, but in a way it's a small thing because we just talk about how the day went," Davies says. "It's a five- to 10-minute communication with all the employees at the start of the shift about how yesterday went and where we want to focus today, which seems kind of small. It's not a monumental change or anything. But it's had a really good impact on our operations."
Because they spend that time focusing on the previous day, they're able to identify problem areas much more easily than if they'd waited days or weeks to address them. For example, through that communication and work flow discussion, Clow Stamping has been able to decrease wait times for forklifts. (When workflow isn't monitored or isn't on track with performance standards, forklifts and their drivers end up waiting to move shipping products into and out of shipping areas.)
"The idea is that an employee leaves at the end of the day and knows whether he or she had a good day or a bad day," Davies says. "We want everybody to come in and have a good day. How do you know? Well, if you were safe, if you produced quality work, if you delivered what you intended to deliver, if you were productive, if you controlled costs, if your teammates showed up, etc., you had a good day. By defining what a good day looks and feels like, the employee knows whether he or she had one or not."
Another Galaxy
Galaxy Precision, Inc. is a custom precision CNC machining facility based in Albany, Minnesota that offers complete part manufacturing. Founded 30 years ago, the company currently employs around 25 employees.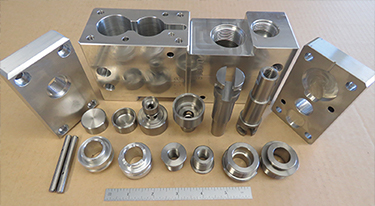 Galaxy was born in a small concrete building on the farm where company founder Ralph Finken grew up. Over the years, as business grew so did Galaxy's footprint. The company added shop space, people and, when the time was right, computers.
Now the time is right, company officials say, for another upgrade.
Otis Ostendorf, operations manager for Galaxy Precision, says he'll be the one ushering Galaxy through an ISO implementation.
"We have run into some of our customers hinting that they'd prefer Galaxy pursued the latest version of ISO," Ostendorf says. "That's a big part of why we're doing this. … It's more of a trust deal for other companies. It's like, 'Hey, they have a system set up, they've got their ducks in a row.'"
To begin the company's ISO implementation process, Galaxy took the first step of having Enterprise Minnesota do an assessment.
"Following the assessment, my expectations are that our shop will do an even better job," Ostendorf says.
MEP
John Connelly, vice president of consulting for Enterprise Minnesota, says the initial phase of work with a manufacturer is one of "discovery." Consultants probe the minds of company leadership to get a sense of what their priorities are. Once that's done, they can begin to dig a little further.
One of the best tools consultants have in that discovery process is the assessment. Enterprise Minnesota offers assessments in seven areas: a lean (continuous improvement) assessment, a quality management systems (ISO implementation) assessment, a leadership competency assessment, a financial assessment, an enterprise evaluation, a revenue growth assessment, and a strategic assessment.
Each assessment is unique. Lean assessments, for example, can evaluate a company's culture and processes and identify opportunities to eliminate waste, improve productivity and cut costs. Leadership competency assessments, on the other hand, evaluate the collective skills of a company's leadership team and help prioritize current and future development needs.
Connelly says the federal CARES Act funding is a good chance for manufacturers to map out and plan for improvement and growth in this unprecedented time of COVID-19. He urges manufacturers to investigate how an assessment might help them.
…
Featured story in the Fall 2020 issue of Enterprise Minnesota magazine.