Few might suspect that Alexandria serves as a wellspring for innovation in the agrigenomics, pharmaceutical, medical testing, and biotechnology industries.
But this quiet Minnesota city of fewer than 15,000 people has gained recognition as a hotbed for the development of high-tech laboratory automation. So much so that in 2016, LGC, a much larger international life science tools company located in Teddington UK, bought a startup in the Midwestern town and has continued to grow it as a linchpin of its organization. Recently, the team in Alexandria also played a key role in providing critical pieces of the equipment required to mass test for COVID-19 and help bring the pandemic in check around the world.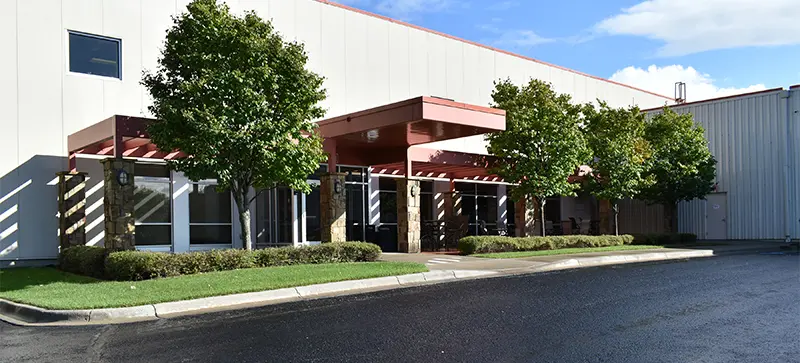 An odd proposition
In the early 2000s, an Eden Prairie entrepreneur approached the Alexandria based manufacturing company, Douglas Machine, with an unusual yet compelling idea. The entrepreneur had developed and patented a polymer tape containing tiny pockets that he believed could be used to deliver minute samples of biological matter for genetic testing. He knew Douglas Machine as a master of automation and posed the question: Couldn't you build lab-testing machines around this medium?
Although a significant departure from the company's usual line of work, the idea intrigued Douglas Machine's leadership. From 2004 to 2008 the team worked on this new R&D project in a small corner of their facility.
The result? An automated dispensing system that could inject precisely sized genetic samples — less than half the size of a ballpoint pen — into the tape's tiny plastic receptacles. With that, Array Tape™ was born.
The group began reaching out to some of the world's leading agricultural biochemistry companies. Operational Advancement, Training and Safety Manager Patrick Kalina recalls them saying "we think you've got something."  As the project gained steam, the company, started in the corner of Douglas Machine, morphed into Douglas Scientific.
Miniaturizing the samples greatly reduced the quantity of extremely expensive chemistry needed for testing, slashing chemistry costs by 90%. Another valuable benefit of Array Tape is that it came on rolls that could be threaded through machines running tests much faster than was previously possible, resulting in a 10-fold increase in throughput.
The agrigenomics industry was quick to recognize the value of this new instrumentation to identify useful traits more rapidly in plants as well as develop new hybrid seeds. This same technology would later help the company enter additional markets where genotyping research was occurring.
When asked what set the company apart from others in the laboratory testing industry, Kalina says it was the firm's "ability to bring robotics to life to do automated testing."
"We are an engineering company that does science, versus a science company that tries to do engineering," Kalina says.
But the company faced early skeptics.
"We introduced a radically different means of testing DNA in the market space," recalls Kalina. By going from a human-intensive approach to an automated system, he says, "one person could produce hundreds of millions of results per year. It was completely unheard of in that sector." This fact quickly differentiated the company from its predecessors and helped Douglas Scientific become a real player in the industry. "We had the skills and the ability to bring metal to life, to really get the end results that our customers wanted."
Amazing partnerships with established key customers powered the company to early success. "They helped us refine concepts and the instruments to really get them to the point where it was valuable not only for them but also for the rest of the market space." This collaboration, along with a lot of gumption, enabled the young company to meet challenges as it forged its way. "We just kept saying, 'Sure, we can do that.'"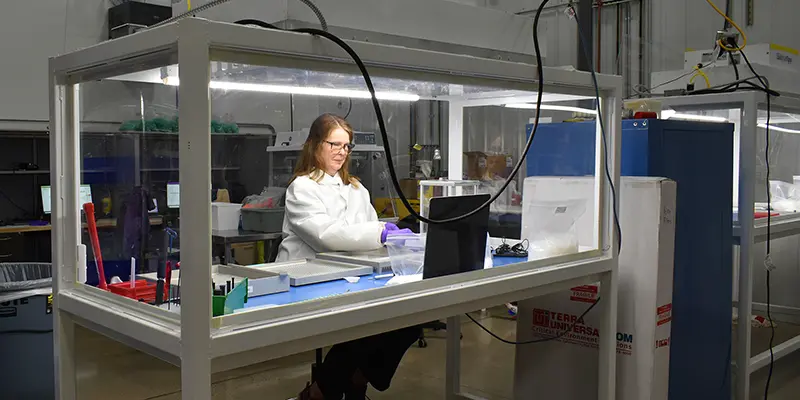 Competitor to owner
Initial success for the company found leadership asking how they could partner with someone that could best position the business to reach the next level. Both Douglas Scientific and its originator Douglas Machine had a deep vested interest in the continued growth of the Alexandria community — making both companies a strong proponent to identify a strategic partner to push the young company to the center of the biotech market. With this goal in mind, they began talks with one of their marketplace competitors, LGC.
As a well-established global life science tools company with more than 4,300 employees and a history dating back 180 years, LGC was the perfect fit to usher Douglas Scientific into the next phase of its biotech journey. The 2016 acquisition of Douglas Scientific strengthened LGC's portfolio, namely bringing with it its strong ag-bio customer list along with cutting-edge technologies, skills and capabilities. "It really was a good symbiotic match," Kalina says.
Rebranded as LGC Biosearch Technologies in 2018, Alexandria Site Director Kristen Berg says that from day one the companies have interacted very well together. "Our separate company values very much aligned."
While the leadership of LGC and the team at Biosearch Technologies clearly share a common language, international communication can sometimes be challenging.
"Following our acquisition, we actually had a document that we'd give to new hires, offering translations between American-English and British-English," Kalina says. "It helped to bridge some of the key communication gaps that would come up in emails and during meetings."
Although LGC dwarfed the Alexandria-based company, it quickly recognized the value of the genomic work being done at the site.
Berg says it was clear from the beginning LGC's intentions were not to remove a competitor from the scene but to use the acquisition to further grow its own business, particularly given the valuable foothold that had been established by the Minnesota company in the ag-bio market. Aside from the market gains that they saw, "they didn't want us to change anything. They loved our company culture, our people, our capabilities," says Kalina on the admiration LGC showed for the site. "They wanted us to take what we had and really push it across to other Biosearch Technologies sites."
People power
Berg says the reason for the Alexandria operation's success as a tech company boils down to one factor: People.
"We have a very strong leadership team and engaged employees," she says. "But what's unique to us, even with 130-plus employees here in Alexandria, is that it still feels very much like a family environment."
"We take a lot of pride in our culture, our values, as well as our company purpose: Science for a safer world — to feed, cure and protect the planet," Berg says.
LGC understands the importance of staff chemistry, too.
"At the end of the day, I think it really comes down to our hiring processes. We definitely make sure that you're a culture fit. You could be a brilliant scientist, but you need to be a team player, because it's our culture that keeps people here," Berg says, noting that staff members work hard but regularly celebrate their successes together.
"When you get a lot of brilliant people with values that align and a high level of engagement, you can accomplish anything. So, it's absolutely the people," Berg says.
Kalina says there's a true sense of "intentional care" at Biosearch Technologies.
"We care so much about each other, not just from a work standpoint but from a whole-person standpoint. It's neat. We celebrate the births of kids, and we come alongside our team members when life happens and things are hard and it really makes for a family environment," he says.
"You spend the majority of the waking hours of your adult life at work. Why would you not want to spend that time at a place that you love?" Kalina asks.
Berg says the Alexandria site hasn't experienced nearly the struggle many other manufacturers have encountered with staffing in recent years.
"We instantly jumped on the pandemic — we were really hiring a lot," Berg says. "We already knew our company had made the decision to be a key player in both COVID testing and in supporting customers involved in vaccine development. We hired early on, and on the front end of the pandemic was when we really grew our staff. At the peak of when people were really struggling to hire workers, we already had our team."
"COVID really slowed life down for a lot of people and made them realize they could live somewhere outside a big metro area," Berg says.
Kalina says LGC offers staff an opportunity to have an international impact from a small-town setting.
"We've got people here in this nondescript beige building in Alexandria's industrial park who are interacting with people around the world every single day and doing things that are pushing science beyond its current limits," he says. "It's amazing! In what other rural Minnesota town could you have this experience?"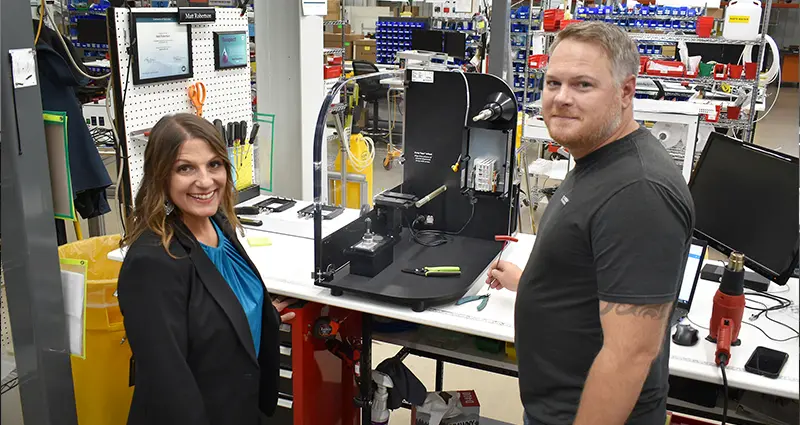 Pandemic challenge
Berg describes the experience of responding to the pandemic as invigorating and daunting.
"Everything was so unknown. How do you operate as a business, how do you keep your people safe, what do we have to do, what should we do? We were wading through it all, just like everyone else," she recalls.
"The exciting thing was that we grew so fast and there was so much focus. LGC's philosophy was, 'We're going to have a role in this. We're going to address this challenge, and hopefully help find solutions, with our technologies,'" Berg says. "They pulled the trigger very quickly and very early on a lot of things that enabled our rapid growth."
Biosearch Technologies collaborated with several large health care organizations to help quickly ramp up mass testing for COVID. But before they could put its instrumentation to work for that purpose, it needed to obtain an Emergency Use Authorization (EUA) from the U.S. Food and Drug Administration and the UK government, a multi-month process.
Biosearch Technologies' automated genetic testing equipment was already well-suited to the task of mass testing to detect the virus, but thorough vetting by governmental authorities was a necessary first step to use its machines and technology for human testing.
Once EUAs were in place, the team saw amazing sales growth. "The growth of our equipment sales was unprecedented. We significantly increased our sales revenue during the pandemic," explains Berg. But that windfall didn't come easy. For one, there was no rule book during COVID. Staff couldn't travel to install laboratory equipment headed to all corners of the globe. Berg remembers the team trying to figure out how they were going to service all the new instruments in the field when they couldn't even get into the countries they were being installed in.
"It was challenging, but it was also amazing," she says of her company's problem-solving agility. "Do we make videos? Do we have overnight video calls? We were very agile."
"Trying to grow like that so quick, we didn't have space. You couldn't even walk through parts of the building at times when we were trying to get ahead of that," Berg adds.
Fortunately, LGC anticipated the surge in equipment demand the pandemic would create and stocked up on materials it would need early on, minimizing the supply-chain woes it would encounter as the crisis wore on, Berg says.
Berg says during this uncharted time the Alexandria site was able to lean on its unique relationships with customers to rise up to the challenges. "If there was a problem, we were attacking it together. We were asking our customers all the time, 'What can we do for you? How can we serve you?'" It was this constant collaboration that made the team and LGC as a whole, globally successful. Especially when it came to the UK government's effort to set up the highest throughput mass testing in the world.
"We had many different opportunities to get involved in the solutions for testing and curbing COVID. If we weren't part of LGC, we would have never had the impact we did," Kalina says. "The end result would have been nowhere near the same." Berg says the pandemic underscored the value of being part of a larger international business, noting: "If we didn't have a resource we needed in Alexandria, globally we had it."
Demand for testing equipment was so great during the pandemic that Berg says LGC made the unusual decision to employ a third-party manufacturer to help Biosearch Technologies keep up with demand.
"We knew we didn't have the room or the capacity to build equipment fast enough. We had to attack the pandemic and there weren't enough hours in the day or enough space here in Alexandria. And we knew we couldn't open a second facility quick enough," she says.
Future-focused
As the pandemic eases, more than 80% of the laboratory equipment and supplies Biosearch Technologies produces in Alexandria now go to applied markets, including ag-bio and food safety analysis.
"The other markets we're in fluctuate," Berg says. "Obviously, during COVID, the clinical and medical diagnosis market increased. But it's now contracted a little. The rest is kind of split up between pharmaceutical, biotech and research, government, and universities."
She says LGC's leadership during the pandemic helped uncover new opportunities for the Alexandria group.
Biosearch Technologies also has recently carved out a name for itself in the production of synthetic DNA sequences called oligonucleotides, or oligos, that can be helpful for drug testing and validation, including the development of vaccines.
Berg sees oligo synthesis as a key opportunity for Biosearch Technologies moving forward. "Being agile is necessary in the biotech industry. What's here today is one thing, but everyone is looking for the next and greatest thing. It's all about moving with our customers and helping them stay ahead." She also notes today's problems can be tomorrow's opportunities. "You have to be innovative. We're presented with new challenges every day. Global warming impacts how food is being grown. And obviously in the human diagnostic and vaccine markets, every day people are chasing after new cures for diseases."
Berg predicts that Biosearch Technologies will continue to partner with customers to find continued success. "That's our job. We want to be a part of our customers' work-flow processes. We want to get in at the beginning, we want them to use our instruments, and we want to enable their discoveries along the way."
…
Featured story in the Winter 2023 issue of Enterprise Minnesota magazine.
Return to Winter 2023 magazine