A few weeks ago, when the folks in the NBC newsroom in New York City wanted a creative way to talk about the latest job and unemployment numbers and their impact on the economy, they chose a small but mighty manufacturing plant in St. Paul to spotlight as a shining example of success.
In the segment, Delkor CEO Dale Andersen walks among the myriad robotic machines that have helped the company double its revenue over the past few years, all the while paying top wages to its workforce — a workforce made up of highly educated workers.
Delkor Systems, a company that manufactures packaging systems for product shelves in retail stores across the country (you've no doubt seen their packaging in Walmart and other retailers) is on a hiring spree. They're looking to hire up to 30 more skilled employees to keep up with demand.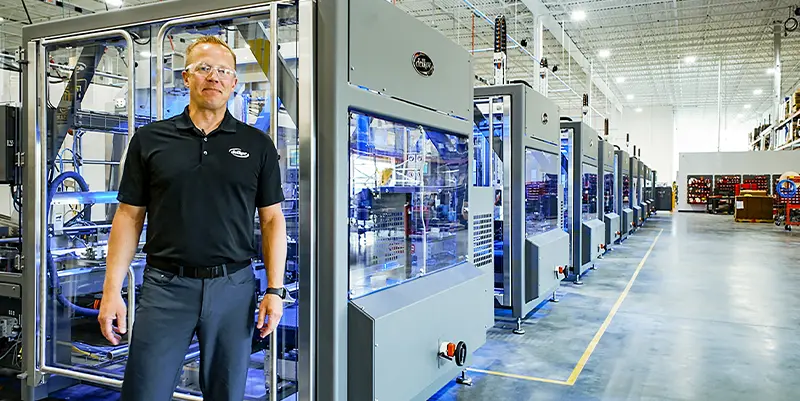 Half the company's workers hold bachelor's degrees. They are typically engineers charged with identifying new ways to develop product packaging and presentation schemes. The other half hold associate degrees. These are the workers trained for jobs in automation.
Maintaining a highly educated workforce, company leaders say, is part of their recipe for success. Patty Andersen, vice president for human resources and training, sits on advisory councils for several technical colleges and helps guide their curricula to produce the kind of graduates the industry needs.
"Not only can I be the voice for the OEMs, but I help them think about what they are teaching and what graduates need to know to be able to be successful in the workplace," she says. "The other piece is career path mapping. In our engineering department, a third have a two-year degree. So many companies get boxed in by the belief that you cannot be successful in certain positions unless you have a four-year degree. I would completely disagree with that. It is a combination of aptitude, experience and education. And when those three things come together, it's amazing where you can go."
To illustrate that fact, Rick Gessler, Delkor's vice president of engineering, shares the story of an engineer who went above and beyond to learn some of the finer points of robotics.
"One of our principal engineers has a two-year degree from a tech school and taught himself linear algebra — really advanced mathematics — so he could program the motion on our machines," Gessler says. "Why does somebody do that? They must be inspired by their work, they must enjoy it, and they must find it compelling and engaging and want to grow. You don't teach yourself that kind of stuff just to get a paycheck on Friday."
In that NBC report, Andersen revealed that employees at Delkor, if they stay a few years and keep learning and growing with the company, can earn a salary of $100,000 or more. Staying ahead of competitors in employee compensation, Andersen says, is one of the ways they attract employees and, more importantly, keep them.
"We value our people as being our greatest resource," Andersen says. "The challenge in the area of robotics is we have to invent things that have never existed before. And if you look at how that value translates to the individual — it doesn't matter that someone's 25 years old. If they have attained the skills to be able to do that, they deserve the compensation that goes with that responsibility."
Andersen says he's repeatedly amazed at the talent that comes out of the technical schools. They come with solid baseline training and, after they arrive, they become sponges, learning new processes and contributing to the efficiency and effectiveness of the team.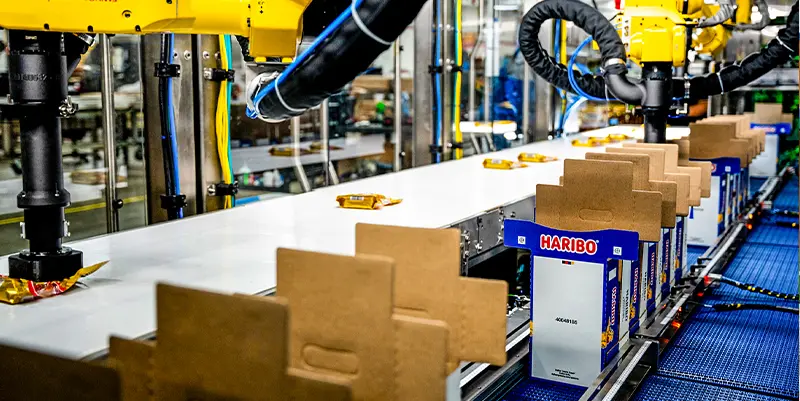 "If you put the people I'm talking about on an assembly line and paid them handsomely, they would quit because they are in love with their job and they are coming in every day and taking on new challenges," Andersen says. "The person Rick was referring to who taught himself linear algebra on the side is the kind of person we're talking about. Just amazingly talented. I was happy to see NBC News focus on this very exciting and futuristic career in robotics. It is important to get that message out to more people in the general public."
NBC likely came to Minnesota because the state is performing a little better than the national average. While both the state and nation have seen unemployment rates creep in the last month, Minnesota is still better at 3.1% versus the U.S. overall rate of 3.4%. According to the Minnesota Department of Employment and Economic Development, the state added 4,400 jobs in from July to August — the fourth straight month of labor force growth.
And according to the U.S. Bureau of Labor Statistics, Minnesota's manufacturing industry continues an upward trend in total workforce. Though hiring appears to be slowing in recent months, the industry as a whole has recovered from the pandemic, and there are more people working at Minnesota manufacturers than prior to the pandemic.
A Pioneer Milestone
Delkor's Patty Andersen becomes the first female chair of the packaging and processing association.
Decades ago, when Patty Andersen got into the manufacturing industry, becoming a pioneer wasn't on her radar.
But that's exactly what happened.
Andersen, vice president for human resources and training at the St. Paul-based Delkor Systems, recently became board chair for the Association for Packaging and Processing Technologies (formally [CW1] Packaging Machinery Manufacturers Institute — PMMI), a trade association representing more than 900 North American manufacturers in the packaging and processing industry.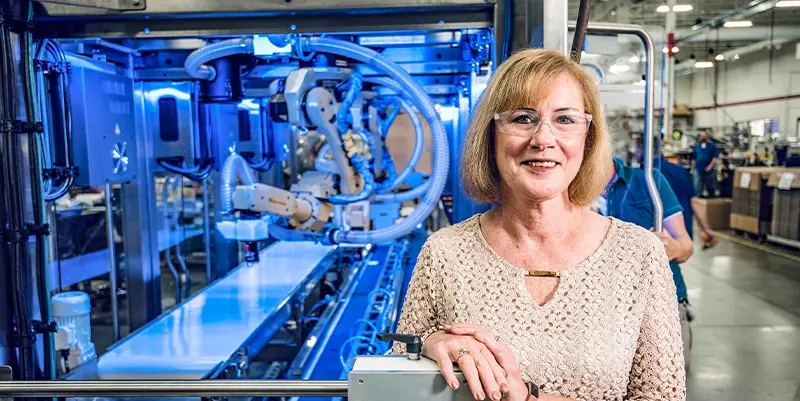 PMMI was founded in 1933 in Buffalo, N.Y. For the first 89 years of the organization — which serves as an international advocate for the packaging industry — it was helmed by a man. But on Feb. 6, Andersen ended that streak.
"I think they realized it was time to modernize some things," Andersen says. "And the industry is changing."
Andersen has been with Delkor since 2005, joining as the company's human resources director. A few years later, she was promoted to her current VP position. Her involvement with PMMI began in 2010 when she joined its Education and Workforce Development Committee. She took over leadership of that committee in 2015. She served as a member and chair of the Employee Development Committee from 2012-2019, was vice chair and chair of the Strategic Planning Committee from 2020-2023, and was a founding member of the Packaging & Processing Women's Leadership Network, serving on its executive council since 2016. She's been a PMMI board member since 2017 and joined the Executive Committee as vice chair in 2020.
"Patty has provided PMMI with valuable guidance as a leader and a board member. We are excited as she takes on a larger role in the strategic direction of PMMI as our first female chair," Jim Pittas, president and CEO of PMMI, said in a press release. "Her more than 20 years of packaging industry experience coupled with her ability to inspire others to work together and think creatively to solve problems makes her an incredible asset to the association."
Beyond her work with PMMI, Andersen has kept busy with an array of industry-related endeavors including: serving on the Hennepin Technical College Foundation Board of Directors, and serving on advisory councils for Central Lakes College Robotics/Automated Systems Technology, St. Paul College Electromechanical Systems, and Northwood Technical College Automated Packaging Systems.
Andersen says that, during her time with the Packaging & Processing Women's Leadership Network, it held an event in Las Vegas that attracted more than 800 women from around the country.
"It was great. Most of them who came, came on their own," she says.
Andersen says she gave tours of the event to student groups, including groups of female engineering students from California Polytechnic State University. She says it was gratifying to be able to show them how some sectors of manufacturing are becoming increasingly less male dominated.
Dale Andersen, president and CEO of Delkor, says his wife's accomplishments are creating real change in the industry. Even at Delkor change is happening. Just a few years ago, there were no women among their engineering ranks. Today, there are four. He attributes that to Patty Andersen's leadership.
"The packaging and processing industry is like a lot of manufacturing industries. It has been predominantly male," he says. "We're seeing an emerging trend which we'd strongly endorse. And, I think what Patty says is true: The time was right for a shift to having women more involved in all of our companies."
Andersen says that, when it comes to changing demographics in the workplace, her mind isn't solely focused on men vs. women. She'd like to make the industry feel welcome and inviting to anyone who doesn't fit into the leadership stereotype of the older white male.
Addressing those changes, she says, requires a comprehensive shift in how manufacturers think when it comes to hiring, retention, leadership and everything else.
"It's thinking about the content for meetings, it's thinking about the activities that you're offering," she says. "In the past it would be primarily 18 holes of golf. Well, maybe not so much anymore. Maybe you need to think about that a little bit differently. And you also need to think differently about the spouses. The assumption was made that the spouse was always a female. That's not true anymore. And so you have to think about that.
"As I told the leadership team at PMMI, it's not that anything's broken," she says. "You're trying to modernize, and modernization means that you have to think a little bit differently and be more creative about it."
…
Featured story in the Winter 2023 issue of Enterprise Minnesota magazine.
Return to Winter 2023 magazine