A sign on a window near the entrance into the JDM Machining plant says, "We make things!" That statement is both an oversimplification and an accurate description of what JDM does. The plant, tucked into a tree-lined area just outside of Staples, produces molded, tooled, and turned parts for everything from recreational vehicles and USB ports to medical equipment.
Jeremiah Miller, JDM's founder, learned machining skills at Albany High School and worked full time as a machinist during high school. He earned a degree in mold-making at Central Lakes College in Staples and worked four years for a company in Baxter. When the company shut down in 2000, Miller started JDM Machining in a 1,200-square-foot shop in Staples with just a small vertical mill.
He bid jobs, took orders, produced pieces on demand — performing all aspects of the business himself for about five years and building up his customer base mainly through word of mouth. As business grew, he added more machines and started hiring help. "We were just building and tooling," he says. "We weren't focused on any one industry."
Today Miller and his wife Sara, his co-owner and office manager, work in a clean modern shop with 30 employees. With about 50 regular customers from across the U.S., Mexico, and overseas in China and Taiwan, as well as special orders from other clients, JDM has the capabilities to turn, mill, mold, heat-treat, and engineer any number of precision-made pieces — the "things" alluded to in the sign in JDM's window.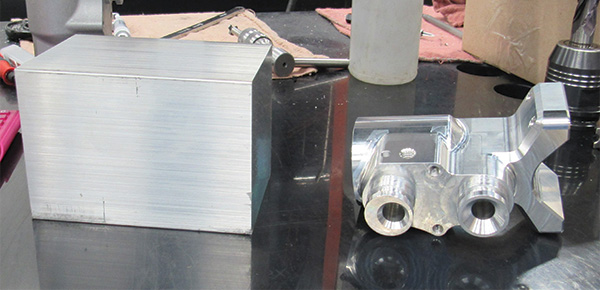 Two of Miller's first hires, production leads Mike Heller and Eric Kostreba, have been with JDM for about 15 years. Miller says both key players have helped grow JDM to where it is today. Each day begins with a "huddle," Miller says, "to give the guys time to organize, clean areas, and review why we do what we do." His production managers schedule specific jobs, communicate with customers, and hand off production to the leads in the shop.
The company updates equipment regularly. The Millers remodeled their shop in 2004, 2012, and 2021. Today, their 20,000-square-foot plant has separate shop areas for milling, turning, and quality control. An additional 5,000-square-foot warehouse is used for storage.
JDM gets about half its revenue from recreational vehicle companies like Arctic Cat, Polaris, Argo, GE, and Fox; tool and die work comprises the other 50%. Miller says it was simply word of mouth that brought medical clients to JDM, but high-quality production with quick turnaround has probably kept them there. Diversification has been important this year, as production for recreational vehicles, which rose during COVID, has tapered off in 2022.
While the Millers watched cheaper competition eat away at its machining and molding business in years past, they now enjoy the satisfaction of seeing their pieces show up in medical machines in China. Other JDM products can be found in recreational areas, electronics, gun parts, military, and clean energy and ship out daily.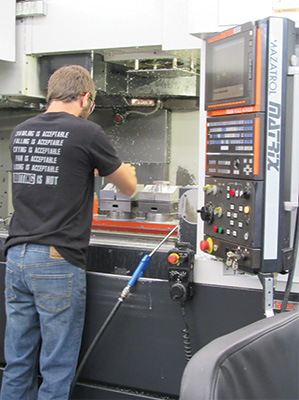 A stack of USB ports in JDM's shop will go to Bemidji's Nortech, a full-service electronics manufacturing service. Large rectangular aluminum structures at JDM are being machined for a university lab that conducts DNA research.
Some clients order multiples of one particular part while other customers have one-time emergency or special orders, referred to as "one-sies and two-sies" by Miller and his managers. Trevor Enberg, one of JDM's three project managers, recalls one emergency order that came in on a Tuesday morning. By Wednesday afternoon, JDM had produced the part and shipped it out Thursday.
Enberg points to a stack of boxes from Taiwan that initially had been shipped to a plant in Canada to be tooled for a part that will end up in Fox recreational machines. The Canadian company was unable to meet the production deadline, so the boxes of raw materials were shipped to Staples. JDM had a window of opportunity that allowed the company to fit in the order and meet the deadline, producing 1,000 pieces per week for the next few weeks.
In 2018, JDM earned its ISO 9001 certification. Now, with two production shifts and some weekend work, Miller says, "We try to keep the machines working as much as possible." Miller's team has set a production goal of 3% growth per quarter, a goal JDM has not only been meeting but exceeding several times over this year.
"We just want to keep getting better at what we do," Miller says.
…
Featured story in the Winter 2022 issue of Enterprise Minnesota magazine.
Return to Winter 2022 magazine