To say Kurt Schrom has a long history with the Blooming Prairie-based Metal Services would be an understatement.
"I was Metal Services' first employee back in February 1984," says Schrom. "That's how I got to know the Metal Services family."
He worked as a welder using a portable welding machine to do on-site repairs for farmers' broken-down equipment. He learned that trade on the job, working for a blacksmith in Bixby, Minn.
"That gentleman taught me how it all works," Schrom says. "And I liked it."
Fast forward a few decades — after a 35-year career in Blount/Caterpillar's forestry division — and Schrom is now Metal Services' chief operating officer. He's come a long way from those early days welding farm machinery. And so has the company.
Metal Services, a multi-service metal fabrication and repair shop, has taken steps recently to enhance its growth and improve its chances of getting past some pesky labor force issues. The company is also venturing into the realm of social media. (And if you think clicks and "likes" is an unlikely environment for a metal fabrication company, you're right. But Metal Services is getting leads from it.)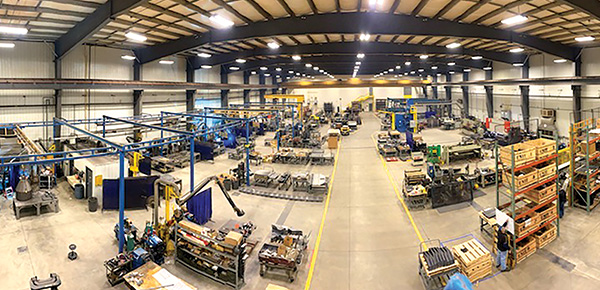 Growth
Since launching in 1984, Metal Services has grown. Today it employs nearly 40 people and has annual revenue of nearly $9 million.
Schrom says the Metal Services production line can best be described as a three-legged stool: repair division, production shop, and the millwright crew that works primarily in soybean and ethanol processing plants.
Longevity, Schrom says, is one of the company's strengths.
"Metal Services has been around going on 40 years," he says. "It's a very solid, healthy, ethical company. It was built on those ethics, and we try to stay focused on those core values."
As for challenges, Schrom says Metal Services is facing some of the same issues most manufacturers are facing. The company currently employs 11 welders and has struggled to hire the additional two needed to maintain a smooth workflow without having to pay overtime.
One of the company's solutions has been exploring automation.
On a whiteboard in Schrom's office is a sketch of a welding robot. It's a rough sketch, but there's nothing rough about Metal Services' plans for automation.
"Automation is a big part of our 2023 plan," he says.
So far, Metal Services' automation forays have been in integrating business management systems with brake presses, lasers, and other machinery on the shop floor. He says such integration has made the company more efficient, but Metal Services is looking to incorporate more automation.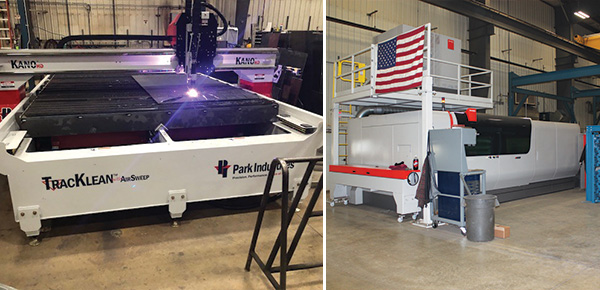 "We're looking (to automate) how we quote. That's a part of automation. Everything we do today is manual," Schrom says. "We've also just added a metrology arm. And then we're looking at this welder robot as well.
"During our strategic planning session in 2021, we were willing to go after a robot when we got a job that looked like it would be robot compatible or a good fit for a robot," he continues. "This year in our strategy session, we changed that. We think we need the robot first, and then we'll go get the work."
To bolster company growth, Enterprise Minnesota business development consultant Kurt Bear led Metal Services through an exercise that mapped out potential clients within a 250-mile radius and then strategically identified which businesses to target. The company's management team was thoughtful to not target too many potential customers from the same industry sector. For instance, having a lot of agriculture-based clients is great when farming is booming. When it's not, it doesn't produce a lot of revenue.
"We also wanted to be realistic about those targets," Schrom says. "We decided to target medium-sized fabricators. Can we do large jobs? Sure. But we're not really set up for that, so why pursue something that will strain the limits of our production capacity?"
Getting social
Metal Services is also adding improved social media strategies to grow revenue.
"We, of course, have Facebook and LinkedIn pages," Schrom says, "but the two were worlds apart. They didn't look the same, didn't have the same message."
After cleaning up inconsistencies in messaging and adding Instagram to the mix, all the company's social media accounts are now monitored and updated by one person who understands the different platforms.
Results so far, Schrom says, are good.
"We're not getting leads in the typical sense. We identify companies through our social media pages, and then we create the lead. We approach them. And we've been very successful with that. In fact, in our two largest growth activities going on right now, that's exactly how it happened. We're convinced it's working."
…
Featured story in the Winter 2022 issue of Enterprise Minnesota magazine.
Return to Winter 2022 magazine