Many B2B manufacturers overlook the benefits of digital marketing.
"They throw a website out there, but they don't do anything to attract people to it or to identify who their key client is and then target that key client via social media," says Dawn Loberg, an Enterprise Minnesota business development consultant.
Big Lake-based Acucraft Fireplaces has become the exception over the past several years. CEO Chris Maxson has learned to appreciate the value of investing in a digital-marketing strategy while working with Augurian, a Minneapolis-based digital marketing agency. Acucraft has increased its return on investment (ROI) from $18 to $28 for every marketing dollar spent.
"The fastest way to grow our business was to identify our most profitable customers. Once you know who your best clients are, it's easier to go out and attract those types of people," Maxson says. "Leveraging Augurian's digital-marketing strategies, our leads grew dramatically, our marketing budget went down, and the company's growth was exponential."
Acucraft's core customers are builders, architects, and homeowners for custom gas or wood-burning fireplaces.
Even before Augurian, Acucraft's marketing focus was a cut above peers in the manufacturing industry. Maxson, who has owned the company since 1997, had a history working in international business, including at Toyota in Japan. His forward-thinking and innovation — as well as that of Missy Ramberg, director of marketing — can be seen in the company's polished website and well-rounded social media presence.
Maxson is also a longtime member of Enterprise Minnesota's monthly peer councils, where executives in manufacturing discuss current issues and successes. Through collaboration, they share innovative ideas and solutions to help resolve challenges. One of the most recent peer council topics, in fact, focused on B2B marketing and how to maximize online strategies to attract more business.
"Manufacturers are feeling the business really start to slow, especially now coming into a recession," Maxson says. "For a while we had a 16-month back log, and now those are shrinking. For years manufacturers haven't been out looking for new clients or business."
That's where Augurian has made such a difference for Acucraft, helping to drill down into the company's data, identify who was visiting the website, what portion of those visits were turning into business, and how to target more of those people. Josh Becerra, president of Augurian, says the Acucraft website previously lacked a good way to collect traffic data or use that data, and that's commonplace in the manufacturing industry.
"If you have a manufacturing company that is developing products for segments of industries related to consumers — like Acucraft — then digital marketing should be part of the marketing mix," Becerra says. "The world has changed. Younger people are in positions where they're tasked with buying, and those people are turning to what they know, and that's the internet. That's why B2B manufacturing companies should really start looking at where their digital marketing needs to be."
Augurian implemented customer relationship management (CRM) software that helped Acucraft track which website leads turned into sales. With paid ads placed on Google, LinkedIn and other social platforms, the CRM breaks down where the traffic came from, the percentage that resulted in filling out the "Contact Us" form, and the percentage of those who became clients.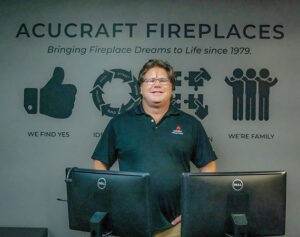 "The CRM tells us, 'Here are the people who turn into business,' and we can import that back into advertising publishers, Google Ads, Twitter, etc. They then use their AI engines to find more people who look like that, which turns into more business," Becerra says. "These are the smart capabilities largely untapped by manufacturing businesses."
Acucraft spent 12 months assessing, planning, and implementing its new CRM system, which provided invaluable information and data for the company's internal sales team and external marketing initiatives.
Within 12 months, Acucraft's lead volume increased by 15% and order volume increased by 34%.
"Having access to the right data and utilizing it appropriately throughout your marketing efforts is invaluable," Ramberg says.
Maxson says the investment has been worth every cent. He urges other B2B manufacturers to leverage digital marketing practices.
"It's not going away. You need a better handshake between sales and marketing to be effective, and that's what Acucraft has done," Becerra says.
…
Featured story in the Winter 2022 issue of Enterprise Minnesota magazine.
Return to Winter 2022 magazine