Enova Illumination was a bit too early to the LED party when it first brought its surgical headlights to market in 2005. Clinicians were enthusiastic about having a better source of light in the operating room than existing fiber optic technology, but three months later, customers sent the headlights flooding back. They just weren't ready for prime time.
While company leaders focused on successfully bringing other medical products to market, LED and lithium battery technology rapidly improved, prompting Enova Illumination to try again a decade later. This time, LED lighting was more common, many of the technical bugs had been worked out, and clinicians seemed ready to try the new technology once again.
In 2016, Enova returned to market with an improved headlight, giving the company a fresh conversation starter with doctors, dentists, and other clinicians. The time away from LEDs made all the difference as Enova started selling its medical lighting once more.
"That decade was a marvel of advancement," says Enova president and CEO Roger Heegaard. "By that time, department stores were putting in LED lighting. It was easier to get doctors to adopt it because they were more comfortable with LEDs."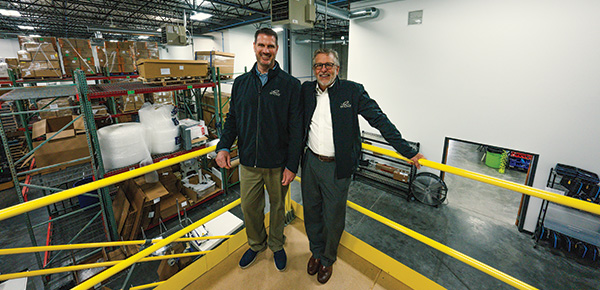 From then on, Enova has been a growth story. The company has since branched out into designing and manufacturing headlights, loupes, microscopes, and cameras, serving the medical, dental, and veterinary markets. And to cap it off, the company moved from northeast Minneapolis into a new, larger facility in Golden Valley in 2022.
It wasn't an easy road to land these achievements. There were plenty of dead-end paths and iterations to get the emerging LED technology and headlights just right. But Heegaard had a reason to persevere. Born into a four generation-deep family of physicians, including his father, brother, and cousin, Heegaard knew that good light can make all the difference when caring for patients.
"This was something we didn't want to give up on. I just believed in the technology," Heegaard says. "My dad had been a mission doctor at the end of his career. Whether you're a mission doctor or a doctor in Edina or at Mayo, doctors are compromised when they can't see well. And it was haunting me."
There was plenty of room for improvement in its early headlights, and Enova succeeded in closing the gaps. It quadrupled the power of the devices' light, boosted the light quality, and delivered it more efficiently, securing three patents. Now in its sixth generation, Enova's new models are lighter and more comfortable, with battery packs that extend their usage.
Enova overcame obstacles by collaborating with others who have expertise in LED and optical technologies. It also expanded into new markets like dentistry in 2017, modifying its headlights for dentists and making loupes — wearable magnifying glasses — for medical and dental clinicians.
In 2019, the technology, Enova's markets, and its capabilities aligned and started fueling more rapid growth. Growing at about 25% annually between 2012-2019, Enova sales have been increasing 40% a year during COVID and are projected to increase 70% this year, according to Heegaard.
To continue thriving, Enova identified a need to bring its manufacturing in house. As a long core value to provide exceptional quality and customer service, that became increasingly difficult in its tight quarters, Heegaard says. In addition, Enova has grown from 12 to 46 employees, and it's on target to finish 2022 with 50 people.
Enova's new facility in Golden Valley provides five times the space. It comes complete with a white room, a clean room, CNC machining, and precision manufacturing. The building includes a training facility for clinicians to learn how to use its products and get comfortable enough to adopt them in the operating room or dental office.
"It brought us up to the next level," says Jeremy Ward, vice president of operations. "We're extremely excited about the training lab here. We'll be able to bring in key opinion leaders to teach courses to medical leaders so they can learn how to use the equipment and products that they might not have had the ability to practice on."
Recently, Enova forged a deal to supply headlights to Stryker, the medical technology giant. Enova beat out many competitors thanks to its unique optics, commitments to technology and providing high-quality customer service, and focus on manufacturing excellence. "That's been a game-changer for us," Heegaard says. "It's validated our products in a big way."
Stryker required Enova to become ISO certified. Enova turned to Enterprise Minnesota for expert consulting and advice, making the necessary changes to its manufacturing documentation and other processes, Ward says. Enova will have secured the certification by the end of 2022.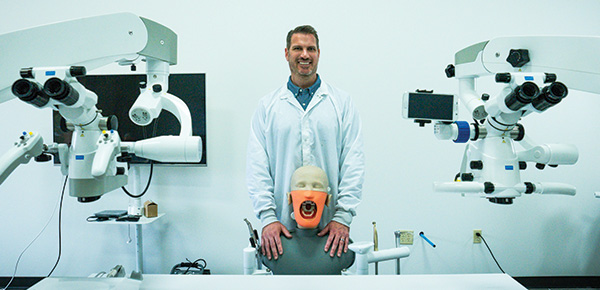 Sales continue to increase at a steady pace, and its product assortment and new space will support that growth. Enova now has a broad menu of integrated products that work together. For example, its Futudent HD video camera can be attached to Enova headlights or loupes to document surgical procedures. Its Zumax microscopes incorporate high-definition video, high-end optics, and single-handed operation, allowing clinicians to deploy all the tools they need to provide excellent care.
By focusing on bringing the most advanced visual technologies to clinicians, Enova continues striving toward that bright future Heegaard envisioned all those years ago.
…
Featured story in the Winter 2022 issue of Enterprise Minnesota magazine.
Return to Winter 2022 magazine