The story of Lexington Manufacturing, which produces door and window components, is one of continuous growth and increased production and sales. Automation and a goal of zero waste have made production efficient and green, but president Mike Dillon credits the people for the company's success. And recent lean projects involving front-line workers are making the company even more efficient.
Founded in 1981 by George Dimke, Lexington Manufacturing started out as a job shop that made fixtures for a variety of clients. Once the business got going, says Dillon, Lexington transitioned into contract work, focusing on window components. Andersen Windows was the company's first big client and still is, along with other top-ranked window companies like Marvin, Pella, and Jeld-Wen.
Dillon joined Lexington 28 years ago, fresh out of college as a machine operator in the Coon Rapids plant. In 1998, the company opened a Brainerd shop that produced door cores in an old Northern Pacific Railroad building. Dillon was the first plant manager at the Brainerd operation. Today, Brainerd's 140,000-square-foot shop produces door cores, stiles, and rails for commercial architectural doors that end up in hospitals, schools, and other buildings across the U.S., Canada, Europe, and even Saudi Arabia, Dubai, and Japan.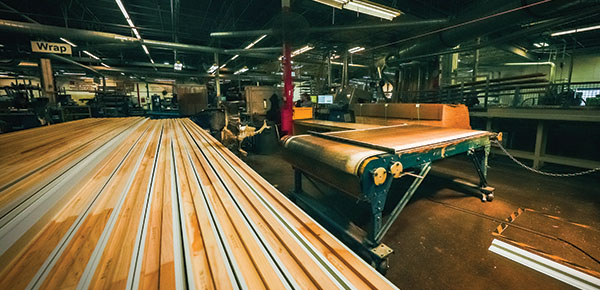 In 2016, Dillon became president of the company that now operates out of 300,000 total square feet of manufacturing and warehouse space at the two locations. Today, Lexington's plants in Coon Rapids and Brainerd operate with fully automated machines to take pieces from start to finish.
In 2019, Lexington ranked in the top 100 of woodworking tech businesses, with sales totaling $75.6 million and eight consecutive years of sales gains. The company had 211 employees at the time. Lexington continues to grow and "has been on the list of the top 300 fastest growing wood industry businesses 15-20 times," Dillon says. Jeff Morin, vice president of operations, says Lexington has doubled revenues every five years for the past 10 years. Today, the company employs 315 people.
Lexington describes its manufacturing method for door cores as "nearly 100% waste free, using ultra strong wood products and carefully calculated measurements… [W]e meld materials together to create one continuous piece of wood. It's then cut to the exact size it needs to be." The company's automated door production line produces 1,000 cores per shift with little or no waste. The cores go to door companies like VT, Masonite, and Therma-Tru.
Jim Gardiepy, operations manager at the Brainerd plant, says, "We were green before green was cool," referring to the recycling, reusing, and repurposing of scraps and sawdust, much of which is sold for pet bedding.
Gardiepy has worked for Lexington for almost 20 years. Each week, he says, 35-40 truckloads of Laminated Strand Lumber (LSL) from Weyerhaeuser are delivered to the plant, and 40-50 trucks of product ship out of Brainerd.
Lean manufacturing, Gardiepy says, is key, but the safety of the workers is equally important. Today, automated pushers, conveyor belts, rip saws, presses, glue machinery, and stackers do most of the back-breaking work and do it quickly, precisely, and efficiently. Production workers do the programming, but fully automated saws, conveyors, and sanders have eliminated repetitive tasks for assembly workers, saving backs, shoulders, and time. Automation has increased efficiency to the point where the entire expansive billet area can now be managed by five people.
"The goal," Gardiepy says, "has been to get to a point where the workers don't need to touch the product."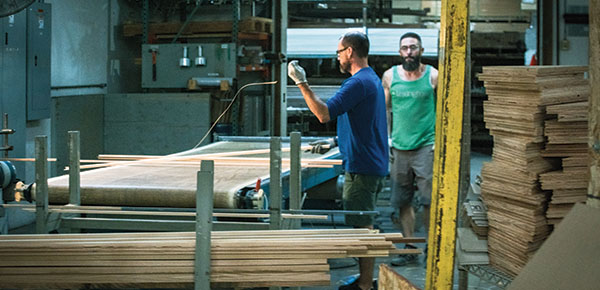 With the company's continual growth, automation doesn't solve every problem. Morin, who joined Lexington about a year ago, says, "Not long after I started, we promoted somebody into the position of continuous improvement manager and have since added a continuous improvement technician to that team. We have partnered with Enterprise Minnesota to help us."
Morin says Lexington's Coon Rapids shop completed an 8-week lean project this fall, and the Brainerd facility is in the middle of a similar improvement project.
Dawn Loberg, an Enterprise Minnesota business development consultant, says that the company's rapid growth was outstripping the capacity of its machines. To compensate, the company looked for non-value-added activities in the manufacturing process and identified 20-30 small things that could be changed to make a big difference.
It wasn't a top-down approach, Loberg says. "It's bottom-up. The difference was in the front-line team. Engagement was critical. And accountability." Loberg was impressed at the aggressive goals Lexington set — 90 days to increase machine uptime/availability by 15-20%.
The offering of a 3-day weekend shift at the Coon Rapids plant this past summer greatly improved machine uptime. For some employees, weekend work is an ideal way to schedule around anything from daycare to college classes. Dillon says, "I was pleasantly surprised when current people moved to [the weekend schedule]. That way we could populate the weekend crews with experienced workers."
Morin says, "We've increased our equipment uptime from 40% to 60%, a 50% improvement in the past month. Our machines are so autonomous that it makes [production] easier, but human beings still have to be there."
"Our people are our secret sauce," Dillon says. "They're a great team of people who create our success."
…
Featured story in the Winter 2022 issue of Enterprise Minnesota magazine.
Return to Winter 2022 magazine