Forty-eight years after Jodi Boldenow and Jeremy Sizer's dad started installing commercial garage doors, IDC Spring is gliding into a new age of manufacturing.
Founder Gerry Sizer expanded into spring manufacturing just seven years after he founded Industrial Door Company (IDC), originally a local garage door installation service. Today, his legacy has split into two separate companies: idc-Automatic and IDC Spring.
Since Sizer's two children joined the family business in 1996, IDC Spring has boomed into one of the largest industrial spring manufacturers in the Midwest. The company has increased revenue by 1,000%, added IDC plants in two other states, and started serving customers in Central America, South America, the Middle East, and Europe. Its springs support overhead garage doors as well as the doors of UPS trucks, Amazon trucks, tractors, fire stations, snowplows, and even Zambonis.
But perhaps most impressive is how, through it all, the company has maintained the friendly, people-focused feel of a much smaller business.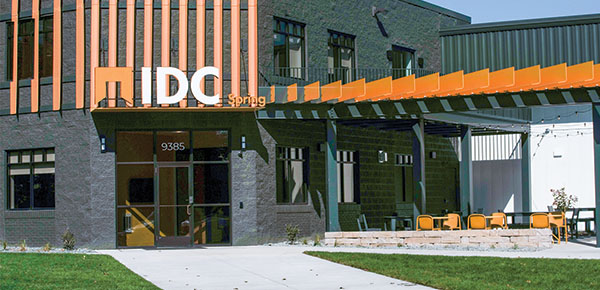 "It really feels like a $1 million company run out of someone's garage," Enterprise Minnesota business development consultant Jim Schottmuller says. "When [Boldenow and Sizer] first told us they were about to hit $100 million, we were shocked. They're such down-to-earth people, you just feel 'small company' all over them."
Out of a garage
After he had served a hitch in the U.S. Navy in Vietnam, Gerry Sizer was set on starting his own business.
With a pickup truck and $8,000 borrowed from his father, 28-year-old Sizer relied on his earlier experience as a garage door estimator for Johnson Newman Company and founded Industrial Door Company in 1974. A few years later, IDC moved from Sizer's garage into a newly remodeled building in Coon Rapids, and orders ramped up. He didn't enter industrial spring manufacturing until 1981, when he acquired a friend's company.
By 1996, Sizer was a little "burnt out." IDC had developed and pitched its own standardized safety labeling, Sizer had helped draft garage door safety legislation for Minnesota, and the Coon Rapids site had added 23,000 square feet to its footprint. Sizer had also introduced automated procedures for coiling and painting.
He was ready to retire to Florida. But before searching for prospective buyers, Sizer felt that his now-grown son and daughter, who used to spend their summers helping dad around the plant, deserved first dibs.
"Dad would bring us to work [as kids]," Boldenow says. They did yard work, pulled weeds, swept the plant, and sorted nuts and bolts. They also washed the company trucks and even repainted company trailers. "We actually thought it was kind of a raw deal, because while our friends were laying around and going to summer camp, we had to act like grown-ups!"
As Jeremy Sizer was getting a degree in biology, Boldenow was finishing law school but had hit a rough patch in job hunting. Discouraged, she called her dad, who invited her to join the family business.
The two siblings decided to finish their education and then try out IDC for a few years to see if it was a good fit. Their dad would be there to answer questions, and while he reserved the right to take back control if the company tanked in those first few years, the siblings would be largely on their own.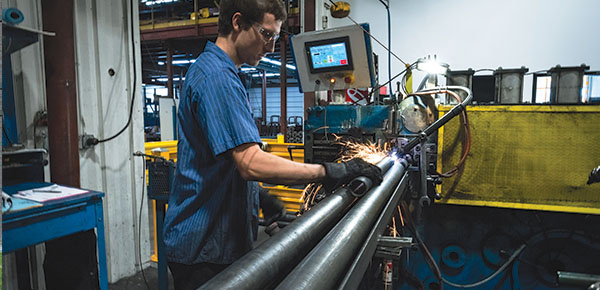 "In some ways, we were naïve about what we were getting into," Boldenow recalls. "We didn't know what we didn't know. And we didn't want to disappoint him."
Gerry Sizer wanted his kids to learn about the company from the ground up, so they spent the first few years bouncing from department to department about every six months. After learning sales, service, operations and purchasing, "we just fell in love with the business," Jeremy Sizer says.
The full transfer of ownership began in 2000, four years after Sizer had first pitched the idea to his kids. At first, they struggled to assume mental ownership over their father's company.
"We had to realize that this was going to be our business, not our father's," Jeremy says. "That was hard. Making that mental transition was difficult."
In the beginning, Boldenow and Sizer aspired to double IDC's revenue from $10 million to $20 million.
"The biggest we could fathom to grow by was 100%," Boldenow remembers. "And then we did that within a relatively short time period and we realized that the sky was the limit."
In some ways, that turning point opened their eyes to IDC's real potential.
"My dad always used say that our minds are self-limiting. And I think that because the company came out of our parents' garage, it took us a while to see it for what it was versus what it could be, and to recognize that it could be scaled way beyond that," Boldenow says.
From then on, Boldenow and Sizer were setting their targets higher and dreaming bigger.
A new century
Today, IDC Spring's corporate headquarters sit on the same land Gerry Sizer purchased back in 1977. Expansions into Tempe, Ariz. (2007) and Piqua, Ohio (2013) have extended the company's reach across the country and to the rest of the world, reducing shipping costs and making IDC one of the most cost-effective spring suppliers in the U.S. Although running a family business across three states can be challenging, Boldenow and Sizer work hard to maintain the values-driven approach that has helped IDC succeed through the years.
"When you have just one location, it's easier to shape the culture," Boldenow says. "It's in how you show up every day and the conversations you have. It's definitely harder when you're not there full-time. So, we're really intentional about it."
"We want to know our employees," Sizer agrees. "One of the reasons Jodi and I travel is to know our people as well as we can. We want to keep that family feeling even as we get larger."
Modern technology has been a real asset in the effort to preserve connections across state lines. IDC's Facebook page enables 3,000 customers, employees, and their families to follow company barbecues, trade show information, employee birthdays and anniversaries, and more. TV monitors in Minnesota, Arizona, and Ohio cycle through employee Facebook posts and photos.
"People get excited about seeing themselves with their coworkers because we're all really close," IDC Spring's digital marketing specialist Kelli Golembeck says. "It's another way to connect us and get everyone involved."
A tradition of stewardship
Boldenow says IDC Spring's commitment to its employees and customers goes back to its founding. Her dad's time in Vietnam exposed him to horrible poverty: "People didn't have jobs, medical care, the basic necessities of life. And a lot of it was because of high unemployment, oppressive government, no commerce."
He was inspired to start a business when he got home. "He truly believed that job creation is what lifts up families, and ultimately communities. And we continue to believe that. We believe in providing opportunity for people to advance," Boldenow says.
Today that commitment takes the form of tuition reimbursements, wellness programs, an additional 40 hours of PTO for volunteerism, financial planning, legal counseling, and more.
"Jeremy and Jodi definitely encourage people to grow within themselves and within the company," says Jenny McGrath, the company's director of sales and marketing. "Beyond making springs, people feel good about coming to work and knowing that someone has your back. You feel that at all levels."
So far, it seems those efforts have paid off. IDC Spring made the Star Tribune's Top Workplaces list in 2019 and 2021.
IDC Spring invests in its communities as well, annually donating between 10-19% of its profits to charity.
"We want to be good stewards of what we've been given," Jeremy Sizer says. "We owe it to the company, and we owe it to our people."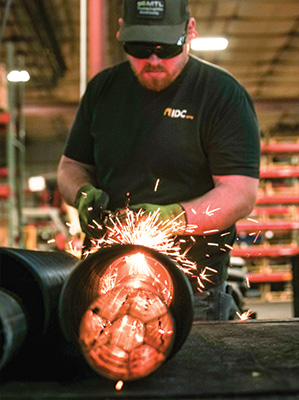 A culture of improvement
Besides building relationships via social media and redesigning the IDC website for a more user-friendly experience — which now includes blog posts, product brochures, professionally produced videos, and more — IDC Spring's physical spaces are getting an upgrade too.
Manufacturing floors are getting big windows and air conditioning. Workers are getting locker rooms and complimentary laptops to use during lunch breaks. And every year, IDC Spring invests in new automation to offer workers higher-skilled, better paying jobs.
As the company has grown, Jodi and Jeremy have continued seeking opportunities to hone their own skills. Once COVID-19 restrictions started to ease, Boldenow sought out one of Enterprise Minnesota's peer councils based on a recommendation from a friend.
"There's so much power in learning from peers," Boldenow says. "There's also comfort in hearing other people's challenges. And of course there's a lot of value in building trusted relationships over time."
Her peer council, which meets monthly at the Monticello Community Center, is composed of 12 manufacturing executives from a variety of industries. At one of her first meetings, someone suggested that IDC Spring seek out a lean assessment from Enterprise Minnesota. After all three of IDC's locations underwent the assessment by business growth consultant Ally Johnston, the Coon Rapids plant moved on to a facility layout project, which was well timed with the site's upcoming renovations.
"IDC's leadership is constantly willing to learn and improve," Johnston says. "And continuous improvement is a big part of the company's strategic plan. From updating equipment to increasing capacity and reducing quality defects, IDC is working hard to communicate its mission and values to its employees."
"When I walk the plant floor, I realize there's always more to be done," Boldenow says. "We really want IDC to be a place people want to come to and stay, and where they see an exciting future."
Another new generation
Decades after Gerry Sizer brought his kids to work during their summer vacations, the third generation of IDC is getting involved.
Boldenow's oldest son, Cullen, now works in the IT department and just helped implement a new ERP system; her other son, Connor, is a CPA and joined IDC's accounting team about a year ago. Jeremy Sizer's kids are a bit younger, so it will be a few more years before another of Gerry Sizer's grandchildren possibly joins the team.
Of course, the entry process for this newest generation was a bit more structured than the last.
"For one, [Jodi and Jeremy] were pretty strict about their kids graduating college," Jenny McGrath says. "They had to get a job outside of [IDC], and there had to be a needed position open before they could come back. And the kids are doing amazing."
"Yes, there were some pre-entry requirements," Boldenow says. "It was totally different for us. Our dad just kind of threw us in. The company was a lot smaller then, so it was different. But now there's a more formalized plan; we can't just wing it like we did before."
Perhaps the biggest change around the IDC halls came a few years ago, when the two Sizer siblings sold idc-Automatic, the garage door installation company.
"It was very difficult, but it was the right move for both businesses," says Jeremy Sizer.
"They're two very different businesses," Boldenow says. "And they were often competing for resources, which was doing idc-Automatic a disservice. And eventually we had to look in the mirror and realize that we were trying to be the best in two very different areas, and it just wasn't working."
They sold the company to an employee with a family business background. "He had the interest, and he had the skills, which is kind of rare," Boldenow says. "And he's doing a fantastic job. The company's doing far better without us, now that it has an owner who is exclusively focused on giving that company what it needs. It was the best thing we ever did."
Not many brother-sister duos could carry on a family legacy as successfully as Jodi and Jeremy. The partnership works for a few different reasons, they agree, but at the end of the day, it's because they respect and complement each other well.
"He and I are very like-minded," Boldenow says. "We have very different styles and different skills, but we believe the same things. So when push comes to shove, we really don't argue about anything. I think he respects my strengths, and I respect his."
"We've had a special bond since we were very young," Sizer agrees. "And I think that really helped us become great business partners."
…
Featured story in the Winter 2022 issue of Enterprise Minnesota magazine.
Return to Winter 2022 magazine