A strategic plan can push an organization to adapt, adjust and make changes when needed. That can lead to a brighter future. For Two Rivers Enterprises (TRE) in Holdingford, such a plan helped the company through anticipated and unforeseen challenges.
TRE manufactures stainless steel equipment for food processing, food service, restaurants, pharmacies, and medical practices and "prides itself on its ability to innovate," according to the company website.
One such innovation is process improvement. With the help of Steve Haarstad, a business growth consultant with Enterprise Minnesota, TRE developed a plan to impact its continued growth.
Staying ahead of the curve
Since starting 20 years ago, Two Rivers Enterprises has expanded twice with another expansion possible.
Like many companies that have had long-term success, TRE's leaders realized the company might have to change its reliance on old practices to stay ahead of the curve, adapting to shifting markets and business needs. That includes possible changes in staff as well.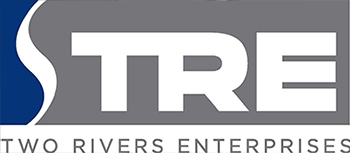 "We have a skilled and mature workforce," says Jessica Wells, TRE's operations manager. "As an organization, we'll have to fill the positions of anyone who decides to retire in the next five to 10 years."
Haarstad helped TRE develop one, three, and 10-year strategic development plans that include continued evaluation, and other continuous improvement options.
As a third generation of the founding family, Brian Warzecha says that includes a focus on accountability and communication — for both leaders and employees. Warzecha has seen how such a focus has produced noticeable results over the past two years.
"The new team approach increases revenue, profits, and employee morale," he says.
That was one of the keys for Two Rivers Enterprises when it developed its business plan.
"It will help them improve profits," Haarstad says. "It gives them a filter that provides guidance on initiatives and direction."
Many Minnesota manufacturers don't have a business plan. Few of them have a written strategy prepared. Those companies, like TRE, are relying on past practices to carry them forward.
Effective plans can help a company succeed in a variety of ways — from helping a business set its course of action to informing employees about the company's direction. That can provide guidance for day-to-day activities.
Effective SWOTs set a course of action
With Haarstad's help, TRE developed a SWOT analysis, focusing on the company's needs.
A SWOT analysis looks at a company's strengths, weaknesses, opportunities, and threats. The analysis helps identify what is being done well and ways to cut risks, improve, and enhance success.
"Most of the things the SWOT pointed out aren't a surprise," Wells says. "It helps us focus on our issues, and it provides some guidance on how we can manage them."
"The plan helps our direction for the next year, as well as three years and a decade from now," she continues. "It helps us set our goals, and this puts us on a path to reach them. It should help us be more efficient and lower our costs and labor expenses."
An important community asset
Data USA's 2019 analysis of Holdingford reported that the city has 660 residents. About 400 of them work in the city. That includes 66 people who work in manufacturing, with 38 of them working at Two Rivers Enterprises.
"They're an important employer in Holdingford," Haarstad says. "Assisting them with their strategies was important. They are key to the city's continued economic success, and the high quality of life there."
A history in Holdingford, with a plan for the future
"Bob and Dan started TRE in 2001," Warzecha says. "They sold their shares in Lake State Industries in Rice. Both of them had over 25 years of experience in stainless steel fabricating. They saw an opportunity for a service-based company that produces high-quality products."
The plan is set to guide TRE, providing help to facilitate coming changes. That will help the company get to where it hopes to be in each step of the process.
"Service and quality will continue to drive the future of TRE," says Warzecha. That combination took the company to its 20-plus year milestone, and the new strategic plan will help TRE continue that progress.
"We plan to continue to focus on those two things moving forward," Warzecha says. "They will continue to be our primary focus as we grow the organization into the future."
…
Featured story in the Winter 2021 issue of Enterprise Minnesota magazine.