Lancaster is a small town located near the Canadian border. With a population of 334, it's one of Minnesota's smallest communities. But it struggles to offer employment opportunities, even in an employee-starved environment.
The Nordin family, and 12 siblings, noticed the lack of work was forcing many neighbors out to find employment elsewhere. Their small town was getting even smaller. In 2002, the family founded PoDCo — a powder coating and dye sublimation manufacturer — to change the trend.
A small town with a big need
Lancaster is located in Kittson County, one of the least populated counties in Minnesota with about four people per square mile. PoDCo is the largest employer in the town.
The company was created after Arlen Nordin, the local grocery store owner, discovered a new manufacturing process called powder coating. He and three of his siblings saw a powder coating business as a way to generate income and keep people in the community.
A process that protects and enhances
Powder coating uses a purpose-built printer to print a pattern of dye onto a special film. The dye produced is then infused into a powder-coat that permeates below the surface, protecting what is coated from water and rust. Materials with the coating are baked at 425 degrees Fahrenheit. For manufacturers looking to print patterns on bare metal, it is an invaluable process.

An early powder coating project of PoDCo's involved printing camouflage patterns on paintball markers for an Indiana manufacturer. The company also worked with an area door manufacturer and took on custom jobs.
"It wasn't easy finding customers in those early days," Arlen says, "but we found work. We needed to do more to keep the work coming in and the business running."
Dye sublimation was the perfect complementary process.
PoDCo connected with Decoral System SRL, a metal finisher in Italy whose machines blend decorate aluminum. Decoral was looking for a U.S. partner, and PoDCo's purchase of a Decoral machine made it the first company in the U.S. to have one at that time.
Ron Nordin, the company's vice president of sales and marketing, says there are around 60 Decoral machines in America. Three of them are at the Lancaster company.
Automation and lack of training are big issues
In the last 18 months, PoDCo increased staffing from 40 employees to 60 and has also had annual building expansions. But the company has not been able to use its new $300,000 Decoral machine that was purchased last March because no one can operate it and training doesn't seem to be available.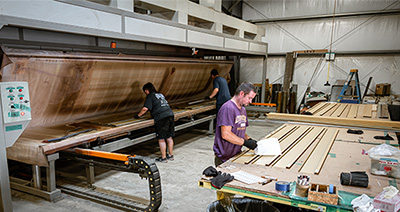 "We've got the business for it, but nobody can run it," Arlen says. He jokes that the machine's warranty will expire before it produces its first batch of blended, decorated aluminum.
Despite this training gap, business is booming, and PoDCo needs a second factory. The limited space has resulted in PoDCo turning away prospective clients this year. And with the limited number of employees in Lancaster, the company will have to build its second location in another community.
But the company's initial goal of keeping workers in town was successful. Now there is a need for more workers than the small town can provide. Sign-on and referral bonuses, full benefits packages, and more have been offered as recruiting incentives. PoDCo has also investigated the federal H-2B Temporary Non-Agricultural Worker Visa program, which allows the company to bring in foreign nationals, but that's a difficult task. Arlen admits he doesn't know where they'll find workers.
Next year, on Memorial Day, the company will celebrate its 20th anniversary. Ron says his family's efforts to make Lancaster a viable home for the next generation have so far been successful, as the town's population has kept steady.
"This is our town," Ron says. "Everything we've done has benefited our community and that's great. We're not about to change that policy."
PoDCo has received many purchase offers for the company, and all have been rejected. Any sale of the company would require the company to stay based in Lancaster for at least a decade.
"We're standing by our commitment to our city," Arlen says. "We started this company so people would have jobs. We didn't start this to have it moved."
…
Featured story in the Winter 2021 issue of Enterprise Minnesota magazine.