Wanner Engineering is a company built on ideas by a world-class thinker. That man, William Wanner Sr., had an impressive group of peers with whom it's safe to assume ideas were exchanged. Even after decades of success, the company's leaders still see the value of that process.
Wanner started the business with his son, William Jr., in 1973. By that time, he had already worked with some of the greatest thinkers ever, the likes of which included Howard Hughes, Albert Einstein, Niels Bohr, and J. Robert Oppenheimer.
"I remember him telling us he worked with them," company CEO William Jr. says. "I even met Bohr myself. It was amazing."
Wanner Engineering manufactures high-pressure, sealless pumps in downtown Minneapolis. They're marketed under the brand name Hydra-Cell, a leader in pump manufacturing with offices in London, Hong Kong, and Shanghai. The pumps sell worldwide, yet the local site only employs 144 people.
Even with its global reach, Wanner Engineering's leaders know there's always room for improvement. Shipping delays and trouble maintaining stock of key components were challenges the company needed to remedy.
"While larger companies often have continuous improvement departments, peer groups help companies of Wanner Engineering's size find areas of continuous improvement too," says John Wanner, senior vice president of operations and William Wanner Sr.'s grandson.
"We know we will always have to adapt and improve to stay competitive," John continues. "We're lucky because we have a proprietary product. We know that if we want to continue to be profitable though, we must explore new processes."
A life of pumps and progress
William Wanner was a scientist and a world-class inventor. He had degrees in chemistry, math, and physics. One of his earliest achievements was the creation of solar turbines. He patented that invention, which is one of many patents listed in Wanner's name. It is now owned and still used by Caterpillar.
Additional achievements include helping Hughes develop an exhaust manifold, used in the first jet engines. It was a valuable jet-engine component developed for military fighter jets.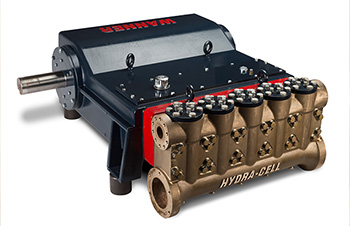 "He was a brilliant man," William Jr. says of his father. "He was an inspiration to me and a lot of people."
During World War II, William Sr. worked on the Oppenheimer-led Manhattan Project — the code name for the American-led effort to develop a functional atomic weapon. He told his family he was working at Clinton Engineering, the dummy company set up by the government to keep the building of the first atomic bomb secret.
After the war, William Sr. invented a rotary snowplow and some of the first agricultural pumps. That set him on his long association with pumps that led to the start of Wanner Engineering.
William Sr. knew that conventional, high-pressure, positive displacement pumps didn't stay lubricated. That caused problems with packings that led to leaking. William's sealless design was able to handle abrasive liquids, including fertilizer, without harming the environment like the conventional pumps did, according to William Jr.
The Hydra-Cell pump maintained a precise balance of oil behind the diaphragm. As the piston's forward stroke pressurized the oil, the diaphragm flexed, which drove the pumping action.
In 1972, William Sr. patented his Hydra-Cell pump design. While the new pump design was innovative, William Sr. was not a salesman. He gave the patent to his son William Jr., a lawyer, and in 1973 Wanner Engineering was born.
Desalinization pumps become "PUR"
The father and son team continued to be innovators in the pump industry.
On a trip, William Jr. came up with an idea for another innovative pump — a small pump that purifies and removes salt from seawater.
He took the idea to his father who designed the pump in about a week. Today, the handheld desalinization pumps are in life rafts and used by the U.S. Navy and other militaries around the world.
That notoriety put the company, which went public, on the cover of People magazine, and introduced the product into the consumer market. In the 1990s, it was sold to Procter & Gamble and can be found under the "PUR" brand name.
A key to ongoing success
After being introduced to Enterprise Minnesota and conducting a Lean Assessment, Wanner Engineering plans on continuing the relationship for future guidance.
"We're going to contact them for more continuous improvement help," John says. "These are all baby steps, but this is a way for us to have the same advantages as those bigger companies."
…
Featured story in the Winter 2021 issue of Enterprise Minnesota magazine.