See complete results, slide deck, videos and more 2020 State of Manufacturing® here.
The COVID-19 pandemic has cast a long shadow over Minnesota's manufacturers, triggering the deepest plunge in manufacturers' expectations for their companies since the Great Recession of 2009, according to the 2020 edition of Enterprise Minnesota's State of Manufacturing® survey.
A record low number of companies expect increased revenues in 2020; the number of executives who fear recession has increased seven-fold, and confidence in the business climate has sunk to half of what it was in 2018.
Pollster Rob Autry and his team at Meeting Street Insights, a South Carolina-based survey research company, interviewed a random sample of 400 Minnesota-based manufacturing executives from Sept. 8-Oct. 7, 2020. Respondent titles were limited to owners, CEOs, CFOs, COOs, presidents, vice presidents, and managing officers. The survey has a margin of error of ±4.9%.
Autry added an "oversample" of 50 manufacturer interviews in each of the six Minnesota Initiative Foundation regions. (Figure 1)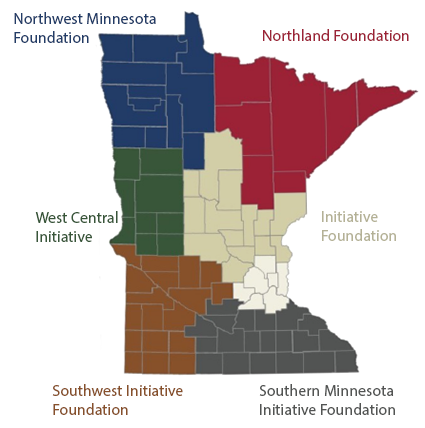 This set of data marks the 12th annual edition of the survey — the only statistically valid regional poll of manufacturing executives in the nation — but is the second time Autry's team fielded a State of Manufacturing survey in 2020. Enterprise Minnesota set aside the results of the first one, which was conducted in March, after President Trump declared a national pandemic emergency in the middle of the research field work. Meeting Street Insights informally released the results to illustrate how attitudes of manufacturers changed before and after the announcement.
The State of Manufacturing polling research was also complemented with 11 Zoom-based focus groups held Sept. 10-29.
Bob Kill, Enterprise Minnesota's president and CEO, says the focus groups proved particularly valuable in 2020 as participants discussed how the COVID economy affects different manufacturers differently. "All manufacturers were caught equally flatfooted by the collapse of the American economy during the Great Recession of 2009. All were affected basically on similar terms," Kill says. "That's not true today. While many are struggling, some are enjoying record sales."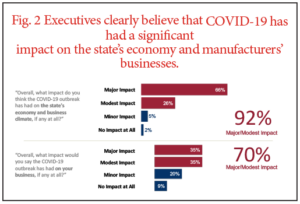 Overall, 92% of manufacturers said that COVID-19 has had either a "major" (66%) or "modest" (26%) impact on Minnesota's economy and business climate. (Figure 2) Seventy percent say it has had a "major" (35%) or "modest" (35%) impact on their businesses. The impact appears to be felt less in the western half of the state. (Figure 3)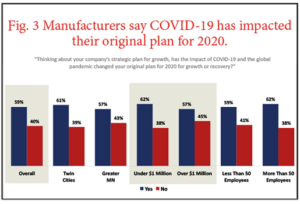 Despite this, manufacturers continue to have confidence in their companies' long-term resilience, as they have shown in all the years of the poll. This year, 85% declared confidence in the financial future of their companies. At the same time, however, 14% of executives were "not confident" in their future, three times worse than in 2019.
Troubling Times
Roughly two-thirds of manufacturers across the board said that COVID-19 has impacted their business plan for 2020. (Figure 3)
The survey revealed a significant increase in the number of manufacturers who fear recession, 36%, up from just five percent in 2019. (Figure 4)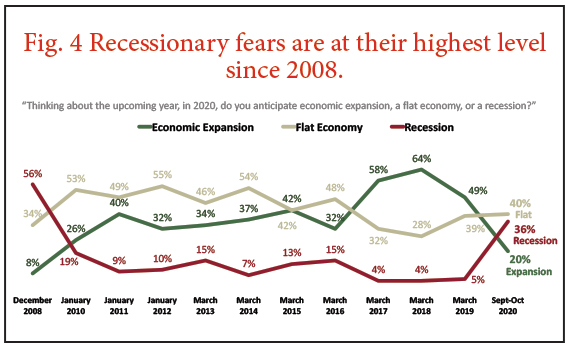 Manufacturers have also soured on Minnesota's business climate. Fully 35% said it has gotten worse — 20 points higher than 2018 — while 27% said it has gotten better, just half as many as 2018.
Business Performance
Key business metrics experienced the biggest slide in the history of the poll. (Figure 5) Just 21% of executives expect an increase in gross revenues, down from 59% in 2019. Expectations for profitability also fell considerably. Only 24% anticipate increased profits, down from 45% in 2019.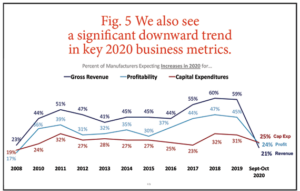 That perspective worsens as 39% of respondents predict decreases in gross revenue to exceed 10%, 17% more than at the peak of the Great Recession; 33% expect profits to fall by more than 10%, also considerably worse than 2008. (Figure 6)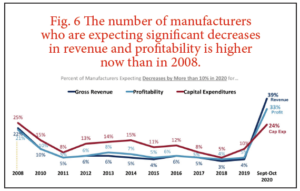 Fifty-nine percent say "finding new customers" will be the primary driver of future financial growth. Next in line are "maximizing productivity" (27%) and developing "new products" (24%).
Pressing Concerns
Half of the manufacturers interviewed cite health care costs as their most "pressing concern," making it the top issue for the survey's 12th year. That number is down, however, from 58% in 2019. (Figure 7)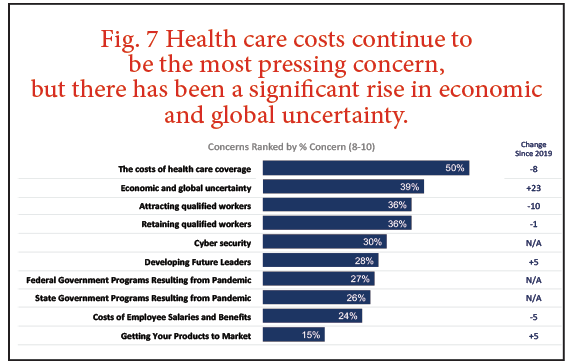 "Economic uncertainty" rose from 16% in 2019 to 39% today.
"Developing leaders" increased from 23% in 2019 to 28% today.
Workforce Issues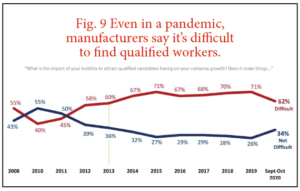 "Attracting and retaining a qualified workforce" fell considerably in issues that manufacturers named as an impediment to growth. This decline is likely due to slowing sales by some manufacturers. The workforce issue is felt most keenly by larger companies. Fifty-five percent of companies with more than 50 employees named it their top impediment, while it was the leading factor for only 26% of companies with fewer than 50 employees.
That said, 62% of manufacturers say that it is difficult to find qualified workers, even in a pandemic. (Figure 9)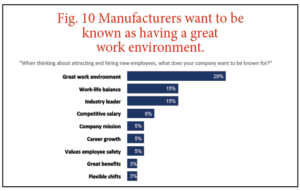 Manufacturers are using more creativity in their attempts to attract new employees. Twenty-nine percent say their top recruiting priority is to create a reputation for a "great work environment." Only 8% name "competitive salary" as a chief attribute. (Figure 10)
Succession Planning
While the number of manufacturers with succession plans held steady at 49 percent, the pandemic has slowed those plans' advance. Nineteen percent of companies that have plans say COVID-19 delayed them. About a quarter of companies that don't have a plan say the pandemic has delayed their succession planning.
Government Assistance
Manufacturers broadly agree that help from state leaders should include tax incentives (32%), direct investments in small companies (28%), and eased regulations (26%).
See complete results, slide deck, videos and more 2020 State of Manufacturing® here.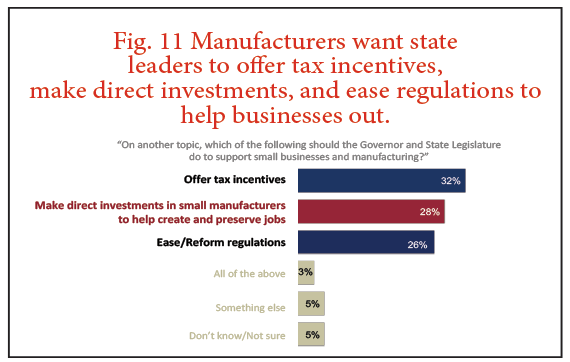 …
Featured story in the Winter 2020 issue of Enterprise Minnesota magazine.