If you've driven on Highway 94, north of the Twin Cities about midway between Maple Grove and Rogers, you've undoubtedly noticed the massive new 300,000-square-foot headquarters of King Solutions, an asset-based 3PL and freight forwarder located in Dayton, Minnesota with its warehouse in Glendale Heights, Illinois. Since founding the company in 1989, founder and owner Mike Patterson has used innovation, a keen sense of market-awareness and a compulsive commitment to customer service to build a company that employs 150 people and this year expects to earn revenues in the neighborhood of $100 million. To date, the company has transported more than 9 million shipments across the United States and is known for its personal service and customized solutions.
But ask him about the seeds of his success, and his answer might surprise you: Christian values. The "King" in King Solutions, he says, refers to the King of Kings. In fact, when visitors first enter the company's high-tech lobby, two plaques containing Bible verses confront them: Deuteronomy 6:4-5 "Hear, O Israel: The Lord our God, the Lord is one. Love the Lord your God with all your heart and with all your soul and with all your strength;" and Proverbs 16:3 "Commit to the Lord whatever you do and your plans will succeed."
"King Solutions has always been built on the foundation of God," Patterson says. "And that's driven all of its success over the years. It drives our value system. All our staff have their own personal lives, attitudes and ideas, and that's great. But as leaders here, we're pretty much on the same page. We work hard, we're honest, and we have to be ethical, not only to the outside, but to ourselves inside, as well."
The company even employs a chaplain who maintains weekly office hours, but having that kind of culture doesn't mean Patterson imposes beliefs on his employees.
"Hopefully you don't hear swearing, cursing. You don't hear, 'How can we finagle something that isn't right?' We want to honor God by doing the right thing. And not everyone feels that way, I get it. But everyone knows where we are; we don't beat them over the head with that faith thing. We beat them over the head with the values thing."
Patterson started the company as a two-person operation in the back of a Minneapolis truck shop.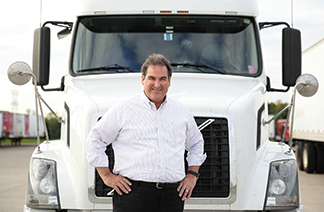 He began his career in 1971 as a teamster and a truck driver (while also pursuing a degree in art history from the University of Minnesota). After driving truck for five and a half years, he moved up in the operation. He became a dock foreman, then a city dispatcher; he got into sales, and ran a terminal, where he started an intermodal operation—moving truckloads of product in trailers on the railroad. Intermodal was made possible after President Jimmy Carter deregulated the transportation industry, defanging the Interstate Commerce Commission's stranglehold on pricing and style. "Suppliers and services could rock and roll with different kinds of pricing if they so chose," he recalls.
Patterson ratcheted his operation to more than $20 million within five years, moving almost 15,000 loads. That success triggered an opportunity to develop an intermodal operation from scratch for a local logistics behemoth, but he left after 18 months, with a disdain for the internal politics that sometimes plague large companies.
So, in 1989, he and his business partner, Meyer Bolnick, decided to open their own operation in the back of a Minneapolis truck shop, with only an administrative person at their side. His plan was to have a third-party, non-asset-based company, which means he would have trailers, but not trucks, preferring to rely on creativity and not be constrained by the limitations of his own assets. Patterson's lone initial customer was Palliser Furniture, a Winnipeg-based company.
"I thought if we ever did $1,000,000 in a year, that would be an amazing accomplishment," he remembers. "I just took it an hour at a time. We were going to be an intermodal company, find customers with truckloads and use the intermodal rail system."
"Everyone knows where we are; we don't beat them over the head with that faith thing. We beat them over the head with the values thing."
The United States Postal Service presented Patterson with a big break in 1990 when it decided to subcontract the delivery of marketing-type mail, then called "Third Class Mail." Patterson pounced on the opportunity. "We went from a struggling, generic, commoditized truckload provider, with maybe three staff people, to becoming 'the mail guy' here in this market. And that allowed us to build upon the mail." King Solutions has diversified from mail over the years, he says, "but we're still 'the mail guy.'"
The mail contract enabled Patterson to become the "catalog guy" and the "fulfillment guy," as well, to extend the metaphor. "Mail allowed us to be modestly prosperous, so we could take the risk of going after other kinds of freight."
Today, Patterson says, the dominant element of his business is transportation management, which includes mail, but a growing niche is its fulfillment operation, where the company currently has about 40 customers. Minnesota Public Radio is an example: "When someone donates to MPR, they might receive a CD or another gift from them. We are behind that. We fulfill the gift from here, pick it out of the inventory, pack it in a box, and ship it," Patterson says. "Pick, pack, and ship. We have customers with their own websites or Amazon orders that come to us, and we pick and pack it and ship it to you. The world is moving more and more to online shopping, both commercial and consumer. It's just part of life today. I never thought we'd be in fulfillment, ever, but we are."
This past July, Patterson announced King Solutions opened a distribution operation based in Glendale Heights, Illinois as part of a three-year contract with a local company. King inherited 22 current employees, as well as its inventory and fulfillment operation that runs Monday through Friday each week.
According to the company, Patterson retained a Chicago-based sales representative to expand the company's USPS destination entry service offerings within the Chicagoland area.
Workforce Issues
While King Solutions depends on carriers to supply the drivers, the current chronic shortage of truck drivers is very much on Patterson's mind. "Our ability to grow over the last year specifically has more to do with our difference in the marketplace and our business model," he says. "The biggest people in our marketplace treat the pool of carriers in a much different way than we do. They will go to the open market and try to find the lowest cost. King, from the beginning, has pursued partners that share its high sense of service."
King's competitors will take an order and then chase the lowest priced company to carry that load to increase their margin as much as possible. But King, Patterson says, will pay more, "understanding that we can only charge so much, because the industry only allows us to charge so much. So, while our margin might be smaller, our consistency and our customer service is much, much higher, and our reliability is much, much better. Our sense of partnership with our client base is more established, and we rise more quickly to a trusted advisor role versus just a vendor role. Which is our ideal goal."
His competitors, Patterson says, are driven by bottom line dollars, but King isn't. "King Solutions needs to make money, but we need to make money to support our team, our staff, our community, and grow."
An internal HR area of concern for Patterson in his increasingly high-tech company is recruiting IT candidates. "IT is a very big problem for everybody, not just us," he says. "We have matched up with a couple head-hunters, and they have a unique niche in the marketplace. We've been successful working with them."
In the end, reputation matters, Patterson says. "This community is a big deal. We can't set a bad example of how to treat others, be it a customer or supplier or a professional. It's just common sense."
"King Solutions needs to make money, be we need to make money to support our team, our staff, our community, and grow."
Patterson jealously protects his company's reputation as being a great place to work. The Star Tribune four times named King Solutions a top workplace, in part for the company's positive culture.
"Trust in those you work with," he says. "If you can do that, people will work because it's a healthy environment. It's a good vibe. But that's the way it should be. Do unto others as you'd have them do unto you."
Here's an example.
In the depths of the 2009 recession, King Solutions' revenues dropped from $65 million to $47 million in a year, without losing a customer.
He needed to stem the bleeding. So, one morning in April he convened the entire company to the warehouse. "Things are bad, real bad out there," he told them and announced a 15 percent across-the-board pay reduction, with two months' notice and two years' duration."But I promised them that when we made the comeback, I would repay every nickel that they gave up. So two years later, in June, we restored their compensation to what it was. It took us about four or five years to repay the $800,000 they gave up. But we repaid it all to them."
…
Featured story in the Winter 2018 issue of Enterprise Minnesota magazine.