If anyone wants to measure the direct impact the skills gap can have on a smallish suburban manufacturer, put yourself in the shoes of Chuck Olson, owner and CEO of Maxcam.
Under Olson's guidance, White Bear Lake-based Maxcam has developed a niche manufacturing close-tolerance parts composed of difficult-to-machine engineered thermoplastics, ceramics, and metals. Within that, it specializes in semiconductor prototypes that require extremely short lead times.
Olson bought the company in 2012. By 2018, he'd paid off the note and weathered increases in material costs that were both massive and unanticipated. On top of that, he had hired Bret Bjerken, an expert sales and business development professional, to lay the groundwork for expanding the company's product offerings and growing its overall book of business. The two executives positioned their strategy in part by taking on some of Maxcam's Asian competitors, emphasizing speed and accuracy.
It was time to take off. Except it wasn't—two of Maxcam's 17 employees were unexpectedly wooed away by competitors. The constricting marketplace for employees offered no quick or apparent replacements.
"We had the vision for growth," Olson says. "But when you lose two essential people, you can't easily take it on. We didn't have the capacity."
Olson and Bjerken are not easily daunted, but they know their potential to grow—like all manufacturers—is constrained by their ability to find and retain a skilled workforce.
"There's no question about it," Olson says. "There's work out there. But there aren't people to do the work."
Olson can use his own background as evidence that manufacturing offers rewarding careers, even for mid-career employees who didn't exactly train for them. His own path into plastics was rather circuitous. A math major in college, Olson began as a high school football coach at Duluth Denfeld and a teacher of autistic students. In 1998, when his wife was offered a significant career opportunity in the Twin Cities, he turned to another Denfeld coach whose father owned a semiconductor test company in the Twin Cities called Prime Yield Systems. "Is your old man hiring?" Olson asked. Two weeks later, he had an offer. That company—or at least its legacy company—remains a significant customer for Maxcam.
It was a big leap. "I didn't know anything about manufacturing. Didn't know anything about anything, I just had people skills." He quickly moved into a supervisory role and devoted the next 18 years of his career to the company, eventually rising to become head of manufacturing for the semiconductor test group, working with top electronics corporations including Apple, Broadcom, Qualcomm, and Texas Instruments. He oversaw facilities in Minnesota as well as in Penang, Malaysia, and Rosenheim, Germany.
In 2012, Olson successfully sought to buy out the four partners in Prime Yield System, all approaching retirement. Olson brought on two minority partners, shop foreman Mike Gustafson and top-producing machinist Harold Park, at 20 percent each.
Maxcam scours the marketplace for potential employees. "If you've heard of it, we've tried it," Olson says. Since processes related to plastics are not the same as aluminum or other metals, Olson defines his optimal recruit as someone who brings a little proficiency and a willingness to learn. Experience has taught him to avoid new employees with too much experience. "We try to find somebody who might bring good ideas to the table," he says, but not someone "with the attitude that, 'I know everything about this because I've been doing it for 30 years.' Many times we'll find those people don't make it. They're sure that their ways are better, but their ways don't work."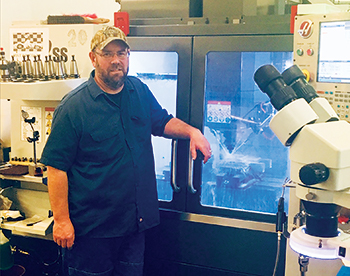 Olson is content to invest a year or longer to train in a new employee, knowing full well the employee might cash in on that experience and then move to another company.
What does he do if that happens? "Move on, I guess. There isn't a whole lot that we can do about that." One solution, he says, might be to diversify the company's service offerings into projects with looser tolerances. They don't pay as well, he admits, but they enable new employees to generate revenue while they get experience. "They can generate revenue right out of the gate without getting thrown into the deep end of the pool."
Olson recently joined an advisory board at Hennepin Technical College to get more involved, hoping to develop better relationships. As part of that role, he recently delivered a presentation to students about the world of high-performance plastics.
While proud of the machining shops at White Bear Lake High School and Roseville High School (where he is the backfield coach for the football team), he's disappointed other public schools are lagging in their efforts to provide technical education opportunities.
For his part, Bjerken—also a former high school coach (hockey)—predicts the company's market differentiators will continue to bolster its bottom line. Bjerken has worked at 3M, Stratasys and Boedeker Plastics, among other companies. He says Maxcam's priority on machining plastics gives it a unique market advantage. While admitting that machining is generally a competitive marketplace, his experience has shown him that 80 or 90 percent of machine shops work turning and milling metal. "Plastics is what they do when they don't have enough work in the metal area." Maxcam, he says, is the exact opposite of that. "We're 90-plus percent plastics. We have a core competency in high-performance, difficult-to-machine, close-tolerance plastics. Go down the street, and you'll see ABC Machine and think we're a lot like them, but when you lift the hood, we're burning our engine completely differently."
Still, with an eye on workforce challenges, the company is doubling down on its efforts to accomplish more with fewer resources.
"We're looking at lean, but we're also looking at technology solutions. Solutions that can take maybe 10 or 15 minutes of machining time out of a part by using alternate technology that then can be done with somebody other than a machinist—like an inspection person, or a programmer, or an office worker."
"Robotics in our core business is a little bit more difficult to do because it's a short run," Olson continues. "A big order for us might be 10 or 12 pieces. So, our guys are doing multiple setups a day."
And while "it does take a little bit more babysitting, and the materials are less predictable, I very often say there's as much art as there is science into what our guys do."
…
Featured story in the Winter 2018 issue of Enterprise Minnesota magazine. 
Return to Winter 2018 magazine