A little over a year ago, Nick Vanek was intrigued by a television news report that described growing anxieties among online shoppers regarding the security of packages delivered to their front stoops every day. Then a junior studying international management at Gustavus Adolphus College in St. Peter, Vanek sat down that night and sketched what would become the first prototype of the Delivery Door, a front-door mechanism that allows packages to be safely delivered inside a home without allowing deliverers access.
Today, he and three partners—two recent graduates and one, like Vanek, still in school—have incorporated Secure Services, a company to produce and sell the Delivery Door, and have already received a patent for the intellectual property behind their product.
"There is clearly a problem," Vanek says. "And there are no solutions out there that fully answer the issue."
Working from a basement workshop in their college home, Vanek and his partners experimented with 10 prototypes before finding the current model. "I'm not a carpenter by any means," Vanek admits. "I've never really built anything before." To help the process, he's taken metal and woodworking workshops.
The device's replacement door contains a sliding mechanism that shifts and expands to create a compartment space on the external side of the door, which allows packages up to 80 inches tall by 36 inches wide to transfer through the doorframe while blocking anyone from physically breaching the security of the home.
A $10,000 check from an early-stage investor paid for the patent process, but the young entrepreneurs are currently looking for other partners to provide manufacturing capabilities and knowledge of distribution models.
There is clearly a market opportunity. A national survey conducted last year by Schorr, an Illinois-based packaging company, revealed 41 percent of respondents received packages 3 to 5 times per month. Thirty-one percent stated they had "personally experienced package theft." On top of that, 41 percent stated they have "avoided purchasing certain items online to prevent package theft."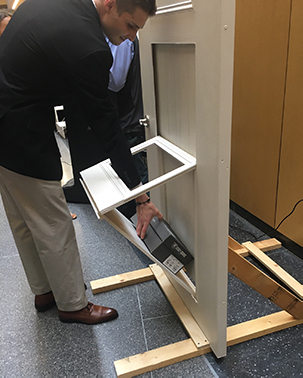 For its part, online shopping behemoth Amazon is placing a huge bet on the Amazon Key, an electronic lock that will enable its delivery personnel to gain access to the inside of their customers' homes. Critics contend this will require a high bond of trust with Amazon's ability to identify and control potential rogue delivery people.
While initially thinking his market would be through door manufacturers, Vanek now thinks it might be with
FedEx, Amazon or the U.S. Postal Service. He hopes to develop a relationship with Amazon after meeting one of the product developers who created Amazon Key at a recent investment conference.
Vanek and his partners are still tinkering with the product, mainly responding to market research that says consumers would like a mechanism that can adapt to existing doors, rather than requiring the purchase of an entirely new door. "We're still in the development phase. That could very well be the route we go," Vanek says.
"Doors haven't changed a lot since the caveman rolled a rock over the entrance to his cave," Vanek continues. He hopes to change that. "It's been a real learning process, I must admit. But it's been a very exciting learning process."
…
Featured story in the Winter 2018 issue of Enterprise Minnesota magazine.