When Ally Johnston arrives on a job site, she takes note of operations in a way that only a seasoned veteran of the manufacturing industry could.
As a business growth consultant for Enterprise Minnesota, Johnston knows a thing or two about what it takes to elevate production to the next level. And she brings real-world experience to the table after 10 years on the job at Genesis Attachments, a Superior, Wis.-based manufacturer of heavy steel hydraulic equipment used largely in the salvage and demolition industries.
After graduating from the University of Minnesota Duluth with a degree in industrial engineering, including a concentration in automated systems from her studies in Sweden, Johnston landed a position at Genesis, where she worked as an industrial engineer overseeing quality control and as operations manager.
"I always tell the client, 'I've been in your shoes,'" she says. "'I know the problems you're facing.'"
"All that experience helps," Johnston continues. "And I think I'm lucky, because I only worked for one company, but we had multiple owners and we had different scenarios play out while I was there."
Those frequent changes in leadership repeatedly thrust Johnston into new roles, even overseeing HR for Genesis at one point. Johnston draws on that experience as a consultant and says, "I think that's huge for building credibility with our clients."
Her experience at Genesis enabled Johnston to become familiar with the company's operations, suppliers, customers and competitors. Johnston says it has been exciting to learn about other manufacturing enterprises as a consultant.
"The diversity of manufacturers I've worked with at Enterprise Minnesota has been a revelation. I had no idea how much and how many different types of products were made here. It still shocks me," she says.
Bob Kill, president and CEO of Enterprise Minnesota, says Johnston's youth belies her knowledge. "She is very comfortable in her own skin, as who she is, and she has a lot of experience tucked into her."
"She's a phenomenal listener. And a consultant like that knows how to see things that the rest of us don't. Ally's really good at that, and she picks up things as she's visiting or walking the floor," he adds.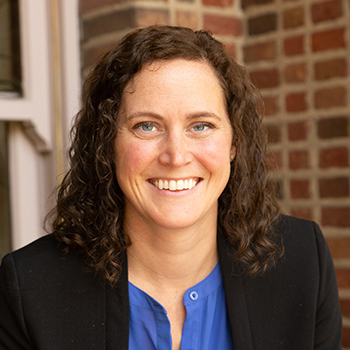 Bill Martinson, a business development consultant for Enterprise Minnesota, says that based on what he knows of Genesis, Johnston ran a tight shop.
"She didn't just run a shop but she ran a shop that was at the top of its game. I think that type of experience is invaluable," he says.
Johnston's specialty at Enterprise Minnesota is to help clients use continuous improvement to enhance processes both on the office side and on the shop floor.
She looks at work flows within ERP (Enterprise Resource Planning) systems, how a company processes information, manages orders on the shop floor, and efficiently uses machines. She helps set up preventive maintenance programs and facility layouts, "pretty much anything that's going to improve the operational excellence of a company and how its processes work together," she says.
Martinson says he has probably been most impressed with Johnston's acuity. "She sizes things up so quickly."
Johnston also works with two peer councils in northeast and northwest Minnesota. Those meetings typically convene around a dozen manufacturers per month, with Enterprise Minnesota helping to coordinate the conversation.
Johnston keeps in her lane, frequently deferring to the expertise of clients in their own distinct industries.
"My favorite thing about the job is problem-solving with clients, where we have a goal and we're all responsible to reach that objective. I get to help, but it's really up to them to be the subject-matter experts," she says. "That's what continuous improvement is all about: The subject-matter experts come up with ideas; I'm just providing tools to help them fix their problems."
Johnston strives to focus on logical next steps for clients.
A key to a consultant's success, she says, is to "meet the client where they're at." Prescribing ambitious unachievable objectives "doesn't benefit anyone," she says. "It just makes them feel bad. We have to put ourselves in their shoes. Every client is different."
Kill lauds Johnston's ability to help clients find quick wins. "Many of our clients know they should be making some improvements. They just don't know where to start. And sometimes they're so busy that they don't start. So, finding that first step that produces a quick victory converts them into tackling something bigger."
Martinson has observed Johnston's ability to connect with people of all backgrounds and her unflappable demeanor, even in stressful situations. He recalls an outdoor presentation in which she laughed off getting splashed with mud from a passing skid loader.
He describes Johnston as a natural leader. "These kinds of people have an air about them. When they walk into the room, you can feel that they're in charge. And when they speak, everybody listens, because they make a ton of sense. She just has that skill."
Outside of work, Johnston maintains a busy life, staying active with a husband, two daughters, ages 6 and 3, and a dog. "They keep me pretty busy."
For fun, Johnston says, "I'm a typical Duluthian," describing her proclivity for outdoor activities. "I mountain bike. I cross-country ski. I love hiking and running on our trails. I also love downhill skiing and snowboarding."