When Minnesota hosted the 52nd Super Bowl at U.S. Bank Stadium in Minneapolis in 2018, more than 110 million viewers watched the Sierra Sue II, a restored World War II P-51D Mustang combat plane, lead the U.S. Air Force Heritage flyover during the singing of the National Anthem.
In 2022, That's All Brother, a World War II C-47 that carried paratroopers during the D-Day invasion, returned to Normandy to lead about 40 other C-47s across the sky to celebrate the 75th anniversary of D-Day.
Bemidji's AirCorps Aviation had a hand in both events, having completed the full restoration of Sierra Sue II in 2014 and having restored the "identity" of the C-14. The National Museum of the U.S. Air Force had rescued That's All Brother from a Wisconsin scrap yard. After completing a 55,000-hour restoration, it contacted AirCorps about restoring the bare metal airplane to its original appearance by adding camouflage, colors, and authentic markings.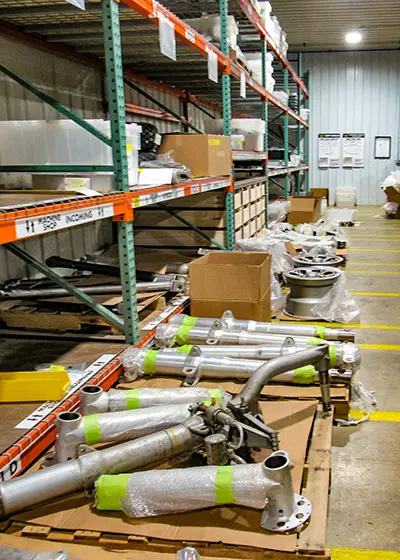 One of about 12 WWII aircraft restoration businesses in the U.S., AirCorps Aviation opened shop in the Bemidji Industrial Park in 2011 with four avid WWII aircraft enthusiasts at the helm — Erik Hokuf, Dan Matejcek, Eric Trueblood, and Mark Tisler. Since then, AirCorps has completed numerous restoration projects, expanded production and sales of parts and fabrications, and created an online digital reference library.
In 2020, AirCorps Aviation purchased a second building close to the Bemidji Regional Airport, doubling its factory footprint to 40,000 square feet. The $1.2 million project, partially funded with a loan through the Minnesota Department of Employment and Economic Development, houses the company's growing inventory of parts and provides office space and expanded meeting and training areas. The original site now handles fabrications while restorations are done at the new site.
When a plane renovation is complete, it is disassembled, loaded up, and trucked to a third site at the Bemidji Regional Airport where the restorations are then re-assembled, tested, and eventually flown out of Bemidji to events, museums or other display sites across the country. The two most recent completions will be displayed at the Dakota Territory Air Museum in Minot, N.D.
In February of this year, AirCorps Aviation acquired the world's most extensive inventory of original P-51 Mustang spare and surplus parts from Pioneer Aero Service of Chino, Calif. "This acquisition will allow AirCorps to better meet the needs of P-51 owners, operators and shops," says General Manager Erik Hokuf. Thousands of parts, components, and drawings arrived in Bemidji in March — 111 boxes weighing in at 55.5 tons. Most parts were perfectly sealed in their original packaging.
Demand for restorations and parts has created new jobs at AirCorps. Just four years ago, AirCorps employed 35 people with a variety of skills; today there are over 50 employees.
AirCorps also offers fabrications, maintenance, reverse engineering, a repair station, aeroscanning, and artwork including an inventory of thousands of placards, decals, and nameplates.
Since the company's launch in 2011, AirCorps has compiled a massive digital library that includes downloadable manuals and access to over 400,000 warbird engineering drawings. "No one else in our industry collects data like we do. Other restoration places use data with our logo," Hokuf says.
The library website features historical information, video, and photos of the restored aircrafts. Much of the content is offered free of charge; for a nominal fee, subscribers can access digitized files of original drawings and microfilm records.
Hokuf says the library currently has a few thousand subscribers worldwide. "There's still more data coming in than we can keep up with," much of it from hobbyists and collectors.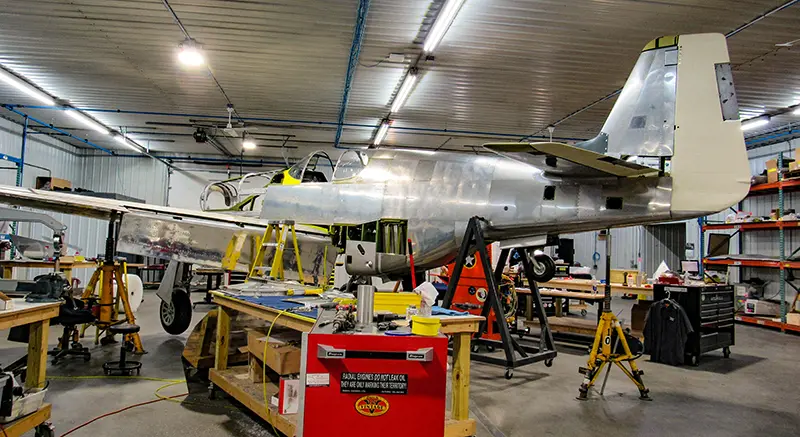 Striving for systematic growth and leadership development
AirCorps is working on its ISO 9001 certification with plans to follow up with its AS9100. "They're working on the building blocks to implement best practices from both the FAA-certified management system they have and the 9001 tools they're bringing to the forefront," says Keith Gadacz, a business growth consultant at Enterprise Minnesota.
Gadacz says the process will help the company move "from organic growth to systematic growth, and that's what's really exciting. It's fun to work with a company that has a growth mindset like that. They've got some really neat stuff going on."
Demonstrating leadership and connection within the community
In the past several years, AirCorps Aviation has partnered with area businesses and organizations to provide tours, give presentations, host open houses for veterans, work with school groups, and sponsor educational organizations, like student robotics clubs and Bemidji High School's Career Academy for Aerospace Engineering.
The company also participates in LaunchPad Bemidji, an organization that started in 2015 to enable local entrepreneurs to share ideas, stories, problems, and solutions. Besides regular meetings, LaunchPad offers a flexible co-working space for businesses and startups.
Hokuf says AirCorps is proud of what they've done to support and foster growth in aviation — "specifically in our area. General aviation activity here has grown a lot since we started. I'd like to think we've had a part in that."