Thanks to Minnesota's Youth Skills Training (YST) program, qualified high school students in Owatonna can now get exposed to high-growth, high-demand career opportunities with local manufacturers — and get paid doing it.
"It's really given our students an opportunity to get out and get that real-life experience," says Brian Coleman, Owatonna school district's career pathways navigator.
Owatonna Public Schools' first partner, HVAC manufacturer Climate by Design International (CDI), received its first students in March.
"We've had so much fun," says Jane Lebert, personnel director at CDI, "and these young professionals have just knocked it out of the park and brought new energy to our existing workforce."
Right away, students understand that it's more than a side job.
Lebert told her first batch of student workers that they would be treated the same as other CDI professionals, including getting business cards. "Their eyes lit up when they filled out their personalized business card form!"
Rich Wessels, YST project manager for the Minnesota Department of Labor and Industry, says that the program was long overdue.
"It's truly a pipeline for future talent in these industries, and it really meets the need that we're seeing out there from employers," he says.
Like many manufacturers, CDI has struggled to find qualified professionals. Since partnering with Owatonna Public Schools, it has hired 12 high school workers in the span of a month.
"It's really quite amazing," Lebert says, "given the competitive recruiting world we're in right now." Right after starting, she recalls, some students requested to come in early or stay late to finish projects they've started.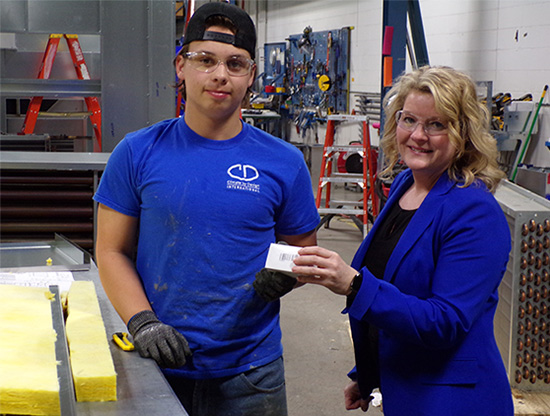 Back at school, the program continues to gain steam. Coleman gets at least one student inquiry about YST a day. Some days, it's two or three students.
He says that the buzz around the program is mostly due to word-of-mouth.
"It's an easy sell," he says. "It's pretty much just students talking to other students [about the program]. I'm not selling it, I'm not marketing it, I'm just telling them about the opportunity. And I think we have such a great group of students who are under that 18+ [requirement] and looking for different opportunities than working at the grocery store or in fast food. So, this is such a good deal.
Many students take advanced technical classes while still in school. However, labor laws make it nearly impossible for students under 18 years old to find jobs using those skills. The YST program was created to help address that frustration safely and effectively.
"Safety is a big piece," Coleman says. "Every student has ongoing safety training, and all of the students are doing the OSHA online certification." Students must meet several other requirements before applying, too, like being at least 16 years old and completing industry-related classes.
Employers go through an extensive application process as well. They provide detailed lists of what students will be doing, which tools they will use, and what equipment they will interact with, often with photos.
Everyone agrees, though: One of the biggest benefits is opening doors for students who don't fit the four-year degree mold.
"We have to," Lebert says. "We're putting young people into environments they have never been in before with added exposure for risks.… But Rich Wessels made the process so easy; he was just really, really helpful and encouraging."
The relationship with the school doesn't end once student workers are placed. Lebert and Coleman are in constant communication and meet weekly to see how things are working. The transparency and constant feedback from each party — students, team leaders, project manager, employer — is crucial, Lebert says.
To help with associated costs of the program, schools can apply for state grants. If given, those funds can be used to cover student transportation, marketing and promotion materials, and even the students' certifications, among other things. They just can't be used to pay the students' wages.
A big draw for the students, Coleman says, is the chance to explore specific interests. While students at CDI start in assembly, they can later move into more specialized areas, like electrical, welding, or fabrication.
"We're using our assembly positions as the entry level, so they get a good grasp and understanding of the product," Lebert says. "And then once we're comfortable, and they're confident and comfortable in that environment, we'll start transitioning them into those areas…where we can start helping them hone those skills or develop that background."
Ideally, students will leave with industry-recognized certifications. Wessels says YST programs talk with employers to find out which credentials they recognize and need. "We want it to be meaningful to the employer," he says.
Everyone agrees, though: One of the biggest benefits is opening doors for students who don't fit the four-year degree mold.
"I think we were pushing students into that four-year degree track for far too long. This program came along at the right time to show there are really great career options that don't necessarily involve a bachelor's degree," Wessels says.
Kurt Bear, business developer at Enterprise Minnesota, agrees. Many students don't realize that there are high-growth, high-demand careers available now that don't involve graduating with "gobs and gobs of debt."
The Owatonna YST program is already getting rave reviews. "They've knocked it out of the park," according to Wessels.
Always looking to expand the opportunities available to students, Coleman sees a long and steady future for the program in Owatonna. Wegner Corporation will be the second employer to bring on student workers, and Coleman hopes to eventually offer paid work experience in other industries like health care, agriculture and IT.
…
Featured story in the Summer 2022 issue of Enterprise Minnesota magazine.