A small company in Minneapolis that manufactures a unique medical device is hoping to one day make a big difference for the millions of Americans suffering from peripheral neuropathy.
The company is RxFunction, and its product is called Walkasins, a device that promises to help restore balance and mobility to patients rendered immobile due to the numbness of the feet and hands caused by this condition.
According to Johns Hopkins University, peripheral neuropathy has many different causes. It can be inherited, but one of the most common contributing factors is pre-existing conditions, such as diabetes. The condition causes symptoms that include numbness, muscle weakness and cramps.
For many, though, losing the ability to walk and maintain balance is among the most devastating symptoms. And that's where Walkasins can help.
Developed chiefly by researcher and scientist Lars Oddsson, Walkasins hit the market in 2019. Partly due to the COVID-19 pandemic, the rollout was slower than Oddsson had hoped. Still, Oddsson says the company's client base is growing steadily. He says once word spreads about the product's effectiveness, more growth will come.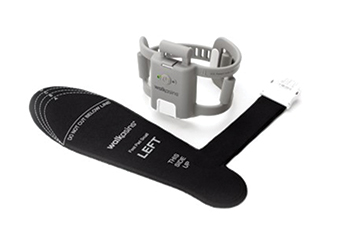 Of the 20 million people in the U.S. suffering from peripheral neuropathy, five million of them are candidates for Walkasins (not all peripheral neuropathy sufferers have the kind of foot numbness that could be alleviated by the product).
Oddsson's background stretches all the way to Sweden. He attended the Karolinska Institute in Stockholm, one of the world's top research institutions for sports and exercise physiology. After earning a Ph.D., he moved to Boston University for several years, where he worked in the Neuromuscular Research Center. It was there that the idea for Walkasins was born.
Building on previous research using footboards to measure sensory levels, Oddsson began developing a device that looks a lot like a shoe insert. Equipped with sensors, the insert evaluates balance and delivers gentle sensory signals to functioning nerves around the lower leg. The brain uses that information to restore balance. All of this, of course, is designed to prevent the user from falling, which could have catastrophic — and expensive — consequences.
RxFunction is partnering with Minnesota Rubber and Plastics to manufacture the device, which is made using injection molding, according to Oddsson.
Manufacturing the device has been the easy part. Clearing all the regulatory hurdles? Not so easy.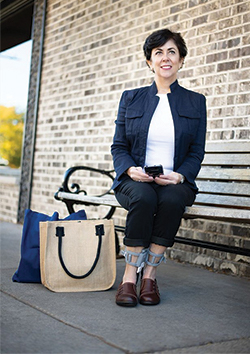 "Commercializing something like this has been a very interesting learning experience on my part," Oddsson says. "Getting through the regulatory side of things for medical devices is very challenging and enormously expensive. So, it's not surprising that technology is expensive in the medical space, because you have to pass regulations that are quite substantial."
Walkasins are what is known in the medical device world as "low-risk technology," similar in regulatory burden to crutches or wheelchairs. But while the device may be low risk, that doesn't mean the regulatory process is lax. Such device makers are required to comply with certain Food and Drug Administration requirements so that, if customer complaints result in an FDA audit, there's a paper trail showing regulatory compliance.
Walkasins are generally acquired through a doctor's prescription. So far, RxFunction's biggest client base has been patients at the Veterans Administration Hospital in Minneapolis. VA patients are fortunate in that the VA typically pays for such emerging technology.
Non-VA patients will need to consider the investment. A pair of Walkasins will run paying customers several thousand dollars. But Oddsson says they're in communication with health care providers and insurance companies in an effort to convince them that a moderate cost up front could prevent a major cost later.
"We have expertise in our team, specifically our CEO, Mary Anderson," Oddsson says. "She has been with two other startup companies and helped them develop their path to receiving reimbursement for new technology. So, we really have strong expertise in our team on how you get there. And you don't jump on that right away. You build your patient needs. You build your research and establish it. Then with that you build your case and show that this might decrease cost overall for the health care system."
For now, RxFunction has fewer than 100 clients. But Oddsson says COVID is to blame for the delay in growth. Once the virus is in the rear-view mirror, he figures sales will grow considerably.
"I'm hoping that, in a few years, we will be in the thousands per year for sure," he says. "It's been growing fairly quickly now in spite of COVID. And of course, a big part of it is going to be the ability to receive reimbursement. Then the market will grow a lot quicker, because there are a lot of patients who could use this who cannot afford to pay for it right now."
…
Featured story in the Summer 2021 issue of Enterprise Minnesota magazine.