For Marcel Black, the president and co-owner of T.E.C. Industrial Inc., 18 months ago he landed his dream job running one half of a 100-year-old service and manufacturing company in the southern center of Rochester.
"Every day I have to pinch myself that I get to be a part of this."
T.E.C.? Well, back in 1919, that stood for Tom's Electric Company.
"Back in the day when we didn't live in a society of disposable items," Black says.
For five decades as a simple business repairing toasters, radios, and televisions, the company was fighting for relevancy by the late 1960s. Household devices were becoming more complex and repairs more costly.
Enter the Perry family, namely Bill and his wife Mary. In 1967, they purchased and incorporated the business as T.E.C. Industrial Inc. They diversified, keeping their hallmark electric motor repair services but bringing in sales and manufacturing of belts, bearings, and electric motors. Their sons, Bob and Jim, came up in the business and took over in the 1990s. By 2020, this family business moved into its third generation of owners.
Pre-pandemic purchase
Marcel Black served four years in the U.S. Marines. When he entered the civilian world in the early 2000s, he found satisfaction in commercial HVAC repair.
"I've been a customer of T.E.C. for about 20 years," he recalls. "If I needed a shaft repaired, if I needed a belt, if I needed a motor for a condensing unit, I always came to T.E.C."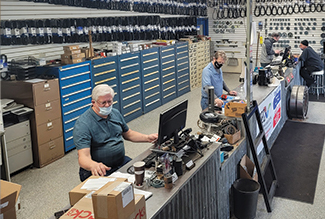 He moved to Rochester in late 2011, handling HVAC and refrigeration for Hy-Vee grocery stores, but the move also brought him closer to T.E.C. headquarters. There was something compelling about the company, and he would take every opportunity to "hang around." It was early last year, then, that Black purchased one half of the company, as Bob Perry retired. Jim Perry sold his half, too, to his son Nathan. Black and Nathan had known each other for years, and the younger Perry had put in his time as a machinist, growing up in the business like his father and uncle before him.
When they signed the papers on January 8, 2020, the notion of a global pandemic was pure fiction, and Black says even in the months that followed, the business soared.
"It was business as usual; one of the best quarters was the first quarter of 2020," he recalls.
But as the country and the state entered shutdown, Black and his business partner fretted the repercussions of an outbreak in their shop and planned for the worst as they hoped for the best. Business slowed with their consumer and industrial customers scaling down on spending, but it didn't take long for things to bounce back. In the year of endless shutdowns and obstacles, T.E.C. added staff and opened a new division — powder coating — while others struggled to adapt.
Black says it's always difficult to know when to make a big decision, but he has no regrets. The company operates as a job shop, taking contracts from a single piece to 500 units or more and working with consumers as well as commercial and industrial clients. T.E.C.'s 22-person staff in three facilities across Rochester and Red Wing embody the Perry family's philosophy of putting the customer first, and Black says that commitment and the diversity of the company's offerings helped T.E.C. weather a turbulent year.
"Our customer base is anywhere from the guy coming to get a lawnmower belt to the industrial customer who is getting a manufacturing part or assembly that we do all in-house," he says. "[Our customers] stuck with us, kept us busy, kept us moving."
Powder & possibilities
Black has kept the business moving, too. Looking at T.E.C.'s portfolio, he saw an opportunity in powder coating, and in June 2020 purchased a building neighboring the company's Rochester headquarters. Inside the 7,500-square-foot space now stands a surface preparation space, an oversized spray room, and a 1,600-cubic-foot oven that has allowed the team to handle projects as large as a 1967 Pontiac GTO frame down to more common requests such as truck rims, patio furniture, and motorcycle hardware.
From the company's internal use alone, Black says the powder coating division, known as T.E.C. Fabrication and Powder Coating, made good financial sense, but opening this new service to outside clients has also eliminated downtime for his staff and increased profits, all while offering something Rochester otherwise lacked.
At the end of the day, Black believes that T.E.C. Industrial is more than its ownership, and he has set his sights on new retail locations and a greater online presence, in addition to reorganizing the manufacturing shop to increase efficiency and integrating new manufacturing technologies where they add value. It's about ensuring that a company that has weathered more than a century already can stand to weather another.
"I'm in awe every day of what our team is capable of making," he says. "Every move that I'm trying to make is to better serve our customers."
…
Featured story in the Summer 2021 issue of Enterprise Minnesota magazine.