The world watched video of NASA mission control personnel erupt in gleeful cheers when the Perseverance land vehicle successfully touched down on Mars in February. At the same time, the small staff at Windings was erupting with some glee of its own.
Somewhere within Perseverance's robotic arm is a part made by Windings, the New Ulm-based manufacturer of custom-built electric motors and motor parts. Exactly which part, they're not allowed to say. There is also a Windings part in the rover's coring turret drill, which is used to drill beneath Mars' surface to remove soil core samples.
"It's really exciting to be a part of something like that," says David Hansen, Windings director of strategic marketing.
This isn't the first time Windings has designed products meant to work in extreme conditions.
"We have components that are miles below the seabed. We do work in oil and gas downhole tooling," Hansen says. "So, we say we have components located miles below the surface of the sea to Mars and everything in between."
Built on wings
Windings was founded in 1965 by J.W. McKinney, who used his technical know-how to fill a growing demand for motors and aircraft components. As evidenced by the company's connection to NASA, Windings retains a strong connection to the aerospace industry.
The company also has strong ties to other industries. Windings developed hand-held surgical tools for the medical device industry and motors designed to withstand extreme conditions for the oil and gas drilling industries. The company has also entered the factory automation and hybrid vehicle realms. Windings has done work with companies on the alternative energy front, as well, including wind.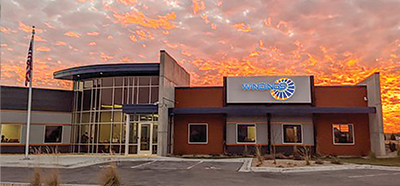 While Windings is fairly diversified, it still gets over 50% of its revenue from the aerospace and defense industries. Hansen says the company has seen upper single-digit or lower double-digit growth every year since the company's inception. The company is also 100% employee owned through ESOP (Employee Stock Ownership Plan), which then-company owner Roger Ryberg implemented when he retired in 2006.
According to the company's website, "The higher sense of responsibility that comes with employee ownership has made Windings even more responsive to customer needs and continues to foster innovation along with a desire to bring ever-increasing value."
ESOP enables employees to have a stake in the health and performance of the company, Hansen says. "And ultimately, the motivation for employees is to build a nest egg. Each employee as an employee-owner feels personal responsibility to help contribute. It's been a huge benefit to us in terms of employee engagement and motivation."
While Windings' production facility is in New Ulm, the company's engineers are stationed in Eden Prairie. Hansen says Windings has had better luck attracting top talent by having those jobs anchored in the Twin Cities.
"As you can imagine, being in southwest Minnesota can make it tough to recruit certain employment skills to that area," Hansen says. "So, the company about a year and a half ago decided that, in order to attract and retain certain skill sets, we needed to have a presence closer to the Twin Cities."
The hard stuff
One of Windings' niches is what Hansen calls "doing the hard stuff." And one need only look at a previous high-profile project to see just how "hard" he means.
The Parker Solar Probe mission is a seven-year NASA effort to study the sun. It's a spacecraft that will fly closer to the sun than any other man-made object. That means dealing with extreme heat and radiation. For that project, Windings supplied parts that help the spacecraft maneuver its solar panels.
Windings' work with Perseverance isn't the first time one of its parts made it to Mars. For NASA's Curiosity rover, Windings supplied parts for the mechanical crane that delivered the craft to Mars' surface.
Doing work in space is very unforgiving because of the vacuum concept, extreme cold, extreme heat, and radiation.
When designing parts to work in a vacuum, engineers must contend with a concept known as outgassing, which refers to the phenomenon of gases trapped within a solid leaving that solid. This happens in the extreme conditions of a vacuum. When outgassing occurs, parts don't work.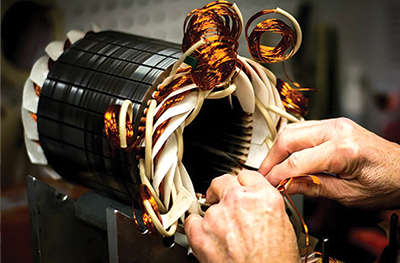 This puts utmost importance on material selection. Cadmium, zinc and magnesium, for example, have high outgassing rates and would be poor choices for any components designed for functioning in a vacuum. Certain varieties of stainless steel and aluminum, on the other hand, have low outgassing rates and would be good choices.
Engineers for products designed to go into space also must contend with another reality: It just has to work. This notion has a name: the "Five Nines of Reliability," which means anything designed for use in space has to have a 99.999% success probability.
This is the kind of work they do every day at Windings.
"Everything we do is challenging," Hansen says. "Everything we do has a critical nature to it for one reason or another. That could be what kind of environment that it's operating in, it could be performance. They're pushing the envelope on performance of these parts. Failure is not an option when you do this."
Much of what Windings does in this part of its production takes place in a cleanroom — a production environment where dust and dirt particles and any other kind of foreign debris are removed.
"Most of what we build in our cleanroom is destined for space," Hansen says. "But it does allow us to do other things. Occasionally, we'll have medical applications where cleanliness is an issue. We've done work in semiconductor industries where cleanliness is an issue. But primarily for us, what drives clean space manufacturing is space applications."
…
Featured story in the Summer 2021 issue of Enterprise Minnesota magazine.