You might say Vistabule Teardrop Trailer is building dreams.
On the website, of course, you'll find dozens of examples of their luxury campers, customizable in dozens of ways. But when they hear from their customers, they don't hear stories about how great the shopping experience was or how they loved the color options.
Instead, they hear stories from people who wept when they finally received their teardrop trailer, or who cashed in their retirement and sold their house to live a life of adventure in their new mobile home.
While the COVID pandemic has affected many manufacturers in different ways, Vistabule Teardrop Trailer — whose signature product is the Vistabule line of teardrop-shaped campers — has watched its already-expanding customer base grow even larger. Had the company not been forced to shut down for a month, it likely would have posted another record sales year.
The St. Paul-based company is poised for even more growth. If you want a Vistabule camper today you better have plenty of time and disposable income; the waiting list is long, and the trailer's base price is around $20,000.
"Orders have gone through the roof during COVID," says owner Bert Taylor. "People are reacting to cabin fever. They're really dying to get out there and experience nature before they're taken down by COVID." And while a waiting list can say a lot about demand, Taylor says he wants to get trailers into customers' hands much quicker. He's hoping a new facility with a key parts supplier on site will reduce customer wait times.
"That's why we're kind of desperate to increase our productivity," he adds.
Customers who want a Vistabule trailer must wait up to 18 months once they place an order, with the COVID pandemic appearing to have heated up the public's demand even more for modes of escape.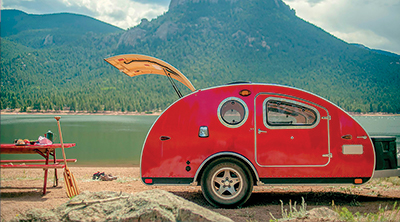 Taylor is also pondering how a new facility might simultaneously maximize profits and cut down on customer wait times.
Taylor transitioned into the trailer business after spending his career building furniture and working for various small manufacturers. He wanted to try something new and so, when he heard about teardrop-style trailers from a friend, he started researching. Being familiar with design tools and seeing a niche he thought he could fill, he built his first teardrop trailer in his garage. After it was done, he and his wife drove it to the Grand Canyon. That maiden voyage convinced Taylor to create Vistabule Teardrop Trailer and launch the Vistabule line.
At any given time, the company may have 10 trailers on its shop floor in varying states of completion. Taylor described the company's assembly approach as sort of a "supermarket" process. The trailer is moved around the shop where workers perform specific production tasks. In one area they may be mounting wheels, in another they may be undergoing water testing in the "hurricane room," in another the trailers get put on a lift where a sealant is applied to the underside. Production includes several phases: wheels, axel, frame, sides and, finally, the skin. Teardrops, which came into popularity in the 1930s and '40s, are typically 1,200 pounds, which make them easily haulable with a regular-sized car.
This approach to production works for Vistabule Teardrop Trailer, but Taylor still hopes Enterprise Minnesota can help him lean up the company's production process to maximize efficiency. Having said that, Taylor concedes the area where they'd like to make their biggest improvement might be one of their parts suppliers.
"I'd like to know more about how the lean processes can be incorporated into this type of model, rather than us forcing this into a different type of model that might not work as well," Taylor says. "So, I'm open to that and we're learning more about that."
Vistabule Teardrop Trailer has a unique relationship with a company called Great River Woodworking, which supplies all the wood parts for Vistabule campers. Taylor says the company is considering purchasing high-tech machining equipment to allow Great River to manufacture parts faster. He's also considering relocating Vistabule Teardrop Trailer to a larger facility, one with enough room for Great River Woodworking to move right in.
For now, though, Taylor says he's happy with the kind of growth they've seen. In fact, they've got one of those problems that is good to have.
Even if the wait times remain, it's clear the Vistabule line has carved out a nice niche.
Steve Corcoran, general manager at Vistabule Teardrop Trailer, says the Vistabule line has evolved to one that attracts an affluent client base, one that may eschew traditional campers or RVs.
"We attract people who are either approaching or have reached retirement, who maybe want to retrace the steps of some of their epic trips they took when they were kids," Corcoran says. "From an economic perspective, I can tell you that certainly, these are not people who are without disposable income. They have an appreciation for what it is in terms of the design, the attention to detail, the interior detail with the exposed wood. A lot of times they've been looking long and hard for that perfect trailer, and they see this one and that's it. They're done with the search. Let's get in line."
Vistabule Teardrop Trailer employs no sales staff. They don't need it. Customers come to them. And when they do, their first encounter is usually with Lily Taylor, Bert Taylor's daughter.
Lily says she helps customers navigate the 30 options available with a Vistabule trailer. Most of those customers, she continues, arrive at the company's St. Paul facility having never seen a Vistabule in person. Sometimes they get emotional.
"So many people come in and they're crying because they're so excited about this," Lily says. "Some people have literally saved their whole retirement to buy this trailer and go and make their dreams come true. It's so fun to watch it. We get presents all the time from customers. And we really are treated like family by them."
…
Featured story in the Summer 2021 issue of Enterprise Minnesota magazine.