When Glen Brazier's 11-year-old son Matt drew a picture of a pickup with four tracks in place of wheels and asked, "Could we make something like this?" neither of them imagined that three decades later, Mattracks would be shipping out the 100,000th track system from their plant in Karlstad, Minn. After years of prototypes, over 50 patents and patents pending, and 26 years of production, Mattracks has sold over 150 track models in over 40 tread styles and in more than 100 countries on all seven continents.
Mattracks was the first company in the world to offer rubber track conversions, starting with their Model 86 for pickups — and the company has been first in each industry application from pickups and SUVs to ATVs, tractors, military vehicles, and more.
From farm boy to inventor
Glen grew up on a small farm in Greenbush, Minn. After high school, he studied aviation, which helped him apply engineering, metallurgy, and electrical skills to his natural curiosity, inventiveness, and problem-solving skills that launched him into an international business. (He's also a licensed pilot and aviation technician and owns four planes.) Initially, Brazier explored the rubber tracks conversion idea as a sideline but continued to design and improve the concept for two years, patenting it in 1994. Looking for a good place to set up shop, he found an abandoned potato warehouse complex in Karlstad, just 19 miles west of Greenbush and 35 miles south of the Canadian border.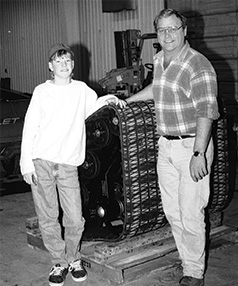 Mattracks started with only six employees; today there are 50, and Brazier anticipates a need for again as many in the next two to three years. While hiring and retaining quality workers can be challenging in the hinterlands, half of his employees have been there for more than 10 years and 11 of them for over 20 years. Brazier believes retention has been strong partly because of the product and its variety and partly because of the atmosphere at the plant.
Mattracks Vice President Dan Laux says, "We foresee exponential growth in the coming years as the market has begun to realize all the advantages tracks entail." He points out that everything at Mattracks is designed, manufactured, marketed, and sold right out of Karlstad and that the workforce is varied and includes engineers, salesmen, marketing professionals, welders, machinists, painters, assembly line workers, test drivers, quality team, purchasing, inventory control, customer service, field technicians, and polymer technicians who mold the rubber treads.
"We are a worldwide company with a small-town feel," Laux adds. "Our biggest challenge will be keeping up and growing our workforce. As far as challenges go, that is the kind we like."
To date, the company hasn't had to recruit much, but with the growth the company is experiencing, Laux acknowledges that they will need to become more proactive and search out the employees they need.
Early on, Mattracks caught the attention of the international market
Soon after production began, Brazier says, Mattracks caught the attention of Popular Science Magazine, which ran a profile of the company in 1994. CNN saw the story, called him, and sent a crew to tape a segment for a Science and Discovery feature. The segment attracted interest from foreign companies and the U.S. military. Before long, Brazier was increasing his sales staff to keep up with the international demand and having discussions with four-star generals about military applications for Mattracks.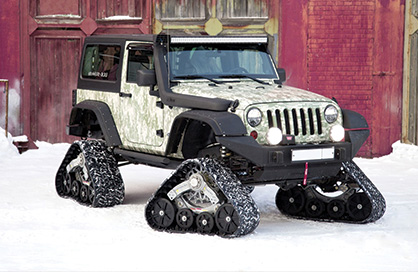 In 2001, the company's new track conversion systems for ATVs added another dimension to the market. In 2002, Mattracks introduced tracks with front-wheel assists for tractors, and additional agricultural applications followed. Continuous improvement of their tracks for faster, smoother rides, and better traction and steering has made Mattracks the largest track conversion manufacturer in the world in terms of volume and variety. Today their tracks are found on everything from emergency vehicles and trail groomers to Hollywood movie creations.
Mattracks go far beyond winter use
Manufactured in the northwest corner of Minnesota, it might be assumed the primary use of the company's tracks is for snow travel, but, says Laux, "the tracks are used year-round for farming, construction, exploration, emergency services, pipeline maintenance, telecommunications [and more]. Every off-road application can benefit from increased traction and reduced compaction. Tracks offer a smoother and more stable ride as well in rough terrain."
In the beginning, Laux says, "the goal was to see if we could just make something work. We didn't foresee that we would revolutionize off-road mobility across all markets."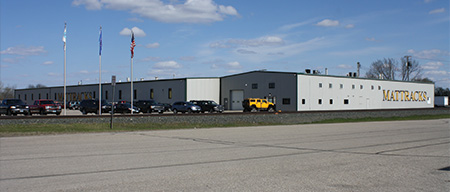 Today, in addition to the Mattracks manufacturing campus with three large buildings for production, sales, shipping and research and development, Brazier has started a Mattracks museum on Karlstad's main street. Inside are displays that trace the company's evolution and a sampling of the tracks' unique applications from early attempts for personal vehicle conversions to military vehicles and robots for entertainment and advertising. Among the items on display is a two-tracked 7Up vending machine created for a Superbowl commercial in 2003.
In the early 2000s, Mattracks met Hollywood when the company was contracted to build tracks for five Terminator 3 robots (one of which is now on display at the Mattracks museum). Brazier declined an invitation to attend several days of filming. "We didn't have time," he says. "We're busy every day with something new and exciting." Since Terminator 3, Mattracks has been a part of several other movie projects, creating tracks for on-screen mechanical wonders or for behind-the-scenes vehicles for film crews to capture action sequences up close. "Fury with Brad Pitt was shot with Mattracks equipment," Brazier says.
Reflecting on the growth and popularity of Mattracks over the past 25 years, Brazier says, "It's been a heck of a ride," (possible pun intended). And the ride continues with new possibilities every day.
Mattracks have appeared everywhere from the South Pole to the North, and from Hollywood studios to NASA testing at the Mars Institute (which its website describes as "an international, non-governmental, non-profit research organization dedicated to advancing the scientific study, exploration, and public understanding of Mars"). It's not difficult to imagine applications for Mattracks on the rugged terrain of Earth's closest neighboring planet.
Mattracks: An international company that gives back to the community
While Mattracks' impact is seen all over the world (and may someday be seen millions of miles away), the company's local impact is equally impressive. For Brazier, giving back to this small Scandinavian community (population 760) benefits everyone. He's been a strong proponent of a proposed FAA-approved airport in Karlstad. While the Wikstrom Telephone Company (Wiktel), Karlstad's other major employer and community supporter, provides the area with top-quality high-speed internet, the airport will bring additional 21st-century infrastructure to the city, the county, and the state.
Karlstad's mayor, Dale Nelson, says plans have been in the works for about five years. "It's a big deal for us. There's still a lot to do, but the city has invested a lot recently in local infrastructure, for which there is no funding source." The current airport, Nelson continues, "is located in a swampy area with trees on both sides." Although the Airport Commission looked at ways to expand and upgrade that facility, the location was not amenable to the drastic improvements needed.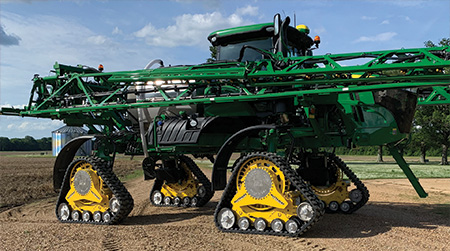 "A new airport will be government funded and maintained," Nelson says, "and the city will benefit from fuel sales and other fees," not to mention the convenience to numerous northern Minnesota businesses of a major runway and, eventually, facilities that will benefit the entire northwest region of the state.
Alan Lundeen, plant manager of Wiktel and chairman of the Airport Commission Board, has been a key player in the airport project. Lundeen says MnDOT Aeronautics inspections of the existing airport in 2015 and 2017 noted several deficiencies of the 1950s-built municipal airport with its 2,600-foot turf runway and spelled out the requirements that were needed in order to keep the little airport open. MnDOT also explained funding of airport development and maintenance. "This was the spark," Lundeen says, "to research how to best maintain and improve our facility." After a great deal of effort, information gathering, grant writing, planning, and two years of proposing the new airport to the Minnesota legislature, $5.6 million was approved in the 2021 transportation bill for the first new airport in Minnesota in almost 20 years. The new airport will not only benefit the pilots of the area but will contribute to everything from health and medical services to manufacturing and outdoor recreation opportunities. (Karlstad is about an hour and a half drive from Lake of the Woods.)
Brazier sees the addition of the FAA approved airport with a paved 4,000-foot runway as a major development for Mattracks and for other manufacturers in northwestern Minnesota. The airport will increase job opportunities and economic development throughout and beyond Kittson County.
Community support means more than economic impact
Brazier also invests in the community in other ways. When approached by Ardell Larson almost two decades ago to become a sponsor of a country music festival, he helped fund Kick'n Up Kountry. Not only has he continued to support the annual festival, he has purchased and developed land to host the event. Today the 360-acre site, just outside of Karlstad, has over 200 VIP camping hookups and countless standard camping sites, more than adequate parking, and plenty of space for the 15,000 concert goers who attended in 2021. He has also used the site to preserve historic buildings from the area and has relocated a 100-year-old church from Pelan (northeast of Karlstad) and the old Karlstad railroad depot onto the property. The church is available for non-denominational services, weddings, and other events.
The first year of Kick'n Up Kountry (2004, held in Hallock), the family of a 14-year-old girl with leukemia came to the concert. Her parents hoped their daughter could meet her favorite musician, Neal McCoy, who gladly obliged. That request sparked the idea for Hopes, Dreams & Smiles, an organization founded three years later by the festival's original CEO Ardell Larson that brings children with life threatening illnesses and a love of country music to the event for free. Since then, Larson and Brazier have hosted several families at the festival each year, providing limousine transportation, special seating for the concert, and other amenities.
To further enhance the festival experience, Brazier created his own Adventure World Tour at the site, featuring a hand-made train engine that pulls three passenger cars (all on Mattracks). As riders wind along the Baja route through woods and cattails, mechanical surprises appear and spring out — everything from a raptor, a T-rex, and a huge spider to a spaceship and space alien eggs. (A pirate ship is in the plans.) The tour guide and engineer is Glen Brazier himself, whose enjoyment of the task would lead one to believe his sole purpose in creating Mattracks was to see passengers smile as they rode the Karlstad amusement park ride.
It's especially fitting to see kids and families enjoying the benefits of a small-town, international company that started with a drawing by 11-year-old Matt Brazier, now a 41-year-old jack of all trades with a company that has taken him and his dad around the world.
Matt Brazier: Mattracks' Jack of All Trades (featurette)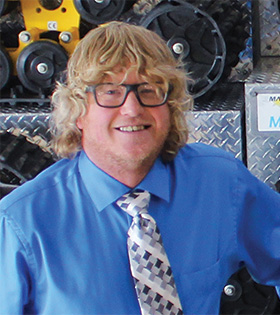 Matt Brazier's contributions to the Mattracks company go well beyond the drawing he did that inspired the manufacturer's product line and beyond his name being half of the company's name. Matt started working after school in the shop at 15, doing "pretty much all the jobs that nobody else wanted. I swept the floor, I did grinding, welding." He was good at the work, enjoyed it and earned his way up the ranks, learning a variety of trade skills. "I've done almost every single job involved in Mattracks," he says.
No one knew the company would grow to the extent it has, but, Matt says, "we made such a unique product that no matter where we went, no matter what show we did, there was just unbelievable response to it. I knew we were going to be an exciting new company, and we still are."
For as long as Matt can remember, he's enjoyed creating things.
"My dad was always inventing things," Matt says. Not simple, ordinary things, but things like a gyrocopter or a hovercraft. "When I was really young, I had garbage cans full of Legos, and I just wanted to build stuff."
Now with a title of Special Operations Coordinator, he is, as his dad describes him, a jack of all trades. Matt says, "If we need help in the shop, I'll do that; if I need to fly to Louisiana, I'll do that. I did 22 trade shows in one year and was on the road over 200 days."
When he was about 17, he says, "we went to a military trade show in Burbank, Calif. I ended up meeting Wesley Clark, who was the Army's Supreme Commander. I also met 14 generals — four of them four-star generals." Pretty impressive people to do business with. Meeting MythBusters' Jamie Hyneman and Adam Savage was another early brush with fame.
"We get to fly all over the world and meet customers. If they have needs we can meet, I take care of that." The excitement in Matt's voice is evident as he reflects on the opportunities he's already had, the places he's been, and the variety of companies he's dealt with.
"Our product is so cool, and it helps so many companies do what they need to do — and then makes them money. It's really exciting."
Probably the hardest part of the job, Matt says, is being the boss' son. People know what his dad Glen has done, what he has built, but they're not always aware of the extent of Matt's involvement in and contributions to the company.
"I couldn't be prouder of my dad, and I'm really thankful that I get to work with him on a daily basis," he says. There's no doubt, however, that Matt has earned his place in the company.
Matt's two daughters, ages eight and nine, already love riding around on four-wheelers and building things with Legos. And if they decide to be a part of Mattracks someday, they'll have opportunities to earn places there, too.
…
Featured story in the Spring 2022 issue of Enterprise Minnesota magazine.