Watch any major snowmobiling or snocross competition and you will likely find that the racers' sleds are sporting C&A Pro skis. The equipment is highly regarded by pros and amateurs alike, known for its speed and sturdiness paired with an ability to turn and jump to the extreme.
C&A's legions of fans around the world probably don't realize that their gear comes from Minnesota. The shop's robust offerings of skis are made by Pride Solutions, a Hutchinson manufacturer that has operated C&A Pro for decades. C&A is one of Pride's four divisions that serve a wide variety of sectors — from agriculture and recreation to mining and the military — with durable compression-molded plastics, fabrication, and assembly.
Pride is one of just a few companies in North America that work with ultra-high molecular weight polyethylene (UHMW-PE), says company president Jack Daggett. The material is known for its toughness and resilience in abrasive environments and performs especially well in very cold and hot temperatures. A prime example: Public works clients use Pride's protective plastics on snowplows to prevent equipment damage and protect road surfaces.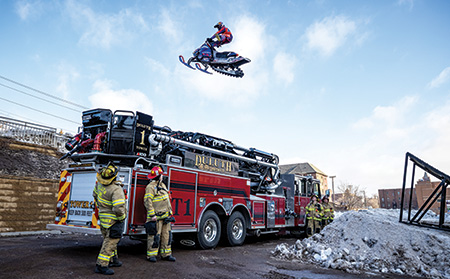 Pride's origins stem from its May Wes manufacturing division. For 50 years, it has specialized in making UHMW-PE aftermarket equipment for agricultural customers. The founders of May Wes used plastic components — instead of metal — to shield wear areas like a combine's corn header.
"They came up with plastic skid shoes that wear really well. When dragged on the ground, it doesn't disintegrate or rust, and it's lighter," Daggett says. "Plastic ups the ante on what farm equipment is capable of doing."
Daggett's family purchased the company out of bankruptcy in 2002 and set up shop as Pride Solutions. Its other divisions include Pride Engineered Plastics, a B-to-B contract manufacturer focused on compression molding and fabrication, and Pride Assembly, a custom assembler specializing in electro-mechanical and mechanical work. Daggett grew up working at the company as a kid, igniting his interest in manufacturing and inspiring him to join the family business. He did so in 2013 as the operations manager, becoming president in 2016.
Comprehensive growth
With 35 employees, Pride currently operates in a 20,000-square-foot manufacturing facility. This year, it will complete an expansion to extend its manufacturing space to 40,000 square feet. The company needs more space thanks to its recent track record of growth, Daggett says, including growing revenue 40% from 2020 to 2021. Growth should slow a bit in 2022 but still will land around 10%.
The company's retail components (May Wes and C&A) have historically been Pride's growth engines. More recently, all four of the divisions have been flourishing. Keys to that success are moves Daggett made when he took the helm. He invested energy into growing the company's assembly and contract manufacturing capabilities. For example, Pride Assembly expanded its services into electro-mechanical assembly. That opened the door for the division to create electronic devices that are used on U.S. Navy destroyers and for power generation.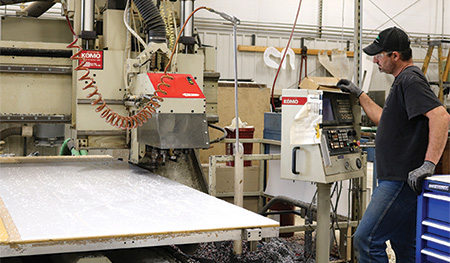 In addition, Pride regularly deploys techniques or capabilities it refines in one division to attract business for other divisions. There is deep collaboration and overlap between the four divisions, Daggett says, and that helps the company serve customers well. They benefit from Pride's deep expertise in fabrication, molding, manufacturing, and assembly. This skillset allows the company to offer diverse services, such as CNC routing and lathe work, plastic forming, and supply chain management.
Along with the general boost in manufacturing lately, Pride's consumer-focused recreation and agriculture products especially benefitted from pandemic conditions. Higher commodity prices gave farmers funds to invest in equipment like May Wes' stalk stompers and skid shoes that protect metal surfaces during harvest, Daggett says. And as consumers flocked to outdoor recreation, they sought C&A's accessories that improve their snowmobiling on trail, mountain, backcountry, or crossover environments.
Promising future
To prompt growth at Pride, Daggett turned to the Entrepreneurial Operating System (EOS). He and his leadership team have used its principles to align employees behind the company's mission, core values, and culture. The EOS Traction model also motivated the team to implement systems for hiring, job placement, reviews, and retention of employees. Daggett points to Pride's employees as a key to its success, with their "get it done attitude" and longevity at the company.
Pride leaders made other moves that fostered growth. The company shifted its marketing to more digital and social media outlets and found ways to lower costs by buying higher volumes of materials. Plus, Daggett thoroughly enjoys finding more efficient ways to operate and make improvements in processes or products that benefit customers and the bottom line.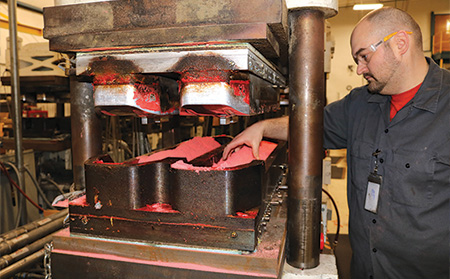 "Our growth has energized me. It's cool reaping the benefits of the work you put in — seeing something you put in place two years ago pay off. I enjoy working with the employees we have here, I enjoy the products we manufacture, and I just like manufacturing. Making a quality product that meets customers' needs with a process that's efficient and profitable, that's fun for me."
Pride turned to Enterprise Minnesota to help configure its new manufacturing space, ensuring that the equipment is placed in a way that promotes flow. This will help the company maintain its high levels of efficiency and ability to serve customers.
Pride works to keep customers happy with the breadth of its capabilities and execution, completing work of the highest quality at competitive prices. "Typically, if we get a new customer, they are repeat customers," Daggett says. "It's not a flash in the pan. We are valued suppliers and continue to supply those customers year over year."
…
Featured story in the Spring 2022 issue of Enterprise Minnesota magazine.