Last August, Manny Efiong, owner and president of All-American Engineering & Manufacturing in White Bear Lake, was on vacation with his family in Texas. Three months earlier, the company's quality manager had left AAEM, and while Efiong was away, he learned an ISO audit had been scheduled for that October. Since May, the leadership team at AAEM had been looking for a new quality manager with ISO experience, but they hadn't been able to fill the position.
With the audit fast approaching, Efiong and his partner and vice president Matt Braund decided it was time for a new approach. "We had to pivot to something else. We had to look for ways to solve the problem we had in front of us," he says, explaining that's what drove him to pursue Enterprise Minnesota's ISO audit preparation services.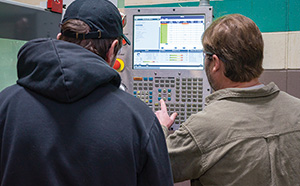 The pending audit was one of the first major challenges the relatively new owners faced. In 2017, Efiong and Braund purchased AAEM, which offers contract machining and manufacturing and has a proprietary line of industrial hinges marketed under the Daro Hinge brand name. They both had long tenures as employees of AAEM; Efiong joined the company as a machine operator in 1995, and Braund was hired in 2002 as the milling machinist lead.
A vision for the future
Efiong and Braund bought the company because they believed they could run it more efficiently and increase growth, without disrupting its base of loyal, long-time customers. In fact, since buying the company, revenue has grown by 48%.
The pair has led the company through several years of severe worker shortages by creating a family-like atmosphere while ensuring employee compensation is competitive. After buying the company, for example, they established a 401(k) plan that allows employees to put in 6% of their income, with AAEM matching 3.5% of the employee's total compensation.
Braund says they also closely monitor industry trends to make sure their employees are paid competitive wages for the specific skills they have and the jobs they do. The result, says Efiong, is that many of AAEM's 23 employees have worked at the company for more than 15 years.
The experienced workforce at AAEM helps the company deliver fast, reliable and customized products to their broad range of industry buyers. They do contract manufacturing for the Department of Defense and supply parts for electrical switches. The Daro Hinge line is used in applications such as prison gates, bank vaults, military applications, industrial OEM equipment, sound attenuation, and radiation shielding.
Addressing a potential crisis
Because of the type of customers AAEM serves, ISO certification is crucial. With the audit scheduled for October, speedy action was essential. "While I was still in Texas, we set up a meeting with Enterprise Minnesota for when I got back," Efiong says. "That was in the first week of September. We had a month and a half to go before the audit."
Enterprise Minnesota's Keith Gadacz, a business growth consultant, and Bob Arvold, a business development consultant, worked with AAEM's leadership beginning with that first meeting. "We started with a one-day assessment," says Gadacz. "Basically, we needed to get a lay of the land and understand gaps."
Gadacz used the assessment to develop a strategic plan to address the audit. "That was a detailed plan for corrective steps," he says. "Over the next three weeks, we implemented that plan to fix the immediate non-conformities."
Efiong says the company's leadership and the Enterprise Minnesota consultants worked well together. As an example, Efiong notes one of the steps was to rewrite procedures to fall in line with the requirements of the ISO 9001:2015 standard and to reflect the company's operations.
"We started working together, and things just started falling in place for us," Efiong says. After a month, concerns about the audit started to fade. "With Enterprise Minnesota's help, we realized we were in a much better position to tackle it."
Moving forward
For the next step, Gadacz took 60 days to help the company develop a long-term plan that would ensure consistent compliance.
Efiong says during the process, he and Braund realized how important their own roles were in this context. "What we went through with Enterprise Minnesota taught us a number of things about how the whole ISO process works, and how we should run it," he says. "It used to be something that Matt and I thought we had to push over to the quality manager to run — that we needed to do sales or marketing or strategy and all of that."
Now, Efiong says their thinking has shifted. "We realize that this is something that comes from the top. You have to take that ownership and be able to manage it from the top all the way down through the whole organization," he says.
Gadacz has high hopes for AAEM's future. "The system is corrected, the audits have been passed, and now we are entering the next 90 days of sustainment," he says. "We want to see continued improvement of flow and operations and in-cell improvements. AAEM can use this success to determine which new customers they can approach — that's next in the sequential process looking forward."
…
Featured story in the Spring 2022 issue of Enterprise Minnesota magazine.