Joby Goerges had plenty to show his fellow manufacturers when he opened the doors of Magnum Research for a tour — from the company's skilled technicians to its smooth-flowing production processes. But as it often happens, the wow factor came when he presented Magnum's Desert Eagle pistol.
So famous that it has its own Wiki page, the Desert Eagle and other firearms made by Magnum usually are the highlight of tours, says Goerges, director of manufacturing. That's because people have seen the guns on hundreds of television shows, movies, and video games — including The Terminator, The Walking Dead, and Call of Duty — and they want to get an up-close-and-personal view of the distinctive firearm.
That was the case this fall when Goerges took his Enterprise Minnesota peer council on a tour of Magnum's facility in Pillager, near Brainerd. "The Desert Eagle brings out the kid in everyone. It is something to see. It's a massive handgun, and it's really impressive," Goerges says.
"We were in the middle of production, and the peer council members got to see the parts that were getting built and going out the door," he adds. "Our motto is, 'Quality people doing quality work,' and I wanted to show them people taking pride in their work and building really good products."
Goerges was happy to show off Magnum's operations, but it wasn't a one-sided encounter. As a member of the St. Cloud CEO peer council, he gains much from engaging with his fellow central Minnesota manufacturers, whether it's at his facility or theirs. This group of about a dozen executives from small- and medium-sized manufacturers learn from each other and serve as sounding boards for the similar challenges they face.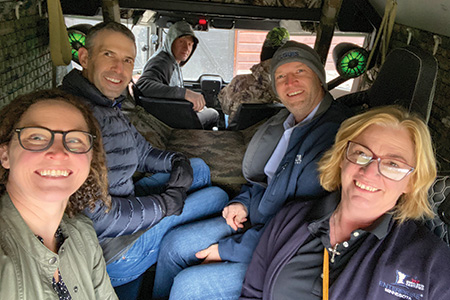 Located throughout the state, the peer councils meet monthly with Enterprise Minnesota business growth and development consultants who facilitate programs and discussions. The St. Cloud-based peer council has flourished during the past 12 years, with its members turning to each other regularly for counsel, with questions, and even to do business, says Dawn Loberg, a business development consultant for Enterprise Minnesota.
Many of the members share a desire to learn from others and continue to improve their companies. Some peer council members are earlier in their career while others are veterans, but they all bring different perspectives and experiences that help each other, Loberg says.
"This group has developed into such a resource for each other. They call each other during the week and get together in between meetings, and they also like to go have fun and celebrate their successes," Loberg continues. "They are very forthright, and they are good listeners. They are still trying to learn, even though some of them have been president of their companies for 20 years."
Free-wheeling consultation
For 22 years, Enterprise Minnesota's peer councils have brought together CEOs and other top leaders of manufacturing companies in small-group settings. They serve as informal advisors to each other, uniting behind their common roots in manufacturing to share truly relevant perspectives with the group. The councils provide members with a confidential setting to discuss areas of concern and common industry challenges.
Jake Altendorf, owner of Carstens Industries in Melrose, became part of the St. Cloud group in 2018 shortly after going to work at the manufacturer of fiberglass and composite products, including boats and bathtubs. He had joined Carstens after working in the investment sector, and he sought business advice after purchasing the company from family members.
Being new to the area and the manufacturing sector, Altendorf wanted a space to consult with other business leaders about a wealth of concerns, such as customer and employee relations.
"Whether it's an issue with pricing or corporate governance, or one of them has an experience that directly relates to what I'm trying to accomplish, it's proven very valuable at points where I felt lost and didn't have a lot of tools," he says.
Thanks to the peer council, Altendorf effectively handled various issues after gathering insight from other business leaders who have experienced similar situations. "It has been really helpful, coming from someone with a little less experience, to be able to pick the brains of people who have been doing this for 20, 30 or 40 years with different sized businesses in different industries — not just fiberglass companies," Altendorf adds.
Peer council members often fill gaps for smaller companies that might not have specific expertise in-house. For example, many of the peer council members don't have human resources specialists on staff. So, it's especially helpful to learn about other manufacturers' benefits, compensation structures, or workforce policies, Goerges says.
In fact, nearly half of the issues before the peer council cover people-related concerns, including employee engagement and compensation matters like salaries and bonuses, Loberg says. Other common topics include planning for capital expenditures, fostering growth, and developing as leaders.
Running a business during the COVID era has presented a whole host of unique challenges, and the peer council has been a helpful vehicle for managing through it, says Scott Christman of Avon-based Seitz Stainless, who joined the company as general manager in early 2020. Peer council members consulted each other on diverse issues such as protocols and best practices for running a plant during COVID. They also shared information about supports like the federal Paycheck Protection Program and other small business initiatives.
"Rules and guidelines were changing weekly if not daily, and none of us knew what to do," Christman says. "We used each other as sounding boards — not only at council meetings but in communications and correspondence between meetings. We all learned collectively and from each other."
For Anne Haakenson, manager of Avon Plastics in Paynesville, it has been vital to consult with other manufacturers about dual pressure from increases in labor and material costs. Discussing how to best implement and communicate price increases to clients and customers has been a fruitful topic for her.
Seasonality also is an issue at Avon, a plastics recycler and manufacturer of home and outdoor products like composite decking and lattice. Haakenson consulted her fellow manufacturers about how to handle challenges with seasonal fluctuations such as staffing and compensation. "That's a big piece that has been beneficial, especially hearing that we're not the only ones doing something," she says. "Or maybe someone has a great idea that's relevant for us."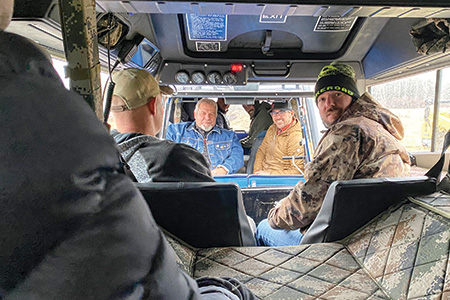 At many of the family-owned businesses, succession planning also is a big concern. It's one reason Haakenson joined the peer council. A third-generation family member at Avon, Haakenson aims to continue developing her leadership skills and discover ways other companies innovate, in preparation for taking on more responsibility at Avon.
"What I love about this group is that everybody is in some sort of transition, whether a big corporation bought out the business and now I'm part of a big conglomerate, or I'm second-generation and I'm passing the company on to my children," she says. "Getting to hear about those experiences is invaluable."
At a recent meeting, an expert on succession planning gave a presentation and then peer council participants shared their experiences. Altendorf, who recently went through the succession process, was happy to give his perspective as the buyer — what he learned and what he would have done differently. He hoped that discussing his experience might provide smoother transitions for others who will be selling or buying a family company in the future.
Meaty meetings
The peer councils gather every month, with other activities like tours and guest presentations mixed in. Led by a facilitator, the meetings have many recurring elements. Attendees give business updates and note whether they are bullish or bearish on their prospects.
Another regular part of the St. Cloud group's meeting is called "frogs," which is based on advice from the book Eat That Frog about doing the most difficult task first. Peer council members hold each other accountable if they bring up the same issue two meetings in a row without taking any action, Loberg says.
Sometimes a group member just needs to vent frustration over a situation or personnel issue, knowing that fellow business leaders will understand. Often at small companies, co-workers are too close to an issue to have perspective, Altendorf says, or outsiders who are supportive don't understand the manufacturing specifics. Peer council members just get it.
Members then have an opportunity to raise a fast burn — an issue or challenge they would like the group to discuss and perhaps offer advice on. They give background on the concern and tell council members what type of feedback or information they are looking for. "The rest of the group will ask very thoughtful questions and help them think through their options," Loberg says. "They might provide some historical perspective on what they have done in the past at their companies. It's not to tell them what to do but to be a counselor."
Fast burns are a meeting highlight, Christman says, because he often learns from other members' challenges on the issues that keep them up at night. He also gains valuable advice for overcoming the challenges he has been addressing at Seitz, a manufacturer of large stainless-steel tanks, vessels, and other equipment for the food and dairy sectors.
"The team is good at providing feedback based on the diversity within the group. Some have contractual experience, some are good with nondisclosure agreements, and some are high-output manufacturers who bring great ideas and value about efficiency and flow," Christman says. "There are many great viewpoints and areas of expertise that help us each grow as leaders."
Peer council participants are able to be candid because the information they discuss is confidential. On top of that, the St. Cloud peer council shares an easy camaraderie and a bond that often extends beyond its meetings, Loberg says. Not only do the leaders connect over being manufacturers from central Minnesota, they also have become friends who enjoy spending time together. That trust has even led some of the leaders to do business with each other.
Goerges was surprised when he first started attending peer council meetings to see how open members were with each other. "Listening to the group speak about their problems and hearing how much information they all had to share — I was blown away," he says. "There is a level of comfort, and everyone is very trusting."
Altendorf agrees. "I think the group genuinely enjoys spending time together, and they feel more comfortable sharing for that reason," he says. "There is mutual respect, and people care what others have to say. That has contributed a lot. People are protective of the group and want to make sure new people are a good fit."
On tour
Each quarter, the peer council takes its show on the road and tours one of the member's facilities. It's a highlight both for the manufacturer giving the tour and those attending — and a vital component of the peer council, Loberg says. The tours allow manufacturers to show off their facilities, equipment, and processes while also bringing any issues they have discussed to life.
The group usually saves time for fun and team building, too. After the Magnum tour, peer council members held their meeting at The Getaway, a new property Goerges owns. They piled into Sherps, high-end amphibious vehicles that can traverse any terrain. Another time, the group took a pontoon ride after their tour at Hanson Silo Company.
Christman, an engineer who has worked in manufacturing for 30 years, still learns something new or gets a fresh idea each time he tours another manufacturer's shop. "As manufacturers, we're always looking for opportunities for efficiency, for improving our manufacturing and production flow, or for tools used for production planning," he says. "It's motivating."
When on the Magnum tour, Christman noticed how the company used communication boards throughout the plant — something he had been wanting to implement at Seitz. He saw how frequently leaders and team members at Magnum consulted the boards and how useful they were in sharing information.
Seeing the communication boards in action motivated Christman to make good on his plans to incorporate them at Seitz. He took the first step by creating a communication board in shipping and receiving to speed the process of finding raw materials. He plans to add three more throughout the production floor. So far, the new board has been a big timesaver by providing details about where raw materials are located on the Seitz property.
"Now someone can drive a forklift directly to that location instead of spending 10 minutes to track it down. We have improved communication, and employees have better visibility of our inventory," Christman says. "It's a big time gain for something so simple."
For Goerges, touring Seitz Stainless, Louis Industries, and Hanson Silo has been well worth his time. "They just open your eyes to other ways of doing things. They have completely different styles of manufacturing than what we do at Magnum."
"Being able to walk through their process with them and see how they do things is very helpful," he adds. "It keeps the gears spinning."
Hosting a tour is also helpful for peer council members. Equipment challenges or production issues that were discussed at meetings come to life, allowing visitors to get a fuller picture by seeing the situation in person, Christman says. In other instances, a tour member might bring attention to a safety issue or a process improvement that the leader hadn't considered.
Altendorf finds it helpful to see the operations of manufacturers that make entirely different products than Carstens. "A lot of the businesses are significantly different than we are. It's helpful to go on site because I pick up things like process flow or what resources they offer employees," he says. "In some ways there is overlap between us, and in other ways everyone is completely unique."
Back on Goerges' tour of the Magnum facility, he showed the group how the raw materials come into the building, move through quality control, and then into the parts room. He walked the tour through the company's Kanban system for managing inventory and product lines, then took them out to the assembly line. Many in the group were surprised that the firearms are meticulously assembled by hand, he says. Then they are tested in the shooting room, packed up, and shipped.
These behind-the-curtain looks at other companies are meaningful for peer council members personally and professionally, giving leaders time to learn, swap stories, and bond over their shared love of manufacturing and running profitable businesses.
"We're all humble leaders who really just want to be better. We're all from a similar community and have a similar objective to grow our business and hire good people and be successful," Christman says. "We can talk about tough things. We've really created a bond with each other and been supportive of each other to make our businesses as successful as possible."
…
Featured story in the Spring 2022 issue of Enterprise Minnesota magazine.