Tilsner Carton's commitment to improve operations and invest in new technology has its leaders feeling confident that it can be a one-stop shop for corrugated products, from design to delivery, into the future.
The St. Paul company is going on 103 years in business. What started with Isadore Tilsner using a horse and wagon to collect used boxes from liquor stores for resale back in 1918 grew into a company manufacturing its own stock and custom boxes in a 200,000-square-foot facility. Over the years, you might've pulled your newly arrived purchase out of a Tilsner Carton box or seen its point-of-purchase displays in grocery and sporting goods stores or other retailers.
Third-generation owner and president Joel Tilsner, Isadore's grandson, and other company leaders have pursued improvements in technology and automation in recent years. New computer software, for example, allows new machinery to quickly make corrugated products for them, and enables a new fleet of semi tractors to deliver the end results. The technology improvement efforts extend beyond the company's corrugated products, including its newest addition, a Viking Turbo 606 nailer for the pallet manufacturing side of its business.
Each recent addition stemmed from the same underlying idea.
"If you're not improving, you're getting left behind," says Mike Mackley, company vice president, adding that recent investments indicate it was more than just talk.
New machinery added in the last couple of years meant set-up times for the hundred-plus styles of boxes the company manufactures decreased and run speeds increased. First came a BOBST flatbed die-cutter in 2019 followed by a $2.2 million APSTAR four-color rotary die-cutter in 2020, Mackley says. The latter — which the company touted in one of its many videos highlighting its services in 2020 — has about a 15-minute set-up time before production capabilities of 12,000 blanks per hour.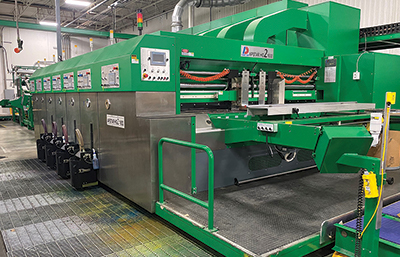 Quick turnarounds are a point of pride for the company, and it wouldn't be possible if they weren't ready to rapidly respond to customers facing tricky situations. As Joel Tilsner says in another company video produced in October, "We love having our feet to the fire."
Sometimes that willingness to take on a challenge means receiving an order for 20,000 custom-made cartons at 11 a.m. and delivering them by 3 p.m.
"That's our niche," Tilsner adds in the video. "We want everything that the big guys don't want."
The company's improvement plans date back four years ago to a meeting that took place between company management and Enterprise Minnesota's team, Mackley says. Tilsner's director of marketing, Michelle Lee, connected management to Enterprise Minnesota Business Growth Consultant Greg Langfield who specializes in lean transformations.
Mackley credits Langfield and the Enterprise Minnesota team with "jump starting" the company's plans. They helped Tilsner Carton identify improvement areas, resulting in better processes and eliminating waste.
Bob Arvold, a business development consultant with Enterprise Minnesota, says Tilsner Carton's management grasped what Langfield taught them and have sustained it as they added new technology and automation. Implementing the new technology without improving those processes might've been akin to expecting a band-aid to fix an underlying health problem.
Now, three new software programs — CorrPlan, CorrDisplay and Plant Floor — and displays at each machine keep everyone in the loop on job statuses in real time. The programs track supplies, average run times and priority levels as orders get routed through the plant.
Enterprise Minnesota further helped the company secure a $25,000 automation grant from the Minnesota Department of Employment and Economic Development to train workers to use the new technology. Eliminating waste and investing in new technology added up to three years of good growth and a "tremendous amount of confidence" in the company's future, Mackley says. The company experienced the same uncertainty other businesses did when the COVID-19 pandemic hit the state in early 2020, but the shift to more people working from home also seemed to create surges in the box manufacturing market.
"Things are shipped more now," Mackley says. "It's really changed how things and people are getting their goods."
Tilsner Carton couldn't have predicted that development. It could meet the surge, though, because it set out to improve and invest in itself well before shipping's evolution happened.
…
Featured story in the Spring 2021 issue of Enterprise Minnesota magazine.