Detroit Lakes-based Lakeshirts — maker of resort and college novelty apparel — learned during the pandemic that grooming the right kind of leader can make all the difference.
Lakeshirts CEO Mark Fritz and CFO Mike Hutchinson picked the right rising star to groom for leadership when they hired Michelle Daggett 24 years ago. When the pandemic hit, Daggett helped them guide Lakeshirts through the worst financial disaster in the company's history.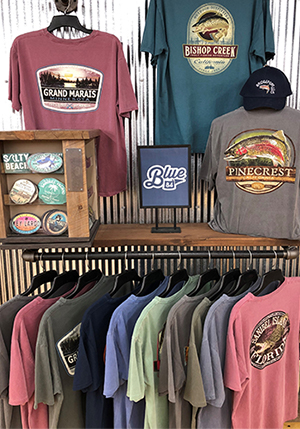 Fritz and Hutchinson hired Michelle as the company's first-ever human resources director. A few years later, they promoted her to become the company's first-ever operations manager. Four years ago, they promoted her again to president. They likely had no idea they were creating the kind of leader who would be a perfect answer to a pandemic.
"We have been fortunate to experience a lot of successes over the years, but like most, we have experienced some challenges as well. This year is a perfect example of that," says Fritz. "When those rough patches or challenges arise, Michelle has been able to put things in perspective and roll up her sleeves to help our entire team get through any roadblock or hard time."
The past 11 months have been about the hardest time imaginable for many companies, Lakeshirts included. But with Daggett in the role of president, she was able to help Lakeshirts weather the storm and get back on a path toward normalcy.
Just prior to the onset of the pandemic, Lakeshirts had inked deals with Zephyr Headwear and Elite Fan Shop, two partners that would further solidify Lakeshirts' standing as a dominant player in the industry. The company also brought in a new investor, Carlson Private Capital Partners. The year 2020 was looking rosy.
And then, just as March Madness was about to capture the nation's attention and the resort season a few months away, COVID-19 turned the world upside down. The NCAA canceled March Madness. Resorts halted orders in anticipation of being closed for the summer.
In March, Lakeshirts had 740 employees and was poised for record profits. But with much of its traditional business at a temporary standstill, Lakeshirts laid off 700 of them. Of those who remained, managers took pay cuts, some as much as 50%. Things were quiet in Lakeshirts' 300,000-square-foot facility.
"In April, we billed about 10% of what we should have," Daggett says. "And it was the lowest we had billed since 1996. May was also very low."
Learning curve
Daggett admits she knew nothing about manufacturing when she came to Lakeshirts. But one of the things she's picked up is the importance of understanding performance measures and realizing not everything that can be counted counts.
For example, during one recent summer the company found itself getting behind on jobs. Using a KPI of "garments per hour," leadership analyzed their process and discovered their production wasn't failing — their measurement was.
A trend in garments at the time was putting designs on the front, back and sleeve, meaning each garment was getting three "hits" instead of the typical one.
"Suddenly we realized we were tracking the wrong measure. We needed to be watching how many placements on garments were coming in and adjust according to that," Daggett says. "So, there are things like that, where you have setbacks or failures, and you learn from those."
One of the things that has helped Lakeshirts weather such storms is the focus the company has put in recent years on planning. Daggett says they implemented a plan where each of the company's managers has an execution plan to clarify his or her goals and mission. They've instituted "quality meetings" where representatives from all departments attend and hash out any issues arising with production.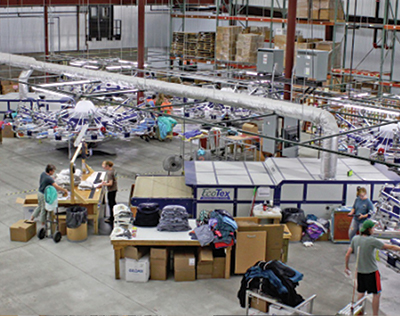 "It's so important because otherwise you might think errors are happening because somebody produced a shirt wrong. And you might have looked at that operator before and said, 'Well, we need to train the operators better,'" she says. "But now, because we started this weekly meeting, we might find out that the problem could have stemmed all the way back to the point where we develop the product. The line development person will raise his or her hand and say, 'We never intended for that design to go on that shirt anyway. It's not going to look good.'"
Cross-trained
Daggett's rise to leadership in the world of resort and college apparel seems a perfect fit.
And she says the fact that she's held various roles at Lakeshirts is a good thing.
"I really think it helps you become a better manager if you've had experience working in another department."
-Michelle Daggett, president of Lakeshirts
"Our HR manager worked in operations for a while, and our IT manager worked in a number of areas throughout the plant. Because she has that understanding of how everything works, that makes her much more valuable as the IT manager now to implement systems," said Daggett.
One of the things Daggett likes about Lakeshirts is the company's "all hands on deck" attitude. And as a leader, she says, she's helped promote that.
"I saw a quote once that said, 'If you're offered a seat on a rocket ship, you don't ask what seat, you just get on board,'" she says. "That's kind of what people do here. It helps to have that attitude."
Lakeshirts CEO Mark Fritz lauded Daggett's contribution to the company he started in 1984 with CFO Mike Hutchinison, and praised her leadership style.
"Without question, Michelle has been a big part of our company's growth and success," Fritz says. "She is a servant leader, listens as much as she talks, and empowers others to problem solve. She believes we are a much stronger company if we can build an army of problem solvers. And she encourages our entire team to be part of the continuous improvement process. She makes a great president because she leads by example and her work ethic is second to none."
Slowly coming back
Things are slowly coming back, including the employees, with the company currently employing just over 500. Resort sales, though, are down 30%. College sales are down over 50%.
With the COVID-19 vaccine in mass distribution, Daggett says the worst may be behind them. More workers are returning to Lakeshirts. More T-shirts are being designed and printed. And this summer's resort season looks promising, she adds. There may even be March Madness this year — albeit sans fans — which will help bring back profitability to Lakeshirts.
It's been a trying time for the company, and one that has tested Daggett's mettle. Thankfully, her path to the role of president may have given her exactly the kind of experience necessary to help guide Lakeshirts through these trying times.
…
Featured story in the Spring 2021 issue of Enterprise Minnesota magazine.