When Beth Fynbo got together for lunch a few years ago with some friends — new mothers with babies in tow — she made a keen observation as the babies began to fuss and play.
"The kids were constantly dropping stuff on the floor, and the moms were constantly picking those things up," Fynbo recalls. "One of the moms was a germophobe, so she was wiping toys down every time."
The next day, Fynbo pondered that adorably distracting lunch and wondered if there was a product available that could keep babies occupied while avoiding the inevitable "toy overboard" scenario. Finding nothing, she decided to build one.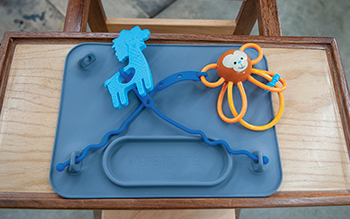 Within a few days she gave her prototype to one of the moms from lunch, and then sort of forgot about it until a few months later when her phone rang. It was that mom.
"She said, 'I forgot this thing last night when we went to the bowling alley and it was horrible. I had no idea how useful this little mat was until I didn't have it,'" Fynbo says.
Fast forward a few years and Fynbo is the proprietor of a company called Busy Baby. And she is busy, baby.
Fynbo's silicone Busy Baby mats use suction cups to hold snugly to the tops of infant highchairs. Silicone tethers connect toys to the mat. Then, when the child invariably tosses the toys overboard, he can reel them back in himself.
For now, though, Fynbo's operation in Oronoco is more of a fulfillment center. She processes, packages and ships orders out of a tiny warehouse behind her home. But the actual manufacturing of her food-grade silicone mats and tethers takes place in China.
She'd like to change that.
Because she's a military veteran and proud Minnesotan, Fynbo would love to move the manufacturing of the mats back to her home state. She's currently searching for a facility in Minnesota capable of the kind of silicone compression molding she needs at a price comparable to China's.

With the help of Enterprise Minnesota, along with the Department of Employment and Economic Development (DEED), Fynbo hopes to be manufacturing Busy Baby mats — and other products, as well — somewhere in Minnesota very soon. Enterprise Minnesota Business Developer Kurt Bear is helping Fynbo scour the state for appropriate facilities.
DEED's assistance had a head start: A few years ago, another business was looking for compression molding companies, and they passed their list on to Fynbo.
She says she initially had her mats manufactured in China because she didn't really have a choice. After the up-front investments of hiring a professional product developer and securing patents, her production options were limited.
"I had to do China because that's all I could afford as a single-person startup," Fynbo says. "It was the only way I could get them made."
Her development firm connected her with a man who specializes in helping small businesses work with Chinese manufacturers. But when the pandemic hit, he returned to the U.S. He still has a team in China, but he's looking globally for other manufacturing partners. He's also interested in helping Fynbo launch a compression molding business so he can direct other small manufacturers to her. But that is on the back burner. For now, Fynbo is focused on selling as many Busy Baby mats as possible.
Last year, Busy Baby's revenue was $97,000. By November 2020, the company was at $600,000. Fynbo has been using a part-time employee to help her with shipping, but soon she'll add a full-time employee — her brother.
"Our goal is to blow up Busy Baby," she says. "It's going to be a family-run thing, and I'd love to make it a Minnesota thing."
Utilizing the knowledge of Enterprise Minnesota, she says, has helped.
"I don't feel comfortable with my knowledge of manufacturing. I don't know this world. I feel like for the last three years I've done nothing but learn. It's fun. I like learning. But I would like a little help in figuring some of it out," Fynbo says. "Kurt is helping me figure out how to vet these potential manufacturers. He's helping me find them, and he'll go with me to visit them. I don't know that I would have pursued this without him being willing to help me. He's got the background."
…
Featured story in the Spring 2021 issue of Enterprise Minnesota magazine.