Seven years ago, South Central College (SCC) in North Mankato used a $900,000 grant from the U.S. Department of Labor to develop new distance learning technology that introduces students to the emerging challenges and lucrative career opportunities in the hot new field of mechatronics.
Mechatronics combines mechanical and electronic systems to maintain the sophisticated robotics and automation equipment used in today's complex manufacturing environment.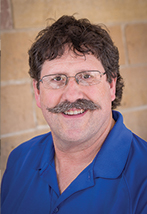 The college used the funds to establish the Internet Mechatronics Education Curriculum (iMEC) and to develop an experiential learning lab that enables students to practice mechatronics principles on remote labs.
This summer, a $1.3 million National Science Foundation (NSF) grant will help the college expand that program to rural school districts that want to grow student interest in technical education. School officials and industry partners hope that they can help solve some of their workforce issues by exposing young people to the promise of exciting work environments and impressive wages. The new grant will also fund a summer program that trains high school teachers to deliver introductory mechatronics to their students through SCC.
The experiential training kits were invented by South Central College Mechatronics Instructor Doug Laven who, recognizing the value of tinkering, developed portable boards full of the kind of materials a mechatronics professional might work on, including cords, wires, circuit boards and ports.
And their integration into the curriculum happened almost by accident.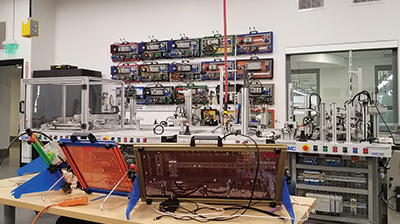 Laven attended a National Science Foundation conference — a requirement for programs receiving NSF funding — prepared to show off the new distance learning technology SCC had developed through the original DOL grant. Through it, students could log into the mechatronics program network and use their computer mouse to manipulate an automated machine. It was a system they'd invested a good chunk of time and money into.
Laven also brought along one of the college's relatively inexpensive mechatronics kits. Instead of being wowed by the distance learning tech, attendees were much more drawn to the take-home kits. They were more hands on, more visceral, and just plain more fun.
Laven approached a senior NSF program officer with the observation that the extraordinary interest in his kit might suggest that the future of tech learning should evolve around similar innovations. "That's exactly what we want; we want you to continually improve your process," she told him.
SCC's newest iteration will show teachers how to administer a scaled-back version of the SCC curriculum via the training kits. Teachers will build the kits over the summer and take them back to their high school classrooms for student use.
Students can earn an iMEC 2.0 certificate by taking 12 credits remotely while still in high school. From there they can enter the workforce, continue toward a mechatronics associate of applied science degree at SCC, or do both.
Pipeline to industry
Laven says most mechatronics students obtain jobs in production settings.
The iMEC initiative has helped SCC develop partnerships with a variety of companies representing energy, biofuels, food processing, and manufacturing. Mechatronics students can participate in year-long, on-the-job internships while earning school credit and receiving valuable experience from industry mentors.
Levin says the new program will expose a generation to a career most have never heard of.
"Our vision is to bring mechatronics not only to students who already know they are interested in automation and robotics, but more importantly to those who may not even know this is a career possibility," he says. "This is going to make a real difference in the lives of these students."
The grant will help SCC provide opportunities in schools that may not have adequate resources to bring the curriculum or equipment into their classrooms themselves, Laven says.
…
Featured story in the Spring 2021 issue of Enterprise Minnesota magazine.