Last spring, Pinnacle Climate Technologies — a global leader in climate control solutions — jumped on what it saw as a golden opportunity: With a pandemic raging across the country, the company used its existing technology and quickly produced an air-purification product called Airetrex 365.
Designed for homes, the product's secret sauce is its use of a particular piece of the ultraviolet light spectrum – UVC – that is a potent germ killer.
"We had a hypothesis at the time that the COVID-19 virus was being transmitted via airborne particles," Pinnacle Climate Technologies CEO Ron Ten Berge says. "We focused on building a product that would maximize the amount of air exposed to UVC light and not be impeded with current filters (like HEPA). HEPA traps particles and germs very effectively, but UVC neutralizes them."
But the story here isn't just that Pinnacle developed a hyper-relevant product. They also did so faster than they ever have before.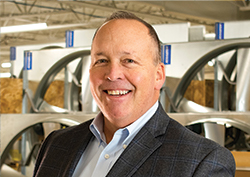 "This is a product we built and launched at the beginning of the pandemic. And it's seen some pretty substantial commercial success," Ten Berge says. "We went from ideation to actually building a complete website, building the complete product, and delivering it to consumers in 74 days — 74 days from ideation to in your home. That's just unbelievable."
Ten Berge says they were able to develop this so quickly, in part, because they'd worked with Enterprise Minnesota Business Growth Consultant Michele Neale on project management and communication.
The company's project management and communication work began with an assessment, a process where a consultant assesses a company's current state and gives them a prescription for getting to a better future state. Pinnacle is an example of a company that took that prescription to heart and did the recommended follow-on work in hopes of seeing improvements. It's that second step — the follow-on work — that Ten Berge says prepared them for success on the Airetrex 365 project.
"The assessment and the work that followed was about improving the organization and roles and responsibilities," Ten Berge says. "The outcome of that is better business performance, which is certainly indicative of the Airetrex 365."
Pinnacle's process involves a lot of work with teams. But after assessing the company's effectiveness, Neale determined their group-work dynamic had some room for growth. "They spent a lot more time talking about stuff and not getting things accomplished," Neale says. "I took them through the stages of team development and shared some best practices and tools for project management. And when they had to present to their upper-level leaders, I coached a couple of them on how they could be more influential and received positively when working with their senior leadership team. They came together as a high-performance team fairly quickly."
Ten Berge says Neale helped them become more flexible, more resilient and better able to adapt to adversity.
Undergoing an initial assessment — which Pinnacle has done several times in several different areas including leadership essentials, project management and team development — can provide a powerful first step for manufacturers to identify their potential.
Taking steps to act on the recommendations in the assessment, however, is even better.
What is an assessment?
Enterprise Minnesota offers assessments in seven areas: a lean (continuous improvement) assessment, a quality management systems (ISO implementation) assessment, a leadership competency assessment, a financial assessment, an enterprise evaluation, a revenue growth assessment, and a strategic assessment.
Interested in an assessment for your company?
Contact Enterprise Minnesota today
Each assessment is unique. Lean assessments, for example, can evaluate a company's culture and processes and identify opportunities to eliminate waste, improve productivity and cut costs. Leadership competency assessments, on the other hand, evaluate the collective skills of a company's leadership team and help prioritize current and future development needs.
Good assessments start with good planning. Consultants meet with company leaders, go over organizational charts, and any necessary COVID-related safety plans (such as, assuring the availability of PPE and space for social distancing). Consultants interview personnel, crunch numbers and analyze data, and finally put together a plan.
"The next step is to put together a report that says, 'This is where you currently are, this is where you say you want to go, and here are our recommended next steps,'" Enterprise Minnesota Business Growth Consultant Greg Langfield says.
The assessments are so powerful, in fact, that roughly half of all clients who go through the process take further steps to improve, continues Langfield.
"Opinions are great but data is better, and an assessment will provide the data on which to take action," says Enterprise Minnesota President and CEO Bob Kill. "Taking advantage of the assessment findings and recommendations has helped a number of companies use this COVID environment to rethink their strategy, implement process improvement initiatives or invest in their people. Taking action now will position them to get ahead of their competition as the economy rebounds. Whether through strategy, process improvement or people development, they will help the manufacturer improve and grow his or her company profitably."
Going deep
Pinnacle provides climate control solutions to commercial, industrial, agricultural, and DIY and retail customers throughout the world.
"We make it possible to raise dairy cows in the desert, work outdoors in the winter and be comfortable and productive when the weather and environment are not willing to cooperate," according to its website.
While its work with Neale didn't involve any desert cows, it did involve deep, organic teamwork.
Pinnacle made a shrewd strategic move during an early assessment of its communication and project management capabilities when manager Mike Mahota perceived the value of integrating Neale into one of their small group teams, treating her as a fellow employee. "I want you to feel like you can add value whenever you see the need to interject," Mahota told her.
Neale calls the experience "transformative." The meetings enabled Neale to offer her expert input as issues arose. When she identified issues that warranted further discussion, Neale would prepare mini learning sessions for the next week.
Neale intends to use this approach with other clients. Pinnacle employees told her that improvements would never have been implemented as quickly without her on board.
Ten Berge says Enterprise Minnesota's help has been vital to helping Pinnacle make it through a difficult time. And all the progress they've made building communication skills, improving project management and working with remote management, he continues, came after they'd first done an initial assessment. Pinnacle then took that next critical step in seeking to take action on the assessment's recommendations.
"Michele's training was pretty in-depth," Ten Berge says.
In addition to remote management, Neale taught employees about "the art of influence," a behavioral approach that goes deep on subjects such as likeability, reciprocity, credibility, composure and commitment.
"Every week we would talk about each one of those. I noticed early on they were having a hard time influencing each other and on up to senior leadership," Neale recalls. "We also did the stages of team development and talked about forming, storming, norming and performing. We talked about social styles, and how we can be different than other people and how can we be more versatile and meet people where they're at."
Power tools
Minnesota Tool & Die Works, owned by the Sherer family, asked Enterprise Minnesota's Business Growth Consultant Keith Gadacz to conduct an assessment of how they transform their already considerable success into future growth.
Founded in 1991 by Keith Sherer — who at 90 years old still keeps an office — the company designs and builds large progressive and lamination dies, up to 12 feet long. It also works with compound dies, stage tooling, die repair and custom machinery. Today the company is run by Jay Sherer, president, and his brother David, vice president. They currently employ 21 workers.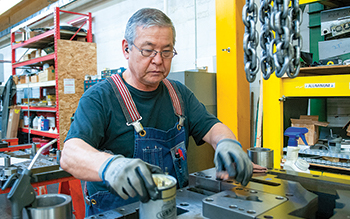 Minnesota Tool & Die Works is a job shop open to working with just about anyone, including clients in the agriculture, computer, appliance, electrical, lawn and garden and recreational vehicle industries.
"I'll quote anything," Sherer says. "If it fits their needs and it fits my needs, it's a go."
Sherer estimates the company's revenue growth over the past five years at about 5 percent. But he says he's hopeful the ISO project will position them for more robust growth.
"We feel extremely confident about that," Sherer says.
Gadacz says the company's leadership initially wondered about the nature and timing of expansion, what might it look like and what steps would be necessary to get there.
But Gadacz advised them that setting up a solid quality management foundation can lead to cascading successes. ISO certification can help them secure a path to future sales by expanding their efforts in acquiring government contracts and making dies for government contract manufacturers. Those customers, he says, will want them to reliably deliver more products through a consistent management system. Financial success, then, can unveil shrewder avenues for facility expansion.
Gadacz says the company wasn't "foundationally" set up for the kind of financial growth its owners wanted. Pursuing an ISO designation could provide that foundation.
"The management system is the foundation they're going to launch from," Gadacz says. "They'll get the structure, get the plan in place to then propel themselves forward. That was the starting point."
Gadacz's assessment showed the company how an ISO certification will ensure that, when every part of the machine is working together properly, peak efficiency emerges. He mapped out a plan for Minnesota Tool & Die Works to secure an ISO 9001 certification, and the company wisely chose to follow Gadacz's map.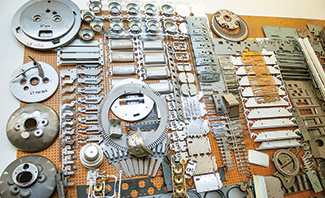 Minnesota Tool & Die's path to certification took a detour about halfway through its ISO project. In addition to problems brought on by the pandemic, Sherer's brother, Pat, died unexpectedly just a few months ago. He was the driving force behind working with Enterprise Minnesota on the ISO project. When he passed, and with COVID-19 making everything a little more difficult, the company briefly put the ISO project on pause.
But Sherer agreed with his late brother's vision to pursue the ISO project and vowed to finish what his brother started.
Minnesota Tool & Die Works is now roughly halfway through its ISO project.
"Obviously, growth was attractive to us," Sherer says, "as well as being able to manage the business at a better level. It's helping us organize better with record keeping, and everything that we need to do here on our end. It's a learning experience here for the company and my team. With the assistance of Enterprise Minnesota, it's coming to fruition."
Gadacz says language constructed within the ISO platform empowers businesses. Instead of providing a laundry list of things to do in order to secure certification, the language encourages buy-in to a system that doesn't exist to merely satisfy an OEM request; it's there to improve every aspect of a company for the company.
"They're in control of their own destiny. And the 'a-ha' came when they realized ISO is not telling me what to do. It's describing a vision. And we get to make it match our business the most effective way possible," Gadacz says. "And now they are absorbing what a better day can feel like because they've defined what a better process will look like."
…
Featured story in the Spring 2021 issue of Enterprise Minnesota magazine.