Several years ago, the leadership at Millerbernd Manufacturing came up with an ambitious expansion plan.
The company — which manufactures street light poles, steel casings for airfield lighting systems, and rolled rings and cylinders — wanted to build a new $12.4 million facility for its ring and cylinder operation.
The expansion promised to add 100 new good-paying jobs with benefits, according to the company's strategic plan. Construction was set to begin in March.
But then the coronavirus pandemic hit. And company leadership began wondering whether expansion needed to wait a year.
"When COVID hit, we put everything on hold … for about a week," says Trevor Millerbernd, the company's CEO. "We thought about pushing it off until next spring. I mean, there wasn't a gun to our head or anything."
At that point, Millerbernd had a decision to make. The company could do what most companies with expansion plans were doing and wait for the return of a post-COVID "normal."
Or …
"This was part of our five-year plan," Millerbernd says. "The plan was to kick it off this spring. And we decided not to let COVID change our minds."
So, while most manufacturers postponed or held off on building or expanding operations, Millerbernd is forging ahead, even in uncertain times. The project is already underway and is expected to be completed by the end of the year.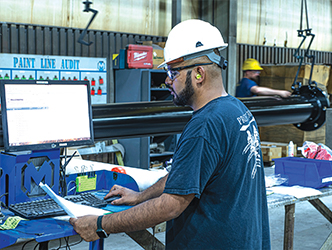 If you're unfamiliar with rolled ring and cylinder products, think of the last construction zone you drove through. If there was a "steamroller" on site, then you've seen the kind of products Millerbernd's rolled ring and cylinder division manufactures. The steamroller's giant cylinder is an example of the work the company does.
Adding a new facility to manufacture "steamrollers" and many other parts will enhance productivity across all of the company's product lines, Millerbernd says.
In addition to the rolled ring and cylinder line, Millerbernd also offers custom steel light pole design and manufacturing. The company provides "an extensive selection of carbon and stainless steel light pole and traffic signal structures."
The company also manufactures airport lighting bases, extensions, base plates, mud plates, covers and accessories, all adhering to Federal Aviation Administration standards.
The new facility will be built to allow for future expansion to roughly twice its original size. And the expansion, Millerbernd says, will grow the capacity of its pole production by 35% and its airfield lighting component capacity by 50%.
Embarking on such an ambitious project right now is fairly unique. Like everything else, the coronavirus pandemic has left an indelible mark on the manufacturing industry.
In March when the pandemic tipped the world — and any sense of "normal" — upside down, it took just a month for manufacturers to start seeing foreboding signs about the industry.
The signs were there even in April. In a survey conducted by the National Association of Manufacturers, 78% of manufacturers said they anticipated a negative financial impact due to the pandemic. Just over 53% anticipated a change in operations. And about 35% said they were already seeing supply chain disruptions.
Enterprise Minnesota's own survey, conducted in March, backs up the NAM findings. In its survey, 46% of post-COVID interviewees said they expect the U.S. to slip into a recession, while only 9% thought so in the pre-COVID interviews. The Enterprise Minnesota survey also found that post-COVID interviewees expect to experience a decline in gross revenue (23% in contrast to just 6% pre-COVID) and profitability (19% post-COVID, 8% pre-COVID). And 26% said they expect to invest less in capital expenditures, as opposed to 14% pre-COVID.
Things do seem to be turning a corner, however. In the recently released Creighton University Mid-America Business Conditions Index, the overall health of manufacturing in Minnesota — using metrics such as employment, wholesale prices, confidence, inventory and trade — received an improved grade of 45 out of 100; in March the state's grade was 39. Anything 50 and over indicates growth. Below 50, contraction.
"Since the onset of COVID-19, the state has lost more than 350,000 jobs, or almost 12% of its employment," says Ernie Goss, director of Creighton University's Economic Forecasting Group and the Jack A. MacAllister Chair in Regional Economics in the Heider College of Business. "Our surveys point to a flattening of employment with only slight job gains in the months ahead."
Millerbernd says he's just hoping they're doing the right thing.
"The next two, three years will tell us if it was the right move or not," he says.
…
Featured story in the Fall 2020 issue of Enterprise Minnesota magazine.