When Brian Clark, president of Liberty Clark, Inc. made a strategic decision to pursue ISO 9001:2015 certification for his small manufacturing company in Elk River, he demonstrated the forward-thinking skills necessary to stay competitive and prepare for growth in the short and long term.
Liberty Clark, Inc. specializes in precision printing for the medical device and industrial industries. The clients they serve have very specific requirements when it comes to the "decorations" on their products. Many of the products have highly irregular shapes. Liberty Clark, Inc. can accommodate the needs of the industry on a variety of scales, from high-volume to prototype.
The ISO 9001:2015 framework asks organizations to "take a hard look around you" to identify what they do best, where they can improve, and how to further build their relationship with key stakeholders.  These key stakeholders may include customers, employees, suppliers and regulatory agencies.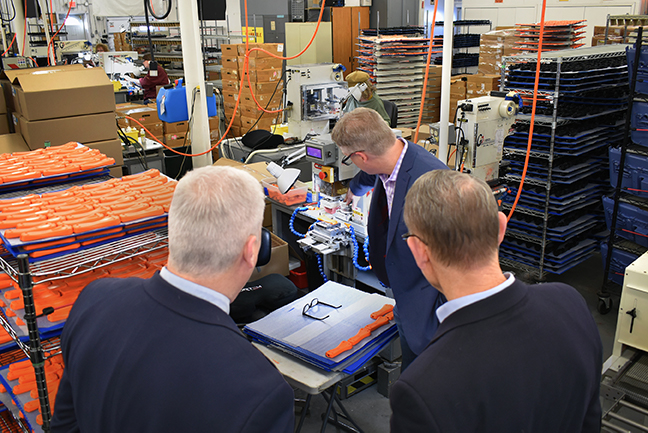 Through this process Liberty Clark identified several opportunities, one being the need to reduce operator's dependency on the production managers. They determined the best way to address this was to start revamping work instructions. While most work instructions provide information on how to perform the operation, rarely did they provide information on what to do when something goes wrong. This stopped production and required production managers to resolve the issue. Liberty Clark decided to update their work instructions to include a section for trouble shooting and the results have been improved efficiencies and less dependency on production managers. Knowing what can go wrong in a process makes the operator more aware of process variation. This has resulted in more efficient throughput, higher levels of quality, and employees feeling engaged.
The ISO certification process has led to measurable gains for Liberty Clark, Inc., including acquiring 12 new customers and adding one new employee. For a small company of eight, this is significant growth.
As a consulting organization that specializes in ISO certification and audit support, among many other operational and growth services, Enterprise Minnesota is an excellent resource for growth-minded manufacturers undertaking the rigorous ISO certification process. We understand what it takes for companies to be successful in implementing a business management system like ISO and get buy-in from all levels of an organization. We have helped dozens of Minnesota manufacturers attain, retain and take full advantage of this valuable certification.
It is valuable to have an ISO implementation coach on your team when preparing your company for ISO certification. There are challenges and hurdles that will present themselves. Being able to rely on an experienced expert in navigating and overcoming the obstacles will keep you on track and on target.
"We could not have done this effectively without the guidance and support from Enterprise Minnesota," said Brian Clark, President of Liberty Clark, Inc.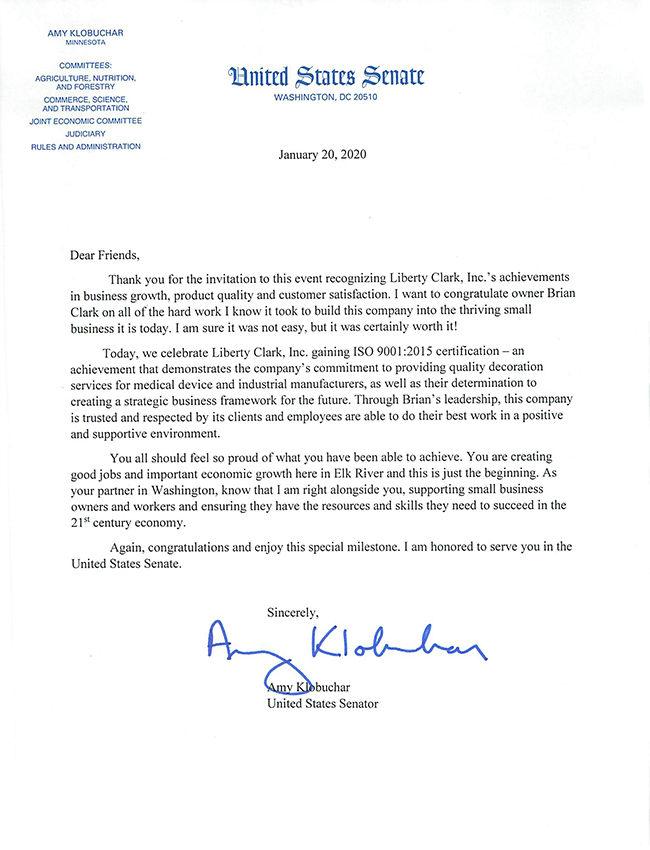 For Liberty Clark, when it came time to bring in the ISO registrar and complete the final audit for certification, they were prepared and confident. The site visit went smoothly, and they successfully passed their audit and received the ISO 9001:2015 certification.
We commemorated the accomplishment by holding a recognition event at the Liberty Clark facility. Congressman Tom Emmer attended the event and Senator Amy Klobuchar sent a letter of congratulations.
…
To learn more about Enterprise Minnesota consulting services, click here.
To learn about how Enterprise Minnesota can support your ISO journey, click here.