Manufacturers who want to implement change during these challenging times might do well to listen to the advice of Michele Neale. Michele is one of Enterprise Minnesota's top experts on talent and leadership.
She has had recent conversations with manufacturers struggling to implement new initiatives or projects and says that planful leaders can make positive—measurable–changes within their employee ranks by first understanding the source of potential resistance to those changes.
Michele is conducting a series of workshops to address the art of change leadership. She says all resistors can be placed into one of three categories: I don't get it; I don't like it; or I don't like you.
When you know why someone resists change, you can help them power through it.
Michele says she leans into resistors and embraces their enmity. "I learned early on if I encountered someone who was my biggest resistor, I'd want him or her on my team," Michele says. "I would want to make sure that they were on board when we went to roll it out a new project."
She suggests that manufacturers would do well to understand how the Kübler-Ross change curve applies to change leadership. The roughly V-shaped curve follows a familiar path: shock, denial, frustration, depression, experiment, decision, and integration.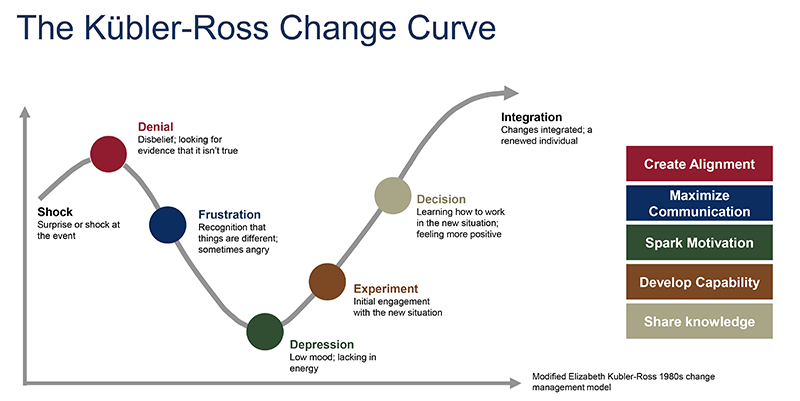 Leaders who fail to adjust their strategies to the presence of these phases risk losing employees or suffering efficiency lapses.
One reason managers struggle to implement change is that they didn't understand the change curve. "Whether it's adding another shift, asking for overtime, implementing AS9100, ISO or ISO management systems, the dedication to change leadership is underestimated or ignored," she says.
Michele's workshops emphasize adaptability and resilience. She points to InLine Motion, a manufacturer that saw its business lag when COVID hit. Instead of lamenting the cold reality of slumping sales and shrinking revenue, InLine quickly pivoted and engineered a PPE face shield to meet the demand of the Midwest's public health professionals, demand for which blossomed after a strategic social media blitz. Read about InLine Motion in Enterprise Minnesota® magazine.
InLine had already built a culture of resilience into the company. So, when it came time to manufacture something other than its staple line of food industry and food processing equipment, they were ready.
To learn more about how to incorporate change leadership into your business, sign up for Enterprise Minnesota's Nov. 19 workshop: Click here to register. Look for Michele Neale's story in the next issue of Enterprise Minnesota® magazine, due out on November 5. View the magazine online.
Events Calendar
October 27 – Sustaining Daily Dialogue
Greg Langfield discusses techniques you can use to help sustain your continuous improvement efforts throughout your organization. Online via Zoom  Learn more and register
November 5 – State of Manufacturing Survey Release
The State of Manufacturing® is the most comprehensive survey of Minnesota's manufacturing industry. Join us November 5th as we release our findings from our second survey of 2020 with insights from the impacts of COVID-19.  Learn more and register
November 11 – Strategically Navigating an Uncertain Future
Steve Haarstad, one of Enterprise Minnesota's top strategy experts, will show you how to create or adjust your business strategy to weather the next 90 days. Online via Zoom  Learn more and register
November 19 – Are Your Leaders on Board?
Join talent expert Michele Neale as she demonstrates the art of change leadership and how to help your workforce adapt to change. Online via Zoom  Learn more and register


Industry News
Polar Plastics acquired by Revolution
St. Paul, Minn.-based Polar Plastics was recently acquired by Little Rock, Ark.-based Revolution, which is driven by a mission to create sustainable plastic solutions to help preserve the environment. Oct. 23, PR Newswire  Read more
Hormel Foods announces retirements and advancements
The global food brand based in Austin, Minn. has announced several executive retirements and internal advancements, including Kari Pollak to plant manager, where she will be the first woman to lead the operation. Oct. 21, SouthernMinn.com  Read more
Mankato jobs down overall, but manufacturing down just 1.5%
Local jobs in the Mankato market are down 4.9% compared to September 2019, but manufacturing in that time is down just 1.5%. Manufacturing recently added 2,400 jobs statewide. Oct. 15, Mankato Free Press  Read more
Rolls-Royce investing $13.9 million in Minnesota expansion
More good news out of Mankato – Rolls-Royce will invest in its Power Systems business unit, which stems from growth in the market, and is expected to add 20 new manufacturing positions. Oct. 13, Business Facilities  Read more

– – –
Enterprise Minnesota is dedicated to helping Minnesota manufacturers grow profitably. If you are interested in receiving The Weekly Report to your inbox, please visit our subscription page.