Chris Thissen was in the fifth year of a five-year commitment to the U.S. Marine Corps — a year where he volunteered to serve in an infantry unit after four years in a non-combat role — when he found himself under heavy fire in a desert town in Iraq.
He was in command of a patrol unit ambushed by a barrage of rocket-propelled grenades (RPGs). One exploded a few feet away from him. Shrapnel sliced through his skin. The impact concussed his brain so badly he'd later need holes drilled into his skull to relieve pressure.
But before getting help that day, Thissen had a problem to solve. A soldier in his platoon was missing. One of his men. He wasn't about to leave him behind. So Thissen charged back out, found the soldier face down in the street, picked him up, and carried him back to safety.
As he sits in his workstation at Winegar Manufacturing in Waseca and tells the story of what happened to him, a 120-pound pitbull/mastiff named Pete listens closely. And as Thissen's voice quickens and wavers — the memory of a near-death experience will do that to a guy — Pete's ears perk up. As a service dog trained to help Thissen get through emotionally difficult moments, Pete knows when to step in and give Thissen the kind of emotional support he needs.
"When I have a PTSD (post-traumatic stress disorder) episode, I shut down. I am non-aggressive, but I know very well that if I lose it, really bad things can happen," Thissen says. "I've gotten to the point where I shut down and Pete comes up and will get up in my face. He gets me out of the back of my head into the front of my head."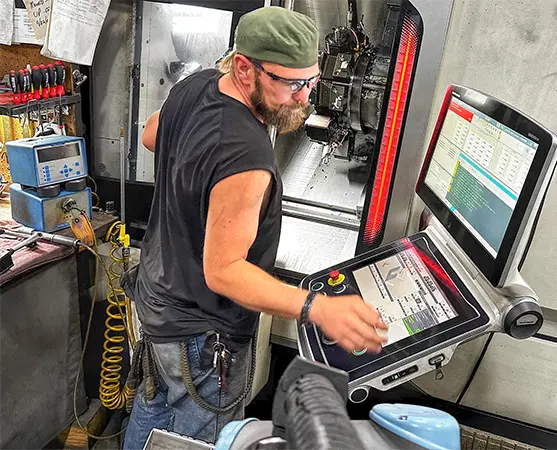 Understandably, Thissen's time in the military and his combat experience changed his life forever. He's been deemed 100% disabled and suffers from PTSD. He wouldn't have to work if he didn't want to. But for a Marine with a strong work ethic, not working wasn't an option.
But what about Pete? Few jobs will allow a 120-pound dog to tag along.
Luckily, Thissen found Winegar. Founded in 1979, the Waseca-based manufacturer provides machining services to OEMs. It offers a variety of contract machining services including machining intermediate-size steel and iron ductile castings, aluminum castings and bar stock, stainless steel, and other materials.
Winegar President Craig Ryan says it was during an Enterprise Minnesota Peer Council that he first heard about a program that helps manufacturers establish a pipeline for veterans to get additional benefits. Ryan says that veterans who access it are eligible for benefits such as equipment reimbursement and housing allowances. In one case, Ryan says the program reimbursed a veteran for the $1,000 she spent on tools.
For employers, the up-front financial benefits are negligible. Ryan says they get $1,000 per year per employed veteran from the VA. But what they don't get in cash, they get in uniquely desirable workers. Former service members come from a world of discipline and respect for authority, as well as an admirable work ethic.
Being known as a VA-certified employer, Ryan says, will help with recruitment. He says they'll be updating the company website soon to reflect their participation with the VA.
Ryan adds that most veterans make ideal employees because — as any Hollywood depiction of basic training will confirm — they're used to getting "feedback."
"A lot of people are very sensitive to constructive criticism. Veterans are very used it," says Ryan with a chuckle, suggesting anyone who has gone through basic training and subject to drill sergeants will find feedback on the manufacturing floor slightly less visceral. "But as the boss, I can tell you they're also used to giving it back. But I like it. I appreciate it."
By employing Thissen, though, they also employed Pete. That meant precautions had to be enacted to keep Pete safe, even while he rested comfortably on his mat a few feet from Thissen's workstation.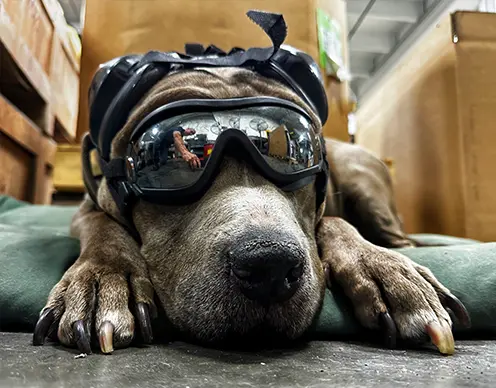 Pete wears protective goggles and earmuffs — resembling a canine bush pilot — and little booties on all four paws. Shop floor rules apply to all, even dogs.
One other accommodation had to be made for Pete.
"I tried to keep Chris somewhere where Pete will be a little bit more secluded from traffic," Ryan says. "And also by a door for when he needs to take Pete outside."
Enterprise Minnesota Business Growth Consultant Abbey Hellickson admires how Winegar is helping veterans.
"This is a really important program for all of our manufacturers to be aware of," Hellickson says. "I think we have a population of people who we can tap into that would be good employees for anyone. I'm so impressed with Winegar's alternative approach to helping people be successful in their environment. And this is the first time I've ever seen a manufacturer have a service dog on the floor."
Pete, however, isn't a puppy. He's actually nearing the end of his life as a service dog. Luckily, Thissen is a certified trainer of service dogs, and has another one, Ember, in the pipeline to take over when Pete retires. For a short time, he says, there may be two dogs on the Winegar shop floor as Pete teaches Ember the nuances of working in a machine shop.
…
Featured story in the Winter 2023 issue of Enterprise Minnesota magazine.
Return to Winter 2023 magazine