Editor's note: This is the first in what will be a regular series on young leaders in manufacturing.
When Kayla Dietzmann couldn't find her target audience on Facebook, the marketing and HR professional for SCS Interiors took to Instagram. Using a highly selective series of hashtags (a searching and categorization tool to help social media users quickly find topics of interest), she was able to zero in on the upper-income aircraft owners she was looking for. And it worked. A bold problem solver, Dietzmann learned years ago how to handle an older generation who didn't always take her seriously because of her age.
Jasmine Sonmor, owner of Aura Fabricators, knew the coronavirus pandemic was causing heartache and tough conversations not only for the people who work for her and their families but the greater community at large. So, she decided to do something that, in a time of global pandemic, may not have appeared wise: She instituted a plan to buy weekly lunch for her entire staff, and she bought that lunch personally from businesses in town she knew were struggling because of the pandemic-related shut-down rules. She also raised the overtime rate, knowing some of her workers had spouses who had lost their jobs because of the health care crisis.
Liz Wauters and Clint Larson are a sibling team about to take over the family business, Colburn Manufacturing. Both grew up sweeping floors and mowing lawns around the shop as kids. Clint transitioned to the business right away, while Liz put her four-year degree to work in the marketing world for a few years before joining the family business. They're a rare brother-sister executive team building on tradition while embracing innovation and insisting on providing workers with the newest technology to make them the most productive.
Most leaders in manufacturing remain on the older (and male) side. Indeed, more than a quarter of all manufacturing workers are 55 and older. But a growing number of industry leaders are much younger. And they're breathing new life, new ideas and new swagger into the industry.
Eventually, every company goes through a transition, whether it's at the CEO level or upper management. Bringing young blood into the fold can infuse a company with fresh ideas and bursts of bold enthusiasm. And that's never a bad thing.
Lunch is On Her
Once a week, Jasmine Sonmor gets into her car around lunchtime and heads to a local restaurant to pick up some food. But instead of leaving the restaurant with a sandwich, she leaves with, say, 48 sandwiches.
No, she's not famished. She's doing a solid for the men and women who work for her.
In March, when the world began to realize the novel coronavirus wasn't going away anytime soon and things started shutting down, Aura Fabricators made a public announcement. "Aura is fortunate to be able to continue to work in the current climate," the company wrote on its Facebook page. "We urge the community to support local businesses as we weather the current business closures related to the COVID-19 pandemic. But please, abide by the 6 feet rule and practice social distancing as much as possible. During this difficult time, we'll be buying take-out lunches for our employees by rotating local restaurants once a week for as long as we're able! We're happy to treat our employees and support our community's restaurant scene. As a community, we WILL get through this!"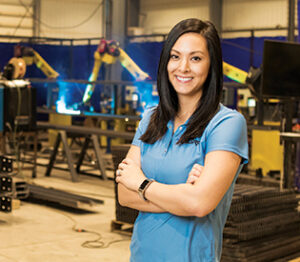 That was Sonmor's call. She says the move was sincerely altruistic. As a lifelong member of the community, she says she genuinely cares about the people who live there. But it was also a strategic move; she's hoping to build compassion into the company brand. When people think of Aura Fabricators, she wants images of smiling, satisfied people to come to mind. If a free lunch once a week can get people thinking in a positive way about her company, Sonmor says it's worth it.
Another factor influencing her thinking is that her business doesn't deal directly with the "public." She deals primarily with Minnesota Department of Transportation contractors. Still, Aura Fabricators exists and does business in the community, and Sonmor wants to be — and be seen as — a caring member of that community.
"It would be easy for a company in my industry to pretty much ignore any of those types of movements in marketing because I don't really have to market to the public. In terms of my product, it all is going to the DOT, and that's a very selective group that I'm marketing to," Sonmor says. "But where it does help is that I'm getting my name known, and that we are actively involved in the community. Ultimately, that creates a little bit of a buzz between community members and my employees in general that we're a great place to work, and we're not just looking out for ourselves. We really care about our employees and the people around us."
She says buying lunches is not necessarily something that could only have come from a young mind. But it is an example of a different way of thinking, and it's certainly nontraditional.
"We always try to think outside the box," she says.
The story of Sonmor's rise to power is an unusual one.
She learned the metal fabrication business working for her father's company, White Oak Metals.
She started when she was just 13, mowing the lawn around the plant or helping organize her father's office. When she got a bit older, the work got more sophisticated, and she started doing internal quality audits.
"I basically learned the system from the inside out," she says. "It really helped me to problem solve when things weren't being done quite the way we said we should be doing them."
Gaining that knowledge of the business and the industry came in handy when, while still in college, she noticed a void in certain DOT markets. So, she started her own metal fabrication company, Aura Fabricators, and started bidding on jobs in those markets.
Then, while still a senior in college, her father's health began to fail. He suggested his daughter take over his company under her newly formed company, and Jasmine was more than ready for the challenge. But right when that transition occurred, her main competitor went out of business, and she was suddenly swamped with work orders on projects that needed to be done immediately. It was a long few months of being overworked, but she came out the other end stronger. And she showed the contractors and her employees, especially those who previously worked for her father's company, that she had the skills to run the company.
"It really fast-tracked me into earning my stripes," Sonmor says. "I had to push aside all of the existing work and basically learn the new market that I was trying to get into overnight. And essentially, we doubled in volume within those first few months. So it was extremely stressful, but it was definitely a blessing. It helped me earn respect from my fellow employees. It helped me earn respect from my contractors."
#BoldLeadership
Manufacturers are no strangers to social media. Most have a Facebook or LinkedIn presence where they post product photos or announce job vacancies.
Kayla Dietzmann tried the Facebook route, but she wasn't able to find her target audience.
"Pilots are kind of an elusive bunch on Facebook," Dietzmann says.
So, in a move you're not likely to see often in the manufacturing industry,
Dietzmann tried a different platform to target potential customers for SCS Interiors' products (high-end seat upholstery for vehicles, mostly aircraft): Instagram. According to Pew Research, roughly 35 percent of adults use Instagram. But unlike LinkedIn, which boasts occasional use by members, most Instagram users interact with the photo-based social media platform daily.
Instagram's metrics and algorithms allow users to add hashtags that passively target the exact people they want to reach. By using the hashtag #C172, for example, you can target users interested in the Cessna 172, a four-seater aircraft typically owned by someone with a certain amount of disposable income. And a person with a certain amount of disposable income who owns a Cessna 172 would be an ideal customer for an aircraft upholstery company.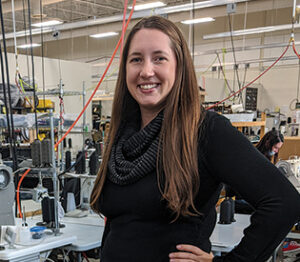 "I was talking with one of my coworkers who is a pilot. I asked him which hashtags I should use and what I should do. And that just kind of opened up a whole new world of people who are super easy to find if you hashtag everything. I can do #172, #C172, #Leathercraft. I can do all these different things that get me in front of the right people."
To be clear, targeting individual pilots on Instagram is not a primary business driver for SCS Interiors. The company currently manufactures first-run upholstery products for Duluth-based Cirrus Aircraft, a manufacturer of small aircraft. SCS Interiors also works with other aircraft manufacturers, including Eclipse and Kestrel. "Job shop" type work on automobiles or boats is also part of their sales arsenal. Reaching out to pilots is an attempt to diversify the company's business and keep its brand on people's minds.
"My ideal target customer would be a purchasing manager for a flight school. They have 20 planes. I want to help them because I want to cut 20 of the same thing. That's way easier. But at the same time, there are so many individual pilots out there, which does keep us going."
Dietzmann says the approach is to hook potential customers with a hashtag, then get them interested in everything SCS Interiors provides.
"Then I can also talk about seat upholstery, right? I'm talking about one thing but then I show them what else we can do. And that really drives interest and brand awareness. They may not be ready to buy now, so it's really passive. And I'm not even trying to sell that hard because it's Instagram."
Dietzmann is in a unique position. As the head of both human resources and marketing, she has the latitude to engage in the marketing tactics that she deems essential. Much like Aura Fabricators, SCS Interiors hasn't been adversely affected by COVID or mandatory shutdowns.
"My boss and I have a lot of leeway and trust. So, I mentioned, 'Hey, I'm going to start an Instagram,' and I just ran with it. We're not in a spot where I have to be like, 'How many dollars did that generate?'"
Dietzmann says. "I can just tell from customer comments and general interactions on our page that it works. I just haven't monetized it because it's a soft ad, right? It's just keeping brand awareness up."
It's not only awareness that's up. SCS Interiors is booked through March 2021 on custom seat reupholstery, which Dietzmann says correlates to the company's Instagram use.
Dietzmann may be an executive at a successful manufacturing company today, but if things had gone differently a few years ago, she may have been a restaurant owner instead.
She grew up in western Wisconsin and, when she was a teenager, her mom co-owned a pair of Dairy Queen restaurants with her uncle; Dietzmann worked at and managed the restaurants.
When he passed away, Dietzmann and her mother considered buying the restaurants outright, but they decided against it, not wanting to take on the larger-than-life responsibilities of restaurant ownership.
While attending the University of Minnesota-Duluth and afterward, she worked in the hospitality industry and workforce development before applying for her current job at SCS Interiors.
Being a young leader in manufacturing, Dietzmann says she's experienced some pushback from people who are not impressed by her age or gender.
"The comment that immediately comes to mind is when I was asked how old I was in a job interview. And I just reacted immediately with, 'That's not relevant.' And it was in comparison to my salary," she says. "It was a really foundational moment of conflict. How do I respond to that? What do I do?
"I think that was probably the first moment I realized I would have to advocate for myself even harder as a young professional and always understand my worth. I'm also not sure how much the male-female dynamic played into that. Because not only am I young, I am a woman."
Brother & Sister
Siblings Liz Wauters and Clint Larson took very different paths to their leadership positions at Colburn Manufacturing.
For Clint, the road to running Colburn Manufacturing began early.
"I grew up in the shop," he says.
At eight years old, he was sweeping floors and deburring parts. As he grew older, he gradually learned to do some of the simpler milling and lathe work. The family business was ingrained in him.
But by high school, he still wasn't sure what he wanted to do with his life, and he was hearing the many calls from teachers and society saying a four-year degree was the preferred route after high school. He thought about his future and his father's company, and he decided to go to school to be a machinist.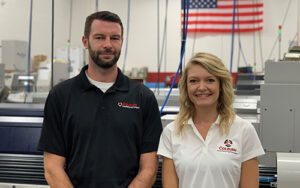 Liz's story is a bit different.
"I spent way less time in the shop growing up," she says. "I would help out during the summers during high school, but I really didn't hang out there much when I was young."
Unlike Clint, Liz attended a four-year school. She studied entrepreneurship and Spanish at St. Cloud State University and spent several years as an event planner. She rethought her career track after a negative experience with a supervisor. And when she quit, she thought about her father's shop and how he was always beckoning her to come work for him.
"If I was ever going to try the shop, that was the time," she says. "My dad had always tried to get me involved in it, saying Clint and I would be a good team and that he needed me here. So, I gave it a shot. And that was a little over three years ago. Now, we are in the process of transitioning ownership to Clint and me."
Both Clint and Liz say one of the advantages they've noticed about being younger is how they embrace evolving technology. Looking across their workforce, they say it's true that younger workers tend to embrace and adapt to newer technology quicker.
"We got ISO certified four years ago. And when we were going through that process of implementing it all, we got a couple of new software programs to use," Liz says. "The younger people jumped into it more and were a little more comfortable."
That's not to say older workers can't or won't adapt. It just takes a different approach. The reluctance they've seen by older workers isn't a result of opposition to change; it's because they need proof the change will result in better results. So, Clint and Liz adjust how they introduce change or new technology.
One thing they've got going for them is that Colburn has always been a place that isn't afraid to invest in new technology if it's in the company's best interest. Clint left the company for a year but returned when he tired of working for people who don't value their workers.
"What I noticed is the people in higher-up positions don't know manufacturing like they would if they had worked their way through the levels of manufacturing like I did," he says. "We're younger; we grew up in this industry. We value new technology and change. And being at a bigger company, I didn't see that with the older people who were running it. They basically said, 'You've got to make do with what you've got.' And here we constantly are getting the newest technology to push our capabilities and to be the best that we can be as a company and make work easier for the machinists."
Like most manufacturers, Colburn has struggled to find workers. But they're also very picky about who they hire.
"A lot of people are jumping from place to place, chasing that nickel raise. I'll look at their resumes, and if I see more than two places that they've worked in the last two years, nine times out of 10 I won't even call them in for an interview. They've shown they are just not a committed person."
…
Featured story in the Winter 2020 issue of Enterprise Minnesota magazine.